The ultimate Dark Knight Rises rumor resurfaces. Weta Digital head Joe Letteri explains how Man of Steel will (literally) take flight. Hear five unexpected candidates for the villain of the Star Trek sequel. Plus a casting update on Ender's Game!
Spoilers from this point forward!
Top image from The Dark Knight Rises.
The Avengers
Scarlett Johansson and Jeremy Renner explain how their characters Black Widow and Hawkeye have a longstanding partnership that predates the events of this movie. Johansson explains:
"Our characters have a long history. They've fought together for a long time in a lot of battles in many different countries. We're the two members of this swinging group who are skilled warriors - we have no superpowers. Black Widow is definitely one of the team though. She's not in the cast simply to be a romantic foil or eye candy. She's there to fight, so I never felt like I was the only girl. We all have our various skills and it feels equal...We back one another. We're on the same team."
Renner also suggests that Hawkeye needs his relationship with Black Widow to keep his sanity:
It's a lonely game. He's an outcast. His only connection is to Scarlett's character, Natasha. It's like a left hand/right hand thing. They coexist, and you need them both, especially when it comes to physical mission."
G/O Media may get a commission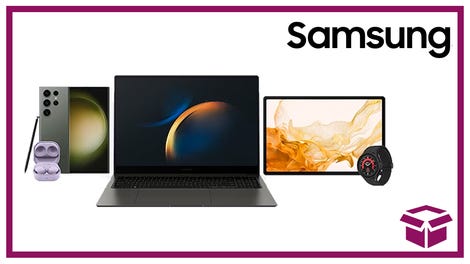 24 hour deals
Discover Samsung - Daily Deal
Director Joss Whedon also says this movie's version of Black Widow is a little darker than the one seen in Iron Man 2, and there are hints at a backstory that "ain't pretty." He also echoes Jeremy Renner's sentiments about Hawkeye being a lonely character who needs Black Widow...though he makes it pretty clear we shouldn't expect a romantic subplot:
"[He's a] bit of a wild card and loner who keeps to himself. He's playing a sniper, so naturally, he keeps his distance. He's fully engaged, but he's in his own place. He and Black Widow share a very cool bond. I'm not gonna say, but there ain't a lot time for kissing in my movie. I've got too many goddam characters."
---
The Dark Knight Rises
A "reliable inside source" - which really doesn't mean anything, but let's just roll with it — is reportedly confirming that Bane will, in fact, break Batman's back in the film, realizing on the big screen the one thing everyone remembers about the character in the first place. Supposedly, this is the only major element the film borrows from Bane's big Knightfall storyline in the comic, incorporating it into the cinematic Bane in much the same way The Dark Knight's take on the Joker pulled lots of different pieces from the comics. Anyway, I'd still take all this with a grain of salt. [Bleeding Cool]
Director Christopher Nolan explains why actually filming in New York City added to the realism of the movie:
"The jumping off point for me with taking on Batman in the first place was that if you could make believe in the reality of what they're seeing, then the story has unbelievable power. And shooting in New York with New York faces there...that's a big part if it."
One of the just announced tie-in books is called Batman vs. Catwoman. Assuming that title has any relationship to the actual plot of the movie, it suggests the two will spend at least some time as enemies. [Comic Book Movie]
---
Man of Steel
Special effects master and Weta Digital director Joe Letteri discusses the new Superman movie will handle the flight sequences, which have always been a huge part of the franchise's draw going right back to the original movie's tagline promise that "You will believe a man can fly." Letteri explains director Zack Snyder's approach, which seems to deemphasize CGI:
Zack's going for pretty much everything in-camera as much as he can. "I mean, the reason to think about Superman in CGI, you don't need him full CGI as a character, because he's basically a full person. But you just don't want the flying scenes to look like he's on a wire. So [the question is] how do you use CG to make that happen, and that's still kind of being played with right now... I think it could still be refined. Because there's always room for interpretation there. The idea of a human flying, because you can't actually tell how they're powering themselves, leaves it open to trying different things."
Letteri also suggested that this movie will be more action-oriented than Bryan Singer's Superman Returns, observing "There is a bit of that to set it up and to kick it off", though he did say Man of Steel will share a similar emphasis on character. [The Playlist]
---
Avatar 2
Joe Letteri also gave an update on this project, saying he's basically just waiting for James Cameron to give him a script to get started:
"We're really just waiting to see what the script is going to be. I mean, because the technology has been evolving since the time we've done it, we keep everything we have up to date; we're updating the characters and keeping things sort of in a state of readiness, because I think one of the things Jim will probably want to do as he's writing is to start pre-visualizing some of the scenes and start working things out. So we're making sure that's all ready to go, but we don't have an actual start date."
Finally, Letteri addressed the challenges of realizing Cameron's much-mooted plan to show what's underwater in Pandora:
"We did a little bit of it in the first film, the bits under the river, but not enough to do what it sounds like he's describing. We have techniques in place to do that, so we know where we'll start. But we're waiting to see what specifically he's asking for before we figure out how deeply we need to get into it."
---
Star Trek 2
An inside source claims that Khan won't be the villain of the movie, that the movie won't actually have a traditional villain type at all, and instead focus on one of five characters from the classic series. Here's the rundown:
It's definitely a character that will make fans of TOS excited. Think along the lines of Harry Mudd or Trelane or Gary Mitchell or the Talosians or the Horta. Actually it's one of those that I named.
As with all such claims, I'd take this with a grain of salt, but you can check out the link for a breakdown and some speculation. [Badass Digest]
---
Prometheus
Director Ridley Scott promises he won't be pulling the same trick from Alien of killing off all the big name stars, specifically mentioning that Charlize Theron's character "hangs around 'till the end." [Filmophilia]
---
Ender's Game
17-year-old actor Brendan Meyer, best known for his starring role on the Canadian TV series Mr. Young, has reportedly been cast as Stilson, a classmate of Asa Butterfield's Ender Wiggin who bullies and taunts our hero. [Heat Vision]
---
Timecrimes
Steve Zaillan, whose writing credits include everything from Schindler's List to Moneyball, says he wants to write and direct an English language adaptation of Nacho Vigalondo's 2007 Spanish film. He explains his plans:
"I also have been talking about the possibilities of directing this little film called Timecrimes, which is a movie that we are going to transplant to the United States… I think that would be a lot of fun and I would like to do it fast and cheap because I think that it is one of the few movies because of the way it was conceived you can do that and not sacrifice anything. It is four characters, two locations, and it all takes place in real time in about an hour and a half. That would be a lot of fun for me – to try and do something really fast."
He also discusses how this movie will retain at least the key ideas of the original:
"I think it will be similar. The brilliance of that story is in the idea. The basic idea is that a guy relives half an hour of his life three times. It is such a big idea and a great idea that I'm not going to change that. The setting will change. I will write with Tim Sexton, who wrote the initial script. It will change, but in terms of the big picture and big idea it is going to be the same."
[Collider]
---
Skyfall
Producer Michael G. Wilson makes an iconic comparison for the currently filming James Bond movie:
"There's a magical Goldfinger feel surrounding it all. It's all very exciting. I can't wait for people to see the movie because I think we're making a very special Bond."
He also says that they will begin contract negotiations with Daniel Craig on continuing in the role once filming is done, and his dream would be for Craig to do five more movies, surpassing Roger Moore's (and Sean Connery's, assuming you fudge a bit and count Never Say Never Again) record of seven films in the role. [IGN]
---
Frankenweenie
Here are some behind-the-scenes photos from the making of Tim Burton's full-length stop-motion remake of his 1982 short film. [Stitch Kingdom]
---
Rise of the Guardians
Here's the poster for the upcoming Dreamworks animated move in which heroic, superpowered versions of characters from childhood legends such as Jack Frost (Chris Pine), Santa (Alec Baldwin), the Easter Bunny (Hugh Jackman), and the Tooth Fairy (Isla Fisher) team up to stop a malevolent spirit named Pitch (Jude Law) in his attempt to take over the world. [We Are Movie Geeks]
---
Doctor Who
Here are some dialogue teasers for this year's Christmas special, "The Doctor, the Widow, and the Wardrobe":
"Suddenly the last 900 years of time travel seem that bit less secure."
"Who needs beds when you've got hammocks?"
"Call it an idea echoing among the stars."
"England, 1941....and there's a war on."
"Til it hurts, is that what you mean caretaker, til it hurts?"
"Happy crying, humany wumany."
"So, you're not dead."
There's more at the link. [SpoilerTV]
Here's a pair of interviews with the always welcome Bill Bailey, who guest stars in the Christmas special.

---
Once Upon a Time
Here's the description for the midseason premiere episode, "Desperate Souls", which airs January 8 and was written by Jane Espenson:
REGINA AND MR. GOLD TAKE OPPOSITE SIDES WHEN EMMA RUNS FOR PUBLIC OFFICE, AND RUMPLESTILTSKIN TRIES TO TRACK DOWN A POWERFUL SOURCE TO KEEP HIS SON FROM FIGHTING IN A MEANINGLESS WAR, ON ABC'S "ONCE UPON A TIME"

Brad Dourif ("The Lord of the Rings: The Two Towers") Guest Stars as an Old Beggar

"Desperate Souls" - Regina and Mr. Gold play dirty politics and take opposite sides when Emma runs for a coveted Storybrooke public office against Sidney. Meanwhile, back in the fairytale world that was, Rumplestiltskin tries to track down the ultimate power source in order to help his son avert the horrors of a meaningless war.
[KSiteTV]
---
American Horror Story
Here's a promo for tomorrow's 90-minute season finale, "Afterbirth."

And here are some promo photos. [TV Line]
---
Sherlock
Here are some preview clips for the second season of Steven Moffat and Mark Gatiss's terrific take on Sherlock Holmes, starring Benedict Cumberbatch and Martin Freeman. The series returns on New Year's Day. [Anglotopia]

---
Sanctuary
Here's a sneak peek at episode 12, "For None (Part 1)." You can also check out a set video from the filming of this episode here.

---
Lost Girl
Here's a synopsis for episode fourteen, "Midnight Lamp":
While Bo continues to ponder The Ash's shocking proposal, she agrees to his interim request – to kidnap a Genie. The assignment becomes complicated and dangerous, and Bo finds herself involved with the most unlikely partner.
---
Additional reporting by Gordon Jackson, Charlie Jane Anders, and Sophie Bushwick.