Universal Pictures' new version of The Wolfman has faced numerous setbacks, personnel changes and reshoots. But the latest, and possibly the most interesting, is the new editors brought into recut the film drastically.
The change to Wolfman's editors was buried in an article from Variety that wasn't even about the film.
It seems that editors Mark Goldblatt and Walter Murch have been brought on to "recut" the film, but there are no specifics on what this entails. Recutting could mean anything from working through a previous cut to smooth it out and improve it, to starting entirely from scratch.
Goldblatt and Murch are two pretty heavy-hitting names in editing. Meanwhile, Dennis Virkler, the editor they replaced, has had his name attached to quite a few maligned films like The Fog remake, Batman and Robin, and Daredevil. But he did cut The Fugitive as well.
Goldblatt is best known for his action films, working with both James Cameron and Michael Bay on their best known films. But he also was at least partially responsible for Showgirls and The Super Mario Brothers movie.
G/O Media may get a commission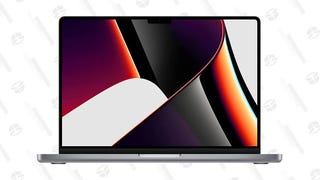 Save $300
2021 14" 1TB MacBook Pro
Murch, however, is the real heavy hitter of the duo. Cinema Blend calls him "the man who literally wrote the book on editing." And it's true: his book, In The Blink of An Eye: A Perspective On Film Editing is used in film schools. He's done a wide variety of projects, including Ghost, Cold Mountain, and The English Patient. The fact that he cut Cold Mountain on Final Cut Pro was one of the first milestones towards that program becoming one of the industry standards, edging out the monopoly that Avid had on non-linear editing in Hollywood. There's even a book about how revolutionary a move it was at the time.
I'm currently enrolled in an advanced editing class in grad school, and I don't think a lecture goes by where my professor doesn't quote Murch. I bought his book years ago, not long before I first started on my MFA, just because it looked interesting. It gave me a whole new understanding and appreciating for the art of editing, and it made my own skills that much sharper.
Some people might be thinking that bringing on a new editor to a film is the equivalent of hiring a new guy to paint two walls in your living room after the first guy leaves — as long as he uses the same colors, what's the difference? But as we're being taught in class, the editor is the final author of the film. He gets the last rewrite, at least before the producers start sending it around to test screenings, and asking for changes here and there. For the most part, the editor is the person who can decide that a scene doesn't advance the plot, deleting what could have been two days' worth of work by the director and crew, and who knows how many hours by the writer, just because in the end it doesn't fit.
If you look at this as another rewrite of the film at the eleventh hour, that does seem to bode ill. But putting that rewrite in such skilled hands may turn out to be a life-saving change. Here's hoping, anyway.