When President Trump fired Attorney General Jeff Sessions earlier this month, people started looking more closely at the man who was appointed to take his place, acting Attorney General Matthew Whitaker. And the closer you look, the worse it looks, especially as new questions are raised over roughly $1.2 million that Whitaker has received since 2014 from a dark money group.
Whitaker was on the advisory board of an extremely shady patent company before becoming the acting Attorney General. But even if we ignore World Patent Marketing for a moment, there's another organization that paid Whitaker a lot of money and is drawing new scrutiny now that Whitaker has an enormous amount of power. According to newly released financial disclosure forms, Whitaker received $1.2 million from a conservative political advocacy organization called Foundation for Accountability and Civic Trust (FACT). And we have no idea who's funding that group because it's not required by law to disclose its donors.
As the New York Times points out, the $1.2 million that Whitaker has received from FACT has provided the vast majority of his income since 2016. The next largest source of income was $103,000 for his work at a law firm. And the next largest after that? CNN, where President Trump, who watches TV almost constantly, saw Whitaker on air and reportedly liked the way that Whitaker said Robert Mueller's investigation into Trump was "ridiculous" and "a little fishy." Trump instructed Sessions to hire Whitaker in late 2017 and, of course, Whitaker now oversees the Mueller investigation as acting Attorney General.
The other extremely shady part of Whitaker's disclosure forms? Whitaker has revised his forms five times since he's worked at the Department of Justice. It's odd, to say the least, how often members of the Trump regime have to make changes to their paperwork. President Trump's son-in-law and top advisor Jared Kushner has revised his own disclosure forms at least 40 times as of earlier this year. That's not a typo. Forty as in four-zero. You can read Whitaker's financial disclosure forms for yourself here and here.
The Washington Post got an anonymous quote from current officials at FACT on the condition that they don't use anyone from the organization's name.
G/O Media may get a commission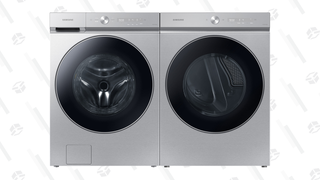 Get $500 back in credit
Last Chance: Samsung Bespoke AI Washer and Dryer Preorder
"Like nearly all non-profit organizations—including those with similarly stated missions—FACT does not and is not required to release its donor information," the statement provided to the Washington Post said. "This protects free speech rights of all of these groups' supporters as outlined in the First Amendment."
We don't know where FACT gets its funding, but we do know who the group is targeting with that money: Democrats.
From the Washington Post:
FACT has mostly targeted Democratic politicians with complaints of wrongdoing, and its tax filings show that it paid a nearly $914,000 combined to the Republican opposition research firm America Rising and the conservative public relations shop Creative Response Concepts.
Strangely, FACT got recognized as a charity by the IRS in 2014 and, as the Washington Post points out, "The IRS prohibits charities from directly or indirectly participating in political campaigns, for or against candidates."
So President Trump booted his Attorney General Jeff Sessions because Sessions had the audacity to recuse himself from the Mueller investigation, only to have Trump appoint a partisan hack to the job. Sounds about right.
Many people in media have been talking over the past year about the impending constitutional crisis. But it's not just over the horizon, it's happening right now. We're living through it and watching it play out every single day on our screens. The constitutional crisis has been happening since President Trump fired FBI Director James Comey in May of 2017 and proceeded to invite top Russian officials into the Oval Office and share Top Secret information with them. This is it. It's not coming. It's here.
And it's not getting better anytime soon, so strap in. It's the Wednesday before Thanksgiving. I'm sure we'll see plenty more bullshit before the day is done just so that it gets buried as we all dig into our turkeys and start fighting with our family members about whether President Trump is a full-blown fascist or merely a white supremacist with authoritarian sensibilities.
Happy Thanksgiving everyone.