Click to viewUniversal Music's decision to deliver DRM-free tracks to pretty much everybody but iTunes in its "test"—Amazon, Google, RealNetworks, Wal-Mart and other smaller stores—continues its wary, passive-aggressive stance toward Apple. Officially, a Universal rep told us in an email that it's "a scientifically designed research study over the next six months" that's using iTunes (their "Apple sales") "as a standard control group" to serve "as the baseline for comparison." But, what's really being tested is the viability of non-iTunes online sales.
Deadly Mississippi Tornado Kills More Than 2 Dozen | Extreme Earth
The thing is, iTunes is kind of a crappy "control" in this little experiment if the only variable being tested is the presence of DRM, because its sales dwarf every other store in the test. Moreover, Universal's buying AdWords to drive traffic to the DRM-free downloads, throwing in yet another variable. It doesn't line up very well with the scientific method I was taught in high school.
Reading between the lines, it seems clear that what's really being tested isn't DRM-free downloads, it's the non-iTunes market—is it possible to really move digital music without the iTunes/iPod machine?—and Universal's ability to flex its atrophying muscles.
G/O Media may get a commission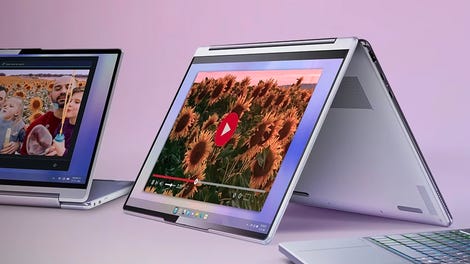 up to 70% off
Lenovo Spring Clearance
EMI's move to DRM-free tracks months ago was dismissed by some as a risky and desperate play, a sign of its weakness as the smallest label of the Big Four—its shareholders recently approved its sale to a private equity firm. Universal, on the other hand, is the biggest label in the world.
That doesn't mean it's not a sign of weakness. iTunes isn't the only store that's not a part of the test: None of the participating outlets have hardware linked to it. If iTunes was the only control here, why isn't Zune a part of the game? Where's eMusic for that matter? Universal looks like its angling to promiscuitize the digital music market—make the same music easily available from many sources that will play on any device—in order to make labels still matter, and stave off its own impending irrelevance.
The broader, more positive take on the move—which isn't necessarily divorced from the other one—is that the industry is beginning to realize they don't have a choice: DRM-free is the only way to really spur the digital music market, and ultimately for them to even hope to generate the kind of revenue they used to. This rosier outlook would include, in our opinion, Universal selling DRM-free music on iTunes at some point in the future.
Will the two remaining Big Four labels follow suit and explore DRM-free downloads? Undoubtedly, this as much of a test for Warner and Sony BMG as it is for Universal. If Universal pulls the plug in January (and Sony and Warner will know before we do), probably not, unless they're looking for an edge against the competition. If this test becomes policy, it seems safe to say that left with little choice, the others will fall in line in short order.
From there, the real question is the iTunes question: What are the labels going to do about it?
Universal's full press release:
CHART-TOPPING HITS MARK OPEN-MP3 TEST BY UNIVERSAL MUSIC GROUP (UMG)

MARKET LEADER REMOVES DRM PROTECTION IN THOUSANDS OF TITLES DURING TEST

PARTICIPANTS INCLUDE GOOGLE, BEST BUY, RHAPSODY, AMAZON.COM, WAL-MART & PURETRACKS, AMONG OTHERS

New York, New York...Universal Music Group (UMG), the world's leading music company, today announced that it is continuing the testing of digital sales of tracks and albums without digital rights management (DRM) by making thousands of its albums and tracks available from its digital repertoire in MP3 form without DRM enabling, for a limited time.

"Universal Music Group is committed to exploring new ways to expand the availability of our artists' music online, while offering consumers the most choice in how and where they purchase and enjoy our music," stated Doug Morris, Chairman and Chief Executive Officer of UMG. "This test, which is a continuation of a series of tests that UMG began conducting earlier in the year, will provide valuable insights into the implications of selling our music in an open format."

As UMG's most comprehensive and extensive testing to date, the experiment will run from August to January and analyze such factors as consumer demand, price sensitivity and piracy in regards to the availability of open MP3s.

MP3s can be played on a full range of devices including dedicated MP3 players, mobile phones and the iPod. Regardless of the outcome of these tests, UMG will continue to support innovative digital models such as subscription and ad-supported services which rely on DRM as an enabling technology.

Albums and tracks that will be available during this test run the gamut from artists such as Amy Winehouse, Fall Out Boy, 50 Cent, Black Eyed Peas, Daddy Yankee, Mika, The Pussycat Dolls, Gwen Stefani, Maroon 5, Dr. Dre, Don Omar, Sting, Sugarland, Diana Krall, Paulina Rubio, Shania Twain, Nelly and Prince, to Bing Crosby, Elvis Costello, Reba McEntire, Count Basie, Dizzy Gillespie, Stevie Wonder, Johnny Cash and Patsy Cline, among many others.

Participants including Google, Wal-Mart, Best Buy Digital Music Store, Rhapsody, Transworld, Passalong Networks, Amazon.com and Puretracks, will offer downloads to consumers in the DRM-free audio format of their choice in a variety of bit rates. For the most part, the DRM free downloads will be offered at standard wholesale prices.

As part of this test, Universal will also be driving traffic to DRM-free downloads using Google's AdWords(tm) advertising program. Google ads will connect consumers directly to digital retailer gBox, Inc. (www.gbox.com) download store making the search and buying process as simple as possible. Because many consumers are searching for music and music related news and information online, Google is a powerful way to drive consumers to this test.

In addition, DRM-free downloads will also be available through artist and label-branded websites, including will.i.am.com, sum41.com, evefans.com, www.common-music.com, ryan-adams.com, blaqkaudio.com, dianakrall.com, sectionquartet.com, as well as defjam.com, islandrecords.com and classicsandjazz.co.uk, among many others.