Shaking gifts. It's never worked because unless someone gave you broken glass, there's no way to hear what's inside. Besides, it's almost 2012, the Future. Instead, these 19 photographers let us look through the gift wrap with x-ray vision.
TSA Santa
Well, two months ago, just 4 days after I praised my shiny new iPhone 4s, I went to the beach and forgot I had it in my pocket, the iPhone didn't died because of drowning, but of a heart attack out of fear, or so was I told, so when I saw this contest I found an actual use to it, now, raised among the dead as a photo subject.
I disassembled it in as many layers as photogenically possible, I took several pictures to get the most depth in the x-ray, in the background is the Christmas village under the Christmas tree, then with the lights out (as it must be inside a closed gift box) i took a picture of the contents of the box, as the wall charger(that's the white square to the right of the iPhone camera) the instructions manual (half yellow circle in the middle of the iPhone), then with lights on, the disassembled iPhone screen, the motherboard, the back of the iPhone with the Apple logo on top of the battery, the actual iPhone box, then the wrap, and the bow, basically this is the kind of superhuman vision TSA agents asked from Santa this year.
All the pictures taken with a Canon 20d, 18mm lens, f 4.5, ISO 100 and exposure of 2.5 seconds, using a tripod and remote shutter to avoid camera movement, I drew with a pencil the shadows the box was casting on the floor to make sure every time I added a layer it would be in the same position.
-Pancho Mejia
G/O Media may get a commission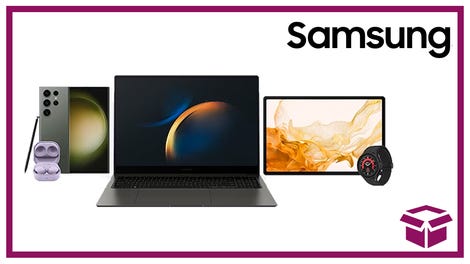 24 hour deals
Discover Samsung - Daily Deal
Mr Smiley
This was not an easy task. I did not want the gift to look as if it were stuck on the box or that the side of the box looked like a frame. So the colors and angles of the gift as well as the wrapping paper colors, patterns and shapes all added to the interesting result. If you look very, very closely and know what you are looking for, you will see a yellow bendable smiley guy and 2 small led flashlights. Did you miss it? I took 2 photos in the same location - one of the wrapped box and one of the guy with a flashlight on either side. I then went into Photoshop to create 2 layers. I used the mask tool to change the opacity of the box. Canon EOS T2i 1/50s Focal length 39.00m f/13
-Berta Finkelstein
Mug Vision
These enamel mugs have been on my wife's list for quite a while and have been out-of-stock for almost as long. Last Sunday evening, I even told her how disappointed I was for not being able to get them for her. This, of course, was followed by a Monday afternoon email alerting me that they were back in stock. Despite being otherwise finished shopping (and having already spent beyond my plans), I couldn't pass up the guaranteed pre-Christmas delivery for this high-on-her-list item.
So, as the wife was a work this evening, I took the opportunity to wrap them up and knew that this would be the perfect present from this challenge. My Nikon D5100 was set-up on an old cheap camcorder tripod over an old wooden chair in front of our tree. First shot taking the straw-like cushioning and mugs out of the box, then repackaged, wrapped, and shot as a finished present. I then layered the wrapped image over the open image, adjusted opacity, and used some Photoshop magic to give it an HDR-feel that gave it a lot more pop and a bit more of an x-ray vibe. Nikon D5100 on a crappy old tripod, f/4, 1/13.
-Ryan Yepsen
Giant Present
In my family we celebrate both Hanakkah and Christmas since my wife is Jewish and I'm Christian. So because of that we open gifts on several different days. When I saw this contest I immediately thought of how excited my step daughter was when she got her Innotab a few days ago. I decided to use her in taking the picture. We re-wrapped the Innotab for picture 1 and she got to re-open it for picture 2. She was just as excited about the picture as she was about the Innotab. She sat in my lap the whole time I was merging the pictures in Photoshop. Nikon D7000, Tamron 10 - 24mm f/3.5-4.5, Nikon SB-700, f/4, 1/60, ISO 800
-Michael Berman
The Nutcracker
Here is my submission for this weeks shooting challenge. It was a nutcracker christmas. I set a wrapped box in its place, took a few shots, and replaced it with an unwrapped nut cracker. Overlaid the images in photoshop, drew out a soft oval and decreased some opacity. Canon 60d, 1/80th, f4.0, ISO320, 26mm.
- Tyler Bedgood
Bird Coop
I was sitting in my office wrapping some Christmas gifts and I thought about this contest. It seemed like a fun idea. So, I picked the gift for my niece, which happened to be a box of plus Angry Birds. I hope she likes them. Canon 5D Mark II, ISO 100, f/18, 1/125, 16-35mm
- Michael Durr
Unavoidable Gaze
I got my boyfriend the Steve Jobs biography for Christmas. I thought it might look creepy to have Steve Jobs peering out at us from beneath the wrapping paper. I started out taking the photo of the wrapped gift. I set up my tripod and arranged the wrapped book on top of another wrapped gift. Then I unwrapped the book and placed in the same spot on and shot that. I overlayed them in Photoshop and played with the opacity settings. I took these with a Canon EOS Digital Rebel, EF-S 18-55mm lens, 1/8 and 1/6 exposure, both f5.
-Jamie Babbitt
Please Don't Wrap Pets
Easy enough, even though I had no tri-pod. Took a few pictures of each then overlaid with 47% opacity
-Paul Valerio
[Insert Festive Joke About the Force Here]
I took 6 shots (3 wrapped, 3 unwrapped) in the morning sun so I could get a feel of "Christmas Morning" just before opening the gifts. I used a Canon 7D with a Tokina 16-50 lens, ISO 100, f8, exposures from 1/6-1/25 and then used photoshop elements to combine the shots into two separate HDR images to recapture some of the details due to the uneven lighting. I used PSE to use cutouts to take a peak in the waiting gifts. I knew right away I wanted to try to reposition multiple gifts and keep the same alignment. That's a Philadelphia Flyer's jersey on the left, Go FLYERS! Thanks, this was a lot of fun. This is my first time submitting and hope to send to more contests in the future.
-Jason Mest
I can't say I was the least bit surprised to see all of you were receiving Apple products and Star Wars memorabilia for Christmas. But all of those doll houses were, admittedly, unexpected. I'm not judging. Full gallery below, and wallpapers on flickr.
Mark Wilson is the founder of Philanthroper, a way to give $1 to a good cause every day.