Doctor Sleep casts another major character. Venom's Ruben Fleischer is still dancing around a potential Spider-Man appearance. Anthony Russo offers an update on where Avengers 4 is currently. Plus, tons of new Iron Fist pictures, another American Horror Story reunion, and Doom Patrol casting. To me, my Spoilers!

Doctor Sleep
Kyliegh Curran has joined the cast as Jack Torrance's long-lost granddaughter, Abra Stone. [Deadline]
---
The Addams Family
15-year old Elsie Fisher (Eighth Grade)has been cast as the voice of Parker Needler, the daughter of the family's nemesis, Margaux Needler. The film already stars Charlize Theron and Oscar Isaac. [THR]
G/O Media may get a commission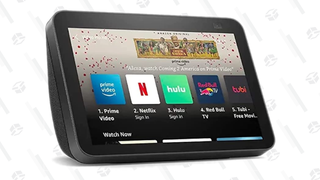 ---
Bumblebee
Voice actor David Sobolov revealed's he's been cast as the Decepticon Blitzwing on Twitter.
---
Venom
Speaking with the Los Angeles Times, director Ruben Fleischer continued to neither confirm-nor-deny if Spider-Man makes an appearance in Venom.
I honestly don't know what I'm allowed to say. I mean, I know the answer — I've seen the movie. But I don't want to get in trouble for saying something I'm not supposed to.
Elsewhere, Eminem teased a few seconds of his tie-in song for the film's soundtrack.
---
Avengers 4
Director Anthony Russo recently told Deadline he hopes to have the film finished by March:
We've worked on the edit all summer and we're excited to finally get these missing pieces in the film and then we expect to be in post through the fall and winter. We hope to be done by March.
---
Suspiria
In a recent interview the Deadline, director Luca Guadagnino revealed his Suspiria remake will have a post-credits sequence, possibly concerning Tilda Swinton's Madame Blanc.
The character is looking forward towards something. I think it would be interesting to know what that is…
Meanwhile, Coming Soon has the latest poster.
---
At First Light
Mysterious orbs of light leave a teenage girl with superpowers in the trailer for At First Light.
---
Diablo
Stay awhile, and take this with a pinch of salt: Revenge of the Fans alleges that Hellboy screenwriter Andrew Cosby has been hired to write a television series based on Blizzard Entertainment's beloved computer game series, Diablo, for Netflix.
---
The Boys
Spoiler TV reports Jennifer Esposito has joined the cast of The Boys as CIA Agent Susan Raynor.
---
Doom Patrol
That Hashtag Show has casting calls for Negative Man's wife, a co-worker who witnesses his accident, and a Nazi cobbler from Paraguay.
John Bowers - A male of any ethnicity in his early 30s. A blue-collar ground crew chief for the Air Force, Bowers was a witness to a horrible accident during testing. Has a romantic relationship with another male.

Sheryl Trainor - A woman in her 30s who is definitely related to Larry. A distant woman with two children who is now living with the fact that her husband died in a plane crash.

Von Fuchs - A Caucasian German in his 40s-60s who used to be a Nazi. Know as Paraguay's village cobbler, he is secretly a scientist involved with conducting experiments. He has a noticeable German accent.
---
The Swarm
A TV series based on Frank Schaetzing's eco-thriller The Swarm is now in development with Game of Thrones producer Frank Doelger at the helm. In a press release, Doegler stated:
After having spent eight seasons in the mythical world of Game of Thrones, it is great to return to the present with The Swarm and its searing exploration of the impending doom brought about by man's callous disregard of the oceans, a doomsday scenario as dire as anything imagined by George R.R. Martin.
---
The Wish Giver
Variety also has word a TV series based Bill Brittain's young adult novel The Wish Giver in also in development. The story concerns a man named Thaddeus Blinn granting wishes with unintended consequences in a small town named Coven Tree.
---
Ghoul Gang Slumber Party

Horror icon Barbara Crampton is set to host an upcoming "feminist ghost-hunting reality comedy" from Fangoria Magazine. Each episode will concern four women spending the night in a different haunted house while drinking wine and learning about witchcraft. According to Deadline, "It's described as a comedy that encompasses the hilarity of childhood sleepovers with the likes Queer Eye and Drunk History, with ghosts. Comedian Jamie Loftus will be the first guest."
---
Castlevania
Netflix has released a new poster for season two of Castlevania.
---
Iron Fist
Coming Soon has photos from the second season of Iron Fist. More at the link.
---
American Horror Story: Apocalypse
Finally, Tate and Violent reunite in a new photo from Ryan Murphy's Instagram.
---


Banner art by Jim Cooke.