Samuel L. Jackson talks about the fate of Nick Fury. There's a funeral coming up on Arrow. And True Blood is looking to add a creepy newcomer for the season premiere. Plus, new looks at Dawn of the Planet of the Apes, Penny Dreadful, and How to Train Your Dragon. Spoilers now!
Marvel
Samuel L. Jackson recently said he's eating better and staying in shape in order to "finish out [his] Marvel deal." He also commented that Nick Fury would be recast eventually:
I'm sure they would [recast Nick Fury], why wouldn't they? They do that all the time. All I have to do is walk into a comic book store and see someone else's face on the cover of that thing.
See the video of the interview below. [Yahoo! via Comic Book Movie]
G/O Media may get a commission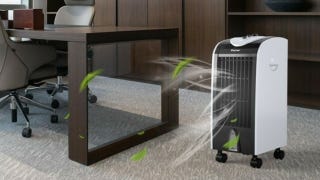 Save $10
Evaporative Portable Air Conditioner Cooler with Filter Knob
---
How to Train Your Dragon 2
A short clip from the sequel has been released. [Coming Soon]
http://www.comingsoon.net/news/movienews…
---
Young Merlin
Writers Patrick Massett and John Zinman (Lara Croft: Tomb Raider) have been hired by Disney to adapt the book series The Lost Years of Merlin by T.A. Barron. The novels, as the titles suggest, follow the teen who will one day be the Merlin of Arthurian legend. [The Hollywood Reporter via Slashfilm]
---
Dawn of the Planet of the Apes
Here are three stills from filming, showing a fair amount of guys in motion-capture suits. Including Andy Serkis on a horse. [Empire via First Showing]
---
Amazing Spider-Man 2
Yet another promo for the film has surfaced. [Coming Soon]
---
Poseidon Rex
And now for films that you didn't even know existed: Here's the synopsis for Poseidon Rex, coming out April 18th:
A small, secluded island off the coast of Belize suddenly finds itself terrorized by a deadly predator from the planet's distant past, when deep-sea divers accidentally awaken an ancient evil. Jackson Slate and his team of underwater cave explorers unearth much more than long-lost Mayan treasure while plumbing the depths of a world famous blue hole. They disturb a creature that's been hibernating for over 60,000 years – a rampaging behemoth of death and destruction not only at sea but also on land.
Below is the trailer. [Shock Till You Drop]
---
Game of Thrones
Maisie Williams spoke about the changing relationship between Arya and the Hound this season:
There is a dark turn in her that's kind of frightening. She's learning a lot from The Hound and she's being heavily influenced by that. She's so young, she's like a sponge and getting knowledge. She's heavily influenced by people around her. Being next to The Hound she's learning his brutal ways.

They're not angry with each other anymore. They're not friends or anything like that. They're trying to get along a little better. She's still awful to him and pulls on his strings and he's very brutal and physical with her. They're almost helping each other now and trying to teach each other rather than just being annoying.
Showrunner Dan Weiss went as far to say that he thinks this is most likely to be the breakout plot of season 4:
If there's going to be any breakout center of interest that's going to blow people's minds from a direction they never saw coming it will be Arya and The Hound. Which is entirely on the power that Maisie and Rory bring to those scenes. Maisie is just a phenomenon. And when you have access to that, and are lucky enough to have her in your show, you take advantage of that. And Rory keeps upping the ante each year with this portrayal of a man who actually has a lot of nuance, though he didn't seem like it out of the gate. The two of them together are so perfect it just seemed crazy not to give them a proper meaty storyline.
In a similar vein comes Rory McCann teasing that the Hound and Arya will "leave a trail of blood behind them." [E! Online]
Alfie Allen explained that things aren't exactly getting better for Theon/Reek, even if they are getting less physically awful:
I remember talking to [Thrones EPs] David [Benioff] and Dan [Weiss] about what's in store for me last season, next season, this season, and they were telling me that it's a lot of mental stuff, rather than physical. Whether that's better or worse, I guess you'll just have to leave it up to the person who is watching it
[TV Line]
Here's a video of an interview with Rose Leslie. [Flicks and the City]
---
True Blood
True Blood recently put a casting call for "The Figure," who was described as "scary, hulking, ugly, mean and crafty… like Leatherface or Jason Voorhees, but this guy talks." The character apparently appears in the season premiere, which was presumably the first episode shot. [TV Line]
---
Arrow
Marc Guggenheim said next week's episode has the title "Deathstroke" because it focuses on "the first huge move that Slade Wilson is going to make in his plan to exact revenge." He also said that it ends on a "bittersweet" and "very messy" note. [TV Line]
It seems like there will be at least one funeral coming up in Arrow. An extra posted a photo to Instagram of herself in costume on the final day of filming on episode 21. Her costume definitely looks funereal, so look for either a death or a flashback to one soon. The Instagram post is below. [SpoilerTV]
---
The Vampire Diaries
In addition to saying that they're going into the end of the season with hope, Candice Accola talked about making Markos "the big bad":
Markos is definitely the next big bad. The Travelers are his legion, his army, so we're going to learn more about them. We're going to learn more about the mythology of the Travelers, why they've chosen Mystic Falls, and if they are all unified or not.

. . . To be quite honest, we're still learning about Markos throughout the end of the season, and he's pretty bad. I think where he differs from the big bads of the past is that what comes with him is a whole new mythology that we're learning about that is really based in witchcraft. It's a whole other realm, so what makes him interesting and terrifying is that he's rooted in [this] new mythology that we've been learning about throughout the season, so as we learn about the Travelers, we're going to learn more about how big and how bad Markos is.
Executive producer Julie Plec previewed the end of season 5:
There are going to be a lot of goodbyes as we realize the other side is disintegrating. Not everybody is going to survive that. We're going to have to say goodbye to some characters that we've grown to love over the years. That's what we'll see when we get to the finale.
[TV Line]
---
Tomorrow People
Executive producer Phil Klemmer's got this to say about the May 5th finale:
Someone will die. Someone will be stuck in limbo. The entire world might be ending or might not. [Robbie Amell] will be shirtless [and] will kick some very, very serious ass. Someone will lose his or her powers. A couple that we've never seen be intimate will become intimate. Someone will possibly lose their memory…. they'll be turned into, like, a grotesque automaton version of their former selves.
[TV Line]
---
The Originals
Charles Michael Davis previewed an upcoming episode, saying there will be flashbacks:
We're doing them now for episode 20. It's actually flashbacks we were going to use in an earlier episode and the great thing was they watched them and they liked them so much they said we want to put them back. I'm really grateful for that!
---
Supernatural
In describing Castiel, Misha Collins seemed to hint at something coming up when he said "Cas knows from personal experience that when he has a position of power, he tends to screw things up, so he's definitely gun-shy." [E! Online]
---
From Dusk Till Dawn
Two weeks into the first season, and El Rey has already renewed From Dusk Till Dawn for a second season. [Den of Geek]
---
The Walking Dead
Here are two new posters for the season finale. [Den of Geek]
---
Gotham
Go here for high-resolution versions of all the official character pictures. And here are the character descriptions:
Harvey Bullock (Donal Logue - Sons of Anarchy, Vikings, Copper): Jim Gordon's partner and mentor, the rough-around-the-edges Detective Harvey Bullock plays loose with police procedure, but gets results — and he does so with old-school, hard-ass panache.
Alfred Pennyworth (Sean Pertwee - Elementary, Camelot): A tough-as-nails ex-marine from East London, Alfred has loyally served the Waynes. Now, in the wake of their tragic deaths, he's fiercely protective of the young Bruce Wayne (David Mazouz - Touch).
Oswald Cobblepot aka The Penguin (Robin Lord Taylor – The Walking Dead, Another Earth, Accepted): Oswald Cobblepot aka The Penguin has the brains of a chess grandmaster and the morals of a jackal. A low-level psychopath for gangster Fish Mooney (Jada Pinkett Smith - The Matrix trilogy, HawthorRNe, Collateral), he hides his sadistic lust for power behind an exquisitely polite demeanor.
Selina Kyle/the future Catwoman (acting newcomer Camren Bicondova): Selina is a teenage orphan who is suspicious and wholly unpredictable. A street thief and skilled pickpocket, she's dangerous when cornered.
---
Penny Dreadful
Here are two character posters of Eva Green and Josh Hartnett's Vanessa Ives and Ethan Chandler. [Shock Till You Drop]
Additional reporting by Charlie Jane Anders and Emily Stamm