There's already speculation about what direction an Ender's Game sequel might go in. The BBC has released details and a run time for the 50th anniversary Doctor Who special. Plus, an answer to the most important question: Will Ichabod ever wear modern clothes on Sleepy Hollow? Spoilers ahead!

Top image: Sleepy Hollow
Star Wars
In an interview with The Times, J.J. Abrams hinted that the four animated "rules" for the new trilogy, which we premiered at io9, reflect his feelings as well. Abrams said he is a fan of the dirtier aesthetic and the mystery of the world shown in the original trilogy:
I would say that (the website conveys) a feeling that we share very much

I loved how Star Wars had that sense of a world far beyond the borders of what you can see and have been told – it's one of the things it did so brilliantly.
If you watch the first movie, you don't actually know exactly what the Empire is trying to do. They're going to rule by fear – but you don't know what their end game is

The beauty of that movie was that it was an unfamiliar world, and yet you wanted to see it expand and to see where it went.
---
X-Men: Days of Future Past
The newest issue of Entertainment Weekly has photos showing Michael Fassbender's Magneto's new look and Beast fighting with Magneto. [Comic Book Movie]
G/O Media may get a commission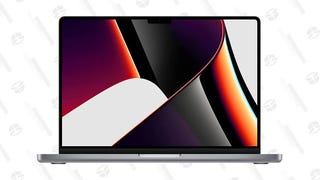 Save $300
2021 14" 1TB MacBook Pro
---
Avengers: Age of Ultron
Comic Book Movie's Devlin712 has some fun speculation on what Ultron will look like in the Avengers sequel. His idea is that it'll be the "Mark 42 Iron Man" suit seen in Iron Man 3. First, we've been told that there won't be a Hank Pym connection, so the speculation already is that Tony Stark will take up the role of creator of Ultron. Devlin712 notes that the comics have always had Ultron protective of his creator and with a father-son like relationship. The Mark 42 did the same thing in the movie and Stark even called it "the prodigal son." Also, it's the aggressive model that threatened Pepper Potts while she slept. So, speculation — but interesting theory. [Comic Book Movie]
---
The Hobbit: The Desolation of Smaug
If that doesn't sate your Hobbit needs, go here for a set of cast posters. [First Showing]
---
Ender's Game Sequel
It literally just came out, and there's already speculation on what a sequel would look like. The book series provides a number of options. Speaker for the Dead has Ender, but also picks up decades after Ender's Game. Ender's Shadow takes place simultaneously with Ender's Game, so that might be difficult. Enter Orson Scott Card's announcement that he'll be writing a new young adult series taking place right after Ender's Game and without Ender. It'll be called Fleet School and will look at what Battle School turns into without the war. Ender's Game director Gavin Hood says that he's aware of the problem of choosing a sequel story, but, sensibly, isn't quite ready to speculate:
It's a great question, but I think it's such a difficult one to answer, because the sequel "Speaker for the Dead" takes place 30 years after, so we're in an interesting place. I think we have to hope that audiences respond to the film… And Orson is apparently writing something that's more of a direct follow called ["Fleet School"]. Obviously, from the studio's point of view, they'd almost certainly want to move the characters from this film into the next journey. So it may be that "Speaker for the Dead" is not the sequel now.

But to be perfectly honest, I don't think we can count our sequels before they hatch. We've got a complicated film here. I hope that it does two things. I hope that it gives the audiences the visual excitement that they want from a big movie, but it does have the challenge of asking questions that films of this kind don't usually ask. And we'll have to see whether audiences embrace that. Most big popcorn movies are bad guy does something to good guy, good guy gets revenge on bad guy, sets the world right and moves on. And "Ender's Game" is just not that simple, so it's an exciting challenge. It's a little terrifying, and let's see how audiences respond. I hope they respond well so we can keep doing films that are not just goodies versus baddies.
---
Divergent
Here's the first character poster for the movie, showing Maggie Q as Tori, with her character's hawk tattoo. In the books, Tori's a member of the Dauntless faction, and most members of that faction have tattoos. Tori 's tattoo symbolizes the sun and Tori's triumph over her fear of the dark.
---
Paranormal Activity: The Marked Ones
Click on the link to see a new animated poster. [Sky Movies]
---
Marvel One Shots
Ben Kinglsey's commented on the Mandarin short that's been rumored, although he hasn't confirmed that the "real Mandarin" will be in it:
I think it may be seen as . . . sometimes [Marvel] tacks on a short film to one of their other releases, maybe on a DVD or something. I haven't heard anything at all about this. So it's in progress. It will have to remain under wraps. Marvel was so brilliant in the way they kept the transition from the Mandarin to Trevor Slattery in Iron Man 3. They were absolutely brilliant at it. I so respect the way they dearly want to surprise their audiences. But we will just have to leave it in the realm of rumor.
[IGN]
---
Doctor Who
One official description for the 50th Anniversary special, "The Day of the Doctor," does little more than confirm that Matt Smith, Jenna Coleman, John Hurt, David Tennant, and Billie Piper will be in it. The only really interesting bit is the reference to "75 minutes of adventure." We've previously been told that the episode would be a normal hour-long one.
An official synopsis for the plot, however, has been released by the BBC:
In 2013, something terrible is awakening in London's National Gallery; in 1562, a murderous plot is afoot in Elizabethan England; and somewhere in space an ancient battle reaches its devastating conclusion. All of reality is at stake as the Doctor's own dangerous past comes back to haunt him.
Taking that with what we've already seen, the presence of Daleks in set photos may point to the "ancient battle" being the Time War. This may be further backed by the reference to the Doctor's past. Of course, the past could just be a literal reference to the other Doctors. The "murderous plot," on the other hand could refer to the Zygons. [Life, Doctor Who & Combom]
---
12 Monkeys
The Syfy series will follow the same basic plot as the Terry Gilliam film it's based on: a time traveler from the post-apocalyptic future travels to present day in order to find and destroy the source of a deadly plague that will eventually bring the human race to its knees. Cast in the leads are Aaron Stanford, as time traveler Cole, and Amanda Schull as Cassa, a doctor who has to choose between her comfortable life or helping Cole.
---
The Walking Dead
Melissa McBride explained how she sees Carol evolving this season and how Scott Gimple has added to the show:
She was so unable to do anything, so just helpless in her own way, when she knew better. But she just couldn't do it. It's a metamorphosis. She's drudging up her courage, and she's making choices and that's something until now she was really unable to do. And she's following through.

It feels like we're getting to know a lot more about each of the characters this season. I think there's a really good balance. Each showrunner has had a really great different vision and as an actor it's been really interesting to work with each of them. And then this season I think we're getting a really nice balance too of action and really good character development. I'm just loving it. I've loved every season and this season so far is my favorite.
And here are a sneak peek and a preview for episode 4.05, "Internment."
Here are two promo photos from the same episode. [SpoilerTV]
---
Agents of SHIELD
We already know that there's a planned crossover between the series and the Thor movie that comes out this week, but the next rumor is that Agents of SHIELD will cross over with the events of Captain America: The Winter Soldier. This makes sense, since the trailers and descriptions of that film have clearly shown that SHIELD will play a huge role and be really affected by the events in that movie. [Slashfilm]
Chloe Bennet told TV Guide that she's a total Skye/Ward shipper:
TV Guide Magazine: On the subject of cute boys, are we heading toward a Skye-Ward romance?
Bennet: I think it's definitely going to happen. Well, that's what I want to see, anyway. I'm crossing my fingers. I mean, just look at that Brett Dalton! [Laughs] If I don't get to flirt with him in every episode, I'm done. I'm leaving the show! I think the fans want to see them together, too. They may not be bold enough to have a romance on the job in their real lives but they want to see other people make that mistake!
More at the link. [TV Guide]
Here's a clip from tonight's episode, "FZZT," showing Coulson describing his near-death (or actual-death, if you're on that side of the debate) experience:
Go here for a complete set of photos from episode seven, "The Hub." [Coming Soon]
---
Arrow
An early review of this week's episode, "League of Assassins," says that this is an action-packed episode. We'll be learning more about Sara Lance, and the episode begins with a flashback that apparently brings to mind the "opening minutes of Back to the Future Part II." In addition to info on Sara Lance, there's also a tough decision for Moira, the first appearance of Dylan Neal's Anthony Ivo, and three huge action sequences. [K Site TV]
---
Sleepy Hollow
Unlike Chloe Bennet, Sleepy Hollow star Tom Mison punts on the shipping question. But he does say that one day, Ichabod will get out of his colonial outfit:
What about the clothes? Are you getting sick of that outfit yet?
[laughs] I'm appreciating it now that it's not 90 degrees and 90 percent humidity here. That's a question that most people seem to go straight to, is about the clothes. And yes, there will be new clothes arriving soon. But how well Ichabod takes to them is another matter.

How far into filming season 1 are you?
We're fast approaching the end. But I spoke to [Sleepy creator] Alex Kurtzman the other day. We had a long conversation where he explained in fine detail what's happening in this season and the plans for season 2. And at the end of the phone call, every hair on my arms was standing on end. It really, really snowballs into a big avalanche, a disastrous avalanche for everyone. The next episode, the one that brings us back from the break, is I think one that we're all incredibly proud of, and that's the arrival of John Noble. That starts shifting us away from the episodic structure of the first half of the season and then gets into a really strong, clear single story, which plows through to the very end. And the season finale, I mean, it killed me when he was telling me about that.

Can you say whether you're shipping Ichabod and Abbie or Ichabod and Katrina?
[laughs] Well, you're going to start seeing a lot more of Katrina, and a lot more of their relationship in the past. And you'll kind of understand why their relationship is so strong. Of course, Ichabod and Abbie, that's just lovely, isn't it? That's just a wonderful pairing. I wouldn't like to pick sides, because I know that there are very strong opinions on both sides, and I wouldn't like to upset either camp.
More at the link. [Entertainment Weekly]
John Noble will be playing Henry Parrish, who can sense and remove evil from people — but he's reluctant to get involved in Ichabod's crazy-sounding talk. Noble teased that Parrish could be around for more than just this episode, saying:
I'll probably back next year as well for quite a lot.
---
Once Upon a Time
Ariel showed up for the first time on Sunday, and the episode ended with her being asked by Regina to go to Storybrooke. The preview for the next episode seemed to confirm that she does indeed go. The actress who plays her, JoAnna Garcia Swisher also confirmed that Ariel's going to be in a few more episodes this season. [E! Online]
And here's that preview for 3.07, "Dark Hallow":
---
Falling Skies
Scarlett Byrne's new regular character, still nameless, did appear in an older season four trailer. Below is screenshot of her character. [Up & Comers]
---
Lost Girl
Here's a synopsis for episode 4.01, "In Memoriam."
The gang takes on a case of stolen memory, only to discover they're all forgetting something… or someone. Meanwhile, the new Morrigan is hell-bent on making sure some memories stay buried forever.
Additional reporting by Charlie Jane Anders and Emily Stamm