Neeson's certainly up for it. Could a fourth Blade movie really happen? Jesse Eisenberg explains how his Lex Luthor is more modern than previous takes. Bryan Fuller talks expanding American Gods for television. Plus major casting news for Arrow, Agent Carter, and Escape from New York. Spoilers now!
Top image: Batman v. Superman
Batman v. Superman
Speaking with Total Film, Jesse Eisenberg talked about being asked to play Lex Luthor:
"They asked me if I wanted to play the part before they sent me the script. I'm not sure how it worked, but it's something I read with the understanding that I could do the role, If I..." he stopped. "You know, they don't just hand the scripts out. But I really liked it on its own terms. I would do it if it was for free and it was tiny."
As for what he liked about it, Eisenberg went on to say:
I realise how popular comic-book movies are, and now, working on one, I realise why they're popular - the story is really good, the dialogue is really good, the artistry behind every department is high, the acting is really good. So if they're all put together with that level of quality...
G/O Media may get a commission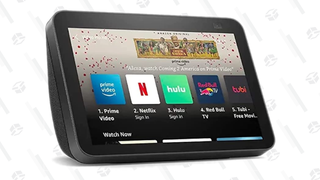 He gave the barest of descriptions of what his take on the iconic character will be:
There are some indications of how the character should behave based on the script, and then as actor makes it his or her own. I got to know one of the writers really well, Chris Terrio, and we were able to discuss things at length and figure out who this person is to create a real psychology behind what is, perhaps, in a comic book, a less than totally modern psychology. I can only say I've been asked to play an interesting role: a complicated, challenging person.
[via Comic Book Movie]
There are also a few photos taken of Henry Cavill on set as Clark Kent. [via Coming Soon]
---
Captain America 3
One of the major questions lingering around the next Cap movie is whether it'll see Chris Evans leave the role. Co-director Anthony Russo talked around the question, telling MTV:
[Whether Captain America 3 is the end] is a hard question to answer because it gets to the specific of where the narratives are going.

... I will say this: yes, for satisfying storytelling, you want a beginning, middle and end. That's the natural arc that we all thrive off of in narrative.
[ MTV via Sci Fi Now]
---
Blade
According to the New York Daily News, Wesley Snipes has struck a deal to return as Blade for a $3 million deal and a cut of the profits. Of course, Marvel currently has the rights to the franchise and no plans for another Blade have been revealed by the studio. But who knows? [New York Daily News via Spinoff Online]
---
Star Wars
Filming has apparently resumed on Episode VII, which had gone on hiatus in the wake of Harrison Ford's injury. [The Hollywood Reporter via CNN]
---
Escape from New York
A source has told Starlog that the upcoming remake will be "more team-based, as Snake Plissken traverses through a treacherous New York landscape with a rogues gallery of criminals who look to leave the island-turned-prison in exchange for the rescue of the captured U.S. President." The source also has a run down of the team:
Plissken's team consists of Mina, a warzone journalist framed for murder and living in the shadows of New York as a scavenger; Cabbie, a schizophrenic travel guide who serves as comic relief; Gareth, the last surviving member of the President's security detail who harbors a dangerous secret; and The Brain, Plissken's former partner-in-crime who left him to die after a botched robbery.
According to the same source, in the running to play Plissken are Charlie Hunnam, Jon Bernthal, and Dan Stevens. Even though none of them have read for the role, the source says Hunnam is in the lead. [ Starlog]
---
Selfless
Tarsem Singh's thriller, which was recently shot on location in New Orleans, has an April 17, 2015 release date. Here's a plot synopsis:
Michelle Dockery ("Downton Abbey"), Oscar winner Ben Kingsley and Ryan Reynolds star in the film, which revolves around a wealthy old man who transfers his consciousness into the cadaver of a younger man using an experimental underground medical procedure called "shedding."

It all seems like a great idea until he starts to experience flashbacks which begin to reveal the disturbing origins of the body he now inhabits.
[ India West]
---
Arrow
Now, I'm pretty sure that WB's desire to keep its films and televisions shows separate from each other (and keeping Nolan's films separate from them all) means this will never happen, but Liam Neeson would totally play Ra's al Ghul on Arrow. He told MTV:
No, I haven't [been approached], I haven't at all. I would, in a heartbeat, if it came my way, yeah, very much so.
In the event that he doesn't get to reprise the role, he had some advice for his successor:
They have to believe in their philosophy. Ra's al Ghul absolutely believed what he was doing was ultimately saving civilization, and it was quite a good argument he comes up with. Throughout the ages this fraternity, that brought the plague to wipe out a section of mankind because it needed to be regenerated again. Very dangerous, but you have to believe it.
[ MTV via Coming Soon]
Amy Gumenick ( Supernatural) has been cast as Carrie Cutter (a.k.a. Cupid), who, as in the comics, will be a lethal villainness with an obsessive crush on the Arrow. Executive producer Andrew Kreisberg, who created the character in his run on the comics, told Entertainment Weekly:
I always loved the idea of Green Arrow having a crazed fan. When I was writing the comic book, my big goal was to create a villain who would last. Cupid has since appeared in the DC Nation shorts on Cartoon Network, and to have her fight our TV Arrow is so much more than I ever could have hoped for the character.
Also appearing will be Nolan Funk ( Glee) as Cooper Seldon, Felicity's college boyfriend, a hacker. He'll appear in, of course, "The Secret Origin of Felicity Smoak," which'll be episode five of the new season. [The Hollywood Reporter]
We've also got this tease for the premiere, from the Arrow's writer's room Twitter account:
---
American Gods
Executive producer Bryan Fuller described the scope of the upcoming Starz adaptation of Neil Gaiman's American Gods:
It's basically the following the events of the books, but expanding those events, and expanding the point of view to go above and beyond Shadow and Wednesday. In that way, as with 'Game of Thrones,' there are dozens of characters that you're tracking through the events and that's probably the biggest similarities between the worlds, in that there's a wide variety of characters at play.
He compares it to Game of Thrones, but we also know from Hannibal that Fuller is a great choice to adapt novels for the small screen. [Crave Online via Coming Soon]
---
Agent Carter
Joining the cast of the upcoming television show are Enver Gjokaj (Dollhouse) and Chad Michael Murray (One Tree Hill). Murray will play SSR Agent Jack Thompson. Gjokaj, who marks another Dollhouse alum visiting the Marvelverse, will play "the sweet and honorable Agent Daniel Sousa, a true war hero who has risked his life many times – resulting once in a crippling leg injury." [Deadline]
---
Agents of SHIELD
Here are some Comic Con interviews with executive producer pairs: one with Maurissa Tancharoen and Jed Whedon and one with Jeffrey Bell and Jeph Loeb. Both address the way the Hydra plotline will shape the new season, [BuddyTV]
Here's a shot of Director Coulson from Entertainment Weekly, which had the text:
How's this for an extreme makeover? Last May, S.H.I.E.L.D. was dismantled after being infiltrated by the terrorist organisation Hydra. Now it's time for Director Coulson (Clark Gregg, above) and his team to rebuild and save the day, with a little help from Nick Fury (Samuel L. Jackson), the former director. Their new headquarters, buried safely underground, in a reconverted SSR (Strategic Scientific Reserve) bunker from WWII, will be "authentically vintage", says executive producer Jeff Bell. "Of course, Fury has tricked it out with a few updates and a handful of cool toys."
---
The Walking Dead
Speaking with Entertainment Weekly, Danai Gurira spoke about Michonne's emotional struggle in season 5:
She does yearn for something more stable in life. She really believes that Carl needs something more stable than where they are and what they have been experiencing, but also she's very committed to what has to be done. She's a woman who does what has to be done, so that involves a lot of ferocity.

.. It is a very interesting arc that she is on in terms of how is that going to show itself. Is she trying to move away from how much of a warrior she is? But will the world allow that?
And go here for more photos from Entertainment Weekly's photo shoot with the cast. [via Coming Soon]
---
Doctor Who
Sam Anderson gave a little preview of his character, Daniel Pink, whose first appearance was on Saturday:
Daniel Pink. He's experienced a lot. He used to work for the British army as a young man —which, as you'll find out through the series, questioned his morals, and questioned him as a man, and he decided that he would become a math teacher. He's quite an everyday man, into the simple things.

And he's a love interest for Jenna Coleman's character Clara, right?

I'm the companion's companion! Those are the kind of things I've been hiding until I read an interview with Jenna and it's like, "Oh right, she said it. Okay."
Here's the description of episode 8.04, "Listen":
When ghosts of past and future crowd into their lives, the Doctor and Clara are thrown into an adventure that takes them to the very end of the universe.

What happens when the Doctor is alone? And what scares the grand old man of Time and Space? Listen!
Here are previews for next week's "Robot of Sherwood." [Blogtor Who]
---
Vampire Diaries
Ian Somerhalder teased some upcoming scenes between the brothers, saying, "I had some really great scenes with Paul [Wesley] not too long ago, like last week," he says. "You definitely see some great stuff with those boys. It's good when they're not at one another's throats." [Entertainment Weekly]
Here's a synopsis of season 6:
"THE VAMPIRE DIARIES"

Thursdays (8:00-9:00 p.m. ET) on The CW

Season five of THE VAMPIRE DIARIES began with a sense of hope for Elena (Nina Dobrev). After a passionate summer with Damon (Ian Somerhalder), Elena headed to Whitmore College with Caroline (Candice Accola), not knowing that Bonnie (Kat Graham) sacrificed her life to save Jeremy (Steven R. McQueen). As Bonnie's friends fought to bring her back to life as the Anchor to the Other Side, Stefan (Paul Wesley) had to face-off with his doppelganger Silas, and a newly human Katherine (Nina Dobrev) struggled with mortality and motherhood. Damon's relationship with Elena was put to the test when Enzo (guest star Michael Malarkey), an old vampire friend from Damon's past, revealed he was still alive and looking for revenge. Stefan and Caroline's friendship deepened as they stood up to the Travelers, a nomadic witch tribe driven to strip Mystic Falls of magic and cast out its supernatural residents. Finally, with time running low until the inevitable collapse of The Other Side, Damon and Bonnie made the ultimate sacrifice in order to bring back their friends.

Now, months after this devastating tragedy, everyone is dealing with the loss of their loved ones in different ways, some more destructively than others. What happened to Bonnie and Damon, and if they can even be saved, remains a mystery. Meanwhile, their beloved hometown of Mystic Falls continues to be a magic-free zone, protected by a mysterious new community watch program. If there's any hope of salvaging their former lives, our heroes must find a way to push through their grief and band together. This season will explore themes of loss, denial and what it means to move on in the face of immortality, ultimately begging the age-old question – can you ever really go home again?
---
Once Upon a Time
Executive producer Eddy Kitsis revealed a bit more about Hans' role in the show's upcoming season:
"He has not been redeemed," executive producer Edward Kitsis tells me. "He's a sociopath." Here's something to chew on: Could he actually be behind Elsa's imprisonment in Rumple's vault? "That's one of the mysteries that we intend to unfurl," executive producer Adam Horowitz says, adding that Hans "still feels the weight of being the youngest of 12 brothers, and there's a very good chance of seeing some of those 12 brothers."
And here's Michael Scott Foster on his Kristoff:
"I would say that I definitely put a little bit of my own take on it because the writing is different," Foster told me of his portrayal of the new Disney character. "It's not the original Frozen story. It's just different. I brought what I thought was right to it and I don't know if it's exactly like the original character. I would say that I definitely bring a little something else to it. I hope people enjoy it."
---
Supernatural
Jared Padalecki says Sam is coming for Crowley:
When Sam finds out that his brother is a demon and confronts him for the first time in episode three, it's intense. He doesn't know that he's a demon at the beginning of season 10. But when he finds out his brother isn't just missing, he's a demon, it doesn't piss him off. He doesn't think Dean did it on purpose or anything. He gets pissed off at Crowley instead.
Here's a set photo, courtesy of Jensen Ackles' twitter account:
---
Outlander
Here are previews for episode five, "Rent." [via SpoilerTV]
Here's a set tour with Diana Gabaldon:
---
The Originals
And here's one for season 2 of The Originals:
"THE ORIGINALS"

Mondays (8:00-9:00pm ET) on The CW

The first season of THE ORIGINALS brought the most formidable creature on earth, the Original vampire-werewolf hybrid Klaus Mikaelson (Joseph Morgan), back to his former home – the vibrant and supernaturally charged city of New Orleans. When he arrived, his siblings Elijah (Daniel Gillies) and Rebekah (Claire Holt) not far behind, he was stunned to learn that werewolf Hayley Marshall (Phoebe Tonkin) was pregnant with his child. Though Elijah hoped that the news of a baby might help rebuild their fractured family, other forces threatened to destroy it further: namely, Marcel Gerard (Charles Michael Davis), Klaus' beloved vampire protégé, whom the Originals thought to be long dead, and a dark secret that Marcel and Rebekah held for a century. The Originals and Hayley soon found themselves caught in a bloody war between vampires and witches, the stakes raised by a vengeful young witch, Davina (Danielle Campbell), and by Klaus' surprising connection to Cami (Leah Pipes), a student with a painful past. Meanwhile, Hayley helped her exiled werewolf family return to the French Quarter, unaware that a ruthless pack of wolves was already lurking in the city, waiting to stage a violent coup on the vampires. As the first season came to a close, the werewolves decimated the vampire community, while the witches made a horrific assassination attempt against Klaus and Hayley's newborn daughter.

Season two finds our heroes adjusting to a new status quo, with the newly empowered werewolves controlling the city and a myriad of unknown threats lurking. Though Klaus and Hayley have vowed to scorch the earth in order to make New Orleans a safe home for their daughter, Hope, they also have inner demons to battle. As she adjusts to life as a hybrid, Hayley experiences crippling rage and depression after saying goodbye to her daughter, and Klaus – who needs his strength now more than ever – finds himself regularly weakened as the werewolves use the moonlight rings forged in his blood. Elijah, finding himself isolated from his troubled family, sets out to destroy Francesca (guest star Peta Sergeant) and her traitorous werewolves, connecting with Marcel and his renewed vampire community in the process. Despite the dangerous climate of the city, Cami recommits to her studies and to pursuing the life she wanted before she met Klaus – but the werewolves in the Quarter aren't the only enemies preventing New Orleans from any semblance of peace.

Unbeknownst to Klaus and Elijah, their ruthlessly devious parents have returned from the dead. Though their father, Mikael (guest star Sebastian Roché), is controlled by Davina's magic, he remains ever-intent on killing Klaus – even if he has to go through Davina to do it. Elsewhere, their mother, Esther (guest star Alice Evans), inhabiting the body of a teenage witch, is fueled by a consuming and twisted love for her children as she devises a disturbing plan to reunite her fractured family – a plan that involves untold torment not only for the Original siblings, but for any and all of their loved ones.
Additional reporting by Charlie Jane Anders and Ryan Plummer