If you've got a couple thousand British pounds in your pocket and are willing to watch your drink all night, cruise on over to eBay UK and bid for a spot at the table with Dr. WikiLeaks himself. For charity!*
*Note: the charity in this case is WikiLeaks, which probably means it'll just go to Assange fighting his own rape case, murky as it is.
The lunch, which The Atlantic Wire reports will unfortunately not be an intimate tête-à-tête but rather an eight-person yak-fest with tedious Slovenian guy-you-have-to-read-in-media-studies-courses Slavoj Žižek. But that's probably for the best. Being one on one with Assange might be a bit tense, no? He has the ire of the entire global diplomatic community upon him, is charged with raping two Swedish women, is free on bail, and, if you blow the magical afternoon, you'll probably have your life destroyed by Anonymous and LulzSec. That is a stressful first encounter!
But what are you getting for your dough, besides a chance to sit next to Julian's luscious hair?
The cost of the lunch
Taxis from the lunch to the event
And a front row seat at the event at the Troxy
The lunch will be from 12 - 3pm on Saturday 2nd July at one of London's finest restaurants. The meal will be followed by a Frontline Club event from 4pm - 6pm at The Troxy in East London where these two formidable forces will be discussing the impact of WikiLeaks on the world and what it means for the future.
G/O Media may get a commission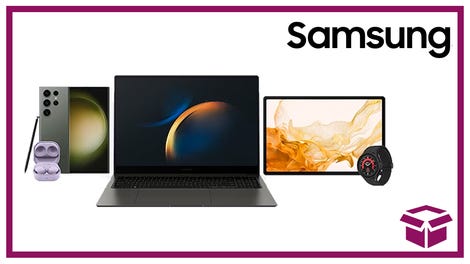 24 hour deals
Discover Samsung - Daily Deal
It's a good thing the tab's included, because if you didn't tip well enough he'd probably release the receipt to the internet internet. [eBay via Atlantic Wire, Photo: Shutterstock/Poulsons Photography, Getty]