Microsoft rolls out the next version of windows, 8.1, at its annual Build developers conference today. It's a big deal. Windows 8 was a crazy ambitious step, what follows is just as important. This is what Microsoft's taken from your months of feedback (or just, yelling).
Is AI Moving Too Fast? | Future Tech
Almost everything coming in 8.1 seems like a genuine improvement. The question, then, is exactly how much improvement. It's not so much good news/bad news as good news and wait that's all the good news? That's part of Microsoft's plan, though, as it's focusing on smaller, faster releases.
We'll be updating this post throughout Microsoft's keynote (refresh to see the latest updates), but we've started you with an overview of what's going into the update. You can watch the keynote live here.
G/O Media may get a commission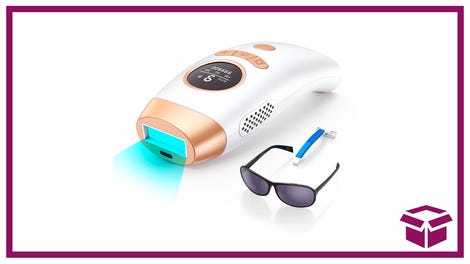 58% Off + Coupon
IPL Hair Removal Device
To Start
Welp, you can boot to desktop now. You can also boot basically anywhere else you want, too—the All Apps screen, individual apps, the Start Menu.
The Start button also returns, but it only flings you into the Start Screen—no old school Start menu.
There are also some new tile sizes: The smaller square tiles (like Windows Phone 8's), which let you cram more stuff onto your homescreen, and the gigantic square tile, which can display a bunch of information, like emails or calendar appointments.
You can select a group of tiles at once and drag them into their own group, which you can name, like a folder.
Swiping up from the Start screen brings up All Apps, which can now be sorted in more ways. This is a nice improvement from the swipe-then-tap required to bring this up in Windows 8.
The start screen can be customized to more colors and has some "motion accents" that move as you scroll through the metro tiles. Or, blessedly, you can just put your desktop wallpaper behind the Start screen.
As a whole, the changes to the Start screen are pretty indicative of the update as a whole. A few functional improvements, some of which are highly anticipated, but just as much window dressing and little flourishes.
Wider Customization
Microsoft's big push for 8.1 is to make Windows feel more customizable, and that goes beyond the Start screen.
All your Modern/Metro apps will get automatic updates through the Windows Store in 8.1.
The most visible change is the tweak to multitasking. "Snap View", or the ability to pin a Metro app to either side of the screen, has been changed to let you drag to resize the apps. Meaning: If you want to have, say, Mail on the left side and a browser on the right, you can have each app take up 50 percent of the screen, or drag the divider around to your liking.
The new snap features open new Metro apps automatically, but we still aren't sure how this works with forcing an app to default to open in its own window.
In addition to this, you can have up to four apps snapped as vertical columns on your screen. All screens can take four apps, but obviously you're going to want a larger monitor to handle them (16:9 or 21:9 being ideal).
IE11 in Metro can now open more than one window, and can have infinite tabs.
Microsoft has looked into allowing you snap apps as horizontal rows—either at the top and bottom of the screen, or within columns created by snapped apps—but that's not currently possible. Yell about this some more and maybe it'll show up in an update down the road.
The lock screen can now be a moving collage of photos from your PC, SkyDrive, and Phone. You can also do things, like answer Skype calls, from the lock screen as well.
Mail will be updated in an upcoming build to have some new features like "sweep", which gets rid of all of the same spammy emails of a type. So, LivingSocial: you can get rid of every LS app at once, or only keep the oens from with the past 10 days or so.
Music got a new auto-generating playlist feature that makes a whole playlist from a selected artist.
Gestures
The on-screen keyboard has some new gestures. You can slide up from any key that has a number as a secondary key, and the number will be inserted automatically, instead of having to switch to a different panel.
You can use hands-free swiping to scroll through apps, which is allegedly helpful for stuff like the new Food and Drinks app, which is more or less a huge cookbook.
Multi-Monitor
We know you'll be able to keep the Start Screen pinned to one screen permanently now, but we'll have more specifics soon, hopefully.
Each monitor will now have its own scaling factor, meaning that you can zoom in with a high DPI monitor, and then move the app to a lower DPI screen without it being huge and awful. The app just resizes on its own.
SkyDrive
SkyDrive features more prominently in 8.1. You can decide in all your apps whether to view files on your PC or on SkyDrive, and where things are saved. We'll add further features as they're announced.
Settings
We're going to see a lot of new APIs today that will allow developers to make apps more customizable. We're also told that the first party Microsoft apps will have more options as well. We'll have more details as the specific APIs are announced.
Search
Search is a big addition for Windows 8.1. Well, "change" is probably more appropriate.
In Windows 8, Search was broken down to search by applications, on the web, in the store, through your files. You decided which you'd see.
In 8.1, Search is universal. Searching for any term will bring up a "hero" display if you press enter, showing you results from the web, in your files, and anywhere else, which you scroll through.
If you just type into the field, though, the pane on the right hand side of the screen will display results in real time, a lot like Apple's Spotlight. This is a good thing, in theory, but we still want to see how it works in a day to day setting.
Apps
Performance is supposed to be faster for all apps in 8.1. We'll let you know if we see the difference.
For devs, there are new performance analysis tools in Visual Studio 2014 to test network health, battery life effects, and other variables with app performance.
There's also a new tool to make push notifications easier to put into apps. So for users, notifications should be better in the apps you use.
The Store is totally remodeled, with new lists that make it easier to find things.
There are some new ways to use graphics resources, called tiled resources, which you can find out more about here.
3D Printing
Microsoft is partnering with Makerbot, 3D Systems, Form Labs, Autodesk, and several other software and hardware companies to add 3D printing support to 8.1.
Windows Phone 8.1
Apparently we're going to be hearing about Windows Phone, too, which is unexpected. We're going to be adding details about it as we have them.
Business
Microsoft is also pushing new enterprise features, like better and easier encryption. Obviously, Windows 8 wasn't a huge hit for that sector, so this is sorely needed. More details to come here.
Good thing? Bad thing?
Windows 8.1 brings good stuff to the table. The question isn't really if it's good, but if it's good enough. A lot of that will depend on how the new developer tools are implemented going forward, and how much developer support overall improves this year.