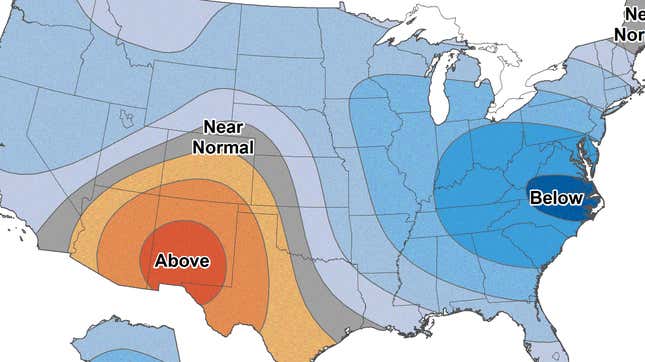 If you're on the East Coast, like me, and have been enjoying all the balmy sunshine lately, buckle up—it's about to get cold.

Much of the Eastern U.S. could see frigid temperatures starting this weekend and lasting into next week, the U.S. Climate Prediction Center said in a 6-10 day temperature outlook issued Wednesday. Much of West Virginia, South Carolina, Ohio, Kentucky, Tennessee, Maryland, and Delaware, including the Washington, D.C. area, have between a 60 and 70% chance of seeing temperatures below average over the next ten days, with some areas in Virginia and North Carolina having a 70 to 80% chance.
This cold snap comes on the heels of an unusually warm February across much of the country. Hundreds of cities saw record or close to record highs last month, which followed several unusually warm weeks in December and January; around New Years, dozens of cities across the South, Midwest, and East Coast set or came near temperature records, according to the Washington Post. Major cities including Houston, Miami, New York City, Washington, D.C., New Orleans, Nashville, Dallas, and Boston experienced some of their warmest winters on record between the beginning of December and the end of February, according to CNN.
"Much of the cold has been kept bottled up in the Arctic for much of this year so far, but that appears to be changing and most people in the US will feel it later this week," CNN senior meteorologist Brandon Miller said. "On the positive side, there just isn't as cold of air in March left to invade the US and bring too much in the way of a deep freeze, like what we saw in late-December."
Spring doesn't officially begin until March 20, but the cold snap is a great reminder that climate change and weather are not the same. Climate change may seem like a faraway concern when you have to break out the winter coats, but given how the past nine years have also been the nine warmest on record, it's more concerning to think about the worrisome warms in February than the quick cold in March.
G/O Media may get a commission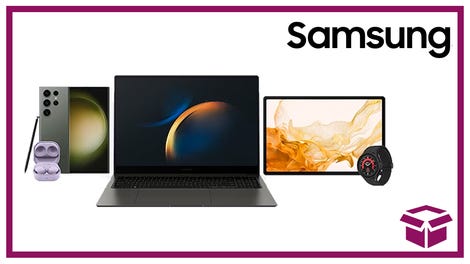 24 hour deals
Discover Samsung - Daily Deal
Correction 3-8-23, 4:39 PM ET: A previous version of this article incorrectly stated that parts of Virginia and North Carolina along the coast could see temperatures "70% to 80% below normal," while other areas could see temperatures between "60% and 70% below normal". In fact, the percentages reflect the chance that these regions will see lower-than-typical temperatures.