Welcome back to Toy Aisle, io9's weekly roundup of the nifty little tchotchkes tempting our wallets lately. This week: Lego rides its chibi-style figurines all the way to the future, Hot Toys unleashes its take on a very beardy Captain America, and a weirdly cute Deadpool. Take a look!
---
Marty McFly and Doc Brown Back to the Future Lego BrickHeadz
Given the rate that Lego keeps releasing new BrickHeadz figures, in a couple of years the squat, misshapen characters could make up 90 percent of the company's toy line. But is that really a bad thing? Not if all the BrickHeadz bring us as much joy as Lego's new Back to the Future Marty McFly and Doc Brown do. Available April 15 for $20, the 240-piece set lets you build the amateur time travelers, who come with accessories like a camcorder, DeLorean remote, and baseplates for displaying.
G/O Media may get a commission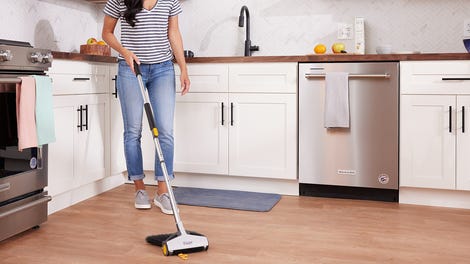 BOGO 50% Off
Flippr - BOGO 50% Off
[Lego]

---
Hot Toys Avengers: Infinity War Sixth-Scale Captain America Movie Promo Edition Figure
Hot Toys has been slowly teasing its oodles of Infinity War figures over the past few weeks, but now we have the most glorious of them all: the ruggedly bearded version of Captain America. Aside from the beard, which is full of patriotism and... hair, this version of Captain America features two different articulated Wakandan gauntlets, which can expand out into widened shields, perfect for a superhero known for flinging a shield around every once in awhile.
Cap doesn't come with his usual trusty shield this time (Tony's still got it after Civil War, of course), so he's otherwise sparsely accessorised. But if you do want a bit more, the deluxe "Movie Promo Edition" version comes with a giant stand depicting one of Thanos' myriad goons, an Outrider, slumped over it, for you to pose Cap valiantly standing over it. That version will set you back $267 when it releases in summer next year. Just in time for Avengers 4? [Sideshow]
---
Anovos Star Trek Vulcan Ear Wireless Earbuds
One of the reasons people often choose earbud-style headphones instead of the over-the-ear alternatives is that it's not immediately obvious they've tuned out the world around them. These wireless earbuds from Anovos will have the exact opposite effect, thanks to pointy rubber ears designed to commemorate the pair worn by Leonard Nimoy while playing Spock. You will definitely not go unnoticed wearing these, but with around four to five hours of playback time on a two-hour charge, you can continue to tune out the world. Live long, and press play.
[Anovos]
---
Kidrobot Plush Deadpool Riding a Unicorn
The Avengers aren't the only Marvel superheroes returning to theaters this year. Deadpool will also be back on the silver screen this May, and the character's fourth-wall breaking shenanigans lend themselves almost too well to an infinite number of product placement opportunities. If you thought the flood of Avengers merchandise was overwhelming, the Deadpool onslaught is going to be a tsumani—but can you really be upset with plush Deadpools riding rainbow-horned unicorns? Part of Kidrobot's Phunny line, this $15 collectible reminds us that superhero movies don't need to always be so dire.
[Kidrobot via Plastic and Plush]
---
Owen and Blue Jurassic World: Fallen Kingdom Lego BrickHeadz
What?! More BrickHeadz already? Just days after revealing its Doc and Marty Back to the Future collectibles, Lego brings us adorable versions of Jurassic World: Fallen Kingdom's Owen and Blue, the velociraptor. The $20, 234-piece set will be available starting on April 16 and will include a tranquilizer gun for Owen, but no dino-accessories—not even a door handle to cleverly open.
[Lego]
---


Figuarts Ant-Man and Ant
Getting an updated Figuarts version of the MCU's Ant-Man is all well and good, but the real joy here is a wonderfully detailed Figuarts ant. Based on the upcoming Ant-Man and the Wasp, Figuart's two-pack brings us an updated Scott Lang figure as well as a giant ant (well, in figure term, I guess in "scale" it'd be a normal-sized ant) that is just under 10 inches in length. There's no detail yet on how articulated, if at all, the ant will be, but at least Ant-Man himself is fully posable, allowing him to sit astride his buggy steed into battle. Bluefin will be bringing this figure to the west for $100 this October. [Toyark]