Babies are so adorable! And so very much trouble. They're always hungry, often crying and never sleeping. But here's a little secret: fatherhood can be a great excuse to gear up. Oh man. I'm totally lactating.
---
1. Evoz Baby Monitor
the most basic thing you need to do with a new kid is make sure the little fella is okay. But that doesn't mean you want to stay right by their side 24 hours a day. New dads need a break, and a beer. The Evoz system lets you use either a standalone audio monitor, or any iOS device with a microphone. It tracks how long your child is asleep, and can send you text alerts (or call) when your baby is crying. But the best part is that it doesn't rely on radio signals. It uploads audio through a central server, and can broadcast it to any other iOS device. Which means you can listen in not just from the other room, but the backyard, the office, and yes, the bar.
$180 for audio monitor plus one year of service [Evoz]
G/O Media may get a commission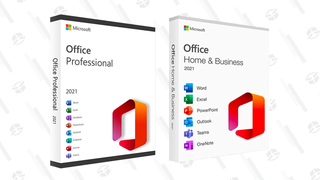 89% off
Microsoft Office Professional 2021 Lifetime License
---
2. Jawbone Up
With that monitor alerting you every time the baby cries, you're going to be up a lot of the night. While this UP will count your steps and track your meals and generally help you discover more about how you're living, new papas will 'preciate the sleep tracker. It shows how long you're snoozing, how long you're awake, and what the quality of your sleep was the night before. And while you may think this device is all about tracking yourself, but it's also useful for tracking your kid. If you're getting up with the wee 'un, it also makes a fine way to see what his or her sleep patterns are like.
NOTE: Due to a manufacturing defect affecting some customers that causes bands to stop working, I can no longer recommend this product. Please see the full review for more information.
$100 [Jawbone]
---
3. Sony MDR-NC100D
Thank God. Baby finally asleep. Your wife has the helm. NOW IS THE TIME FOR NAPPING. Whether you want to drown out the sounds of your slumbering parter's sleep-deprived snoring, or the cries of a persistently wakeful tiny human, these pocketable noise canceling in-ear headphones from Sony will serve up silence when you need it most.
$150 [Sony]
---
4. Clever Coffee Dripper
But in reality, no matter how much you want sleep, you're not going to get it. New parents need a lot of coffee. No, no. More than that. They need a perpetual supply. A neverending dram. Infinite beans and water, constantly fueling those long nights and drowsy days. But that doesn't mean you need to drink crummy coffee from a crappy drip. Not only will the Clever make delicious, perfect brew, but it's dead simple to operate, even one-handed. Just add grinds, hot water, let it sit, then place it on top of a mug for café-quality cups. $15 [Sweet Maria's]
---
5. Bob Ironman Stroller
If staying awake via chemical means ain't your thing, there's always exercise. Get your heart pumping. Move those blood cells around your body. Rolling with the BOB Ironman will keep you lively and (even better) keep you fit. It's lightweight (at 23 pounds, which sounds massive, but for a stroller, not so much), has great hubs with sealed cartridge ball bearings the wheels spin fast and free and even has three inches of travel if you want to take it on rough terrain. Also? The high visibility yellow will protect the babe from traffic, while making you an obvious target of envy from other pops. $409 [BOB]
---
6. Yepp Mini Child Carrier
But maybe running isn't your thing. You can still roll out strong with this baby carrier from Yepp. It hooks onto the stem of your bike, to keep the kid in front of you as you ride your way through Candyland. Or, you know, wherever. The bottom line is that the soft EVA polymer seat will cradle your kid's caboodle in comfort, while at nine pounds it isn't going to turn your ride into a haul. A shoulder harness and foot straps will keep baby from falling, and because it's rated up to 33 pounds, you can stap 'em in until they're three years old. Finally, thanks to delightful Dutch design, the Mini will keep your bike looking boss. $140 [Yepp]
---
7. Sherpani Rumba
Run. Ride. However you make it happen, the important thing for a new dad to remember is that you've got to get the hell out of the house. You'll be happier. Your partner will be happier. And ultimately, your baby will be happier too. And if you want to get way out, the best way to do it is to hit the trail and commune with nature. And for those long head-clearing walks in the woods, you'll need some support. Sherpani's pack holds kids up to 70 pounds, and provides 2800 cubic centimeters of room. Plenty of space to pack in the little one, and a big lunch. And because it's loaded with comfort features—from a sun shade to stirrups to bucket seats—you can hike off knowing your child will stay cozy no matter how far you roam. $250 [Sherpani]
---
8. Milwaukee M12 2410-22 Cordless Drill
And here's the thing: You need that outdoor stuff because you are going to spend a lot of time inside. The next few months are going to be a very special time, when you're going to get to know IKEA so intimately you can navigate it with the lights off. You'll be putting together cribs, chests of drawers and cabinets. Attaching baby gates. Putting on fasteners to secure those wayward drawers and kitchen cabinets. This 12 volt drill driver will save your wrists from the tyranny of screws and bolts. It's cordless, and nice and compact, and has a hard-shell carrying case so you can tuck it away out of sight. And look, bottom line, what kind of dad doesn't have a drill? $150 [Milwaukee]
---
9. Star Trek Light Up Feeding System
All your baby things shouldn't be about utility. Once you get that high chair put together (suggestion: try cursing at it more) it's time to eat. Baby stuff tends to be overwhelmingly cute. Too cute. Way too cute. What you need is a strong dose of pop culture in the form of this Enterprise feeding system. The spoon is the Enterprise itself, while the bib features flashing lights and art from the show. But its strongest feature at the blinking lights on the craft's nacelles, which will keep your kid peering at the spoon until you're able to successfully dock a payload of Gerber in his or her tongue. $25 [Think Geek]
---
10. Rickshaw Bagworks Large Zero Messenger Bag
And the ultimate question you will find yourself facing at the end of the day (aside from the existential ones) is always the same: where am I going to put all this stuff. The answer, for much of it at least, is a good bag with ample room. Look, a new dad has to get a lot of stuff that's just for baby (see, pretty much everything above). But a nice bag will pull double duty. First, it can be your diaper bag. Purpose made diaper bags are dumb. All anyone needs is a bag with room for diapers, wipes, and bottles and a few pockets to separate the stuff. Second, look, it can be tough being a new dad! New dads need a little reward. A little something just for themselves. This bag will help. $90 [Rickshaw Bagworks]
---
Still haven't found the right present? Don't worry, we're here all month with a new gift guide every day—right up until the last minute. To see 'em all, head on over to #GiftGuide.
---
You can keep up with Mat Honan, the author of this post, on Twitter, Facebook, or Google+.