An insane Doctor Who rumor spells a grisly fate for Clara Oswald. Colossus may have a bigger role in Deadpool than previously thought. We'll have to wait a little longer for the next Star Trek film. Plus Twin Peaks casting, Game of Thrones set videos, and a new look at Agents of SHIELD. Spoilers Now!
Ghostbusters
Following on from reports that Ernie Hudson filmed a cameo for the film during the last day of production, the Boston Herald's report on the filming adds that Ghostbusters star Annie Potts (who played the receptionist Janine in the first two films) filmed an appearance as a Hotel Clerk.
---
Star Wars: The Force Awakens
Gwendoline Christie discusses the liberation of playing a masked character like Captain Phasma:
It was very important to J.J. that I was there acting a part. I found it to be a really interesting acting challenge, not just because of what I felt this character was representing — and it was just what I felt, and we talked about it a little bit, but it was never like a manifesto, 'this is what it must be' — and it was exciting to me to have that weight of responsibility taken away, of having to be a certain way as a woman, to have to be mindful in a way that isn't always useful. To have that stripped away was very liberating, and it meant that as an actor I had to focus on other things. I had to focus on what my body was communicating and what exactly my voice is communicating.
G/O Media may get a commission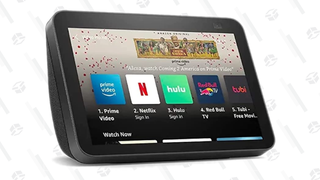 And discusses comparisons between the Stormtrooper commander and her Game of Thrones role, Brienne of Tarth:
I don't think many female actors get the opportunity to play a part where they're not having to think about the way their face looks, but I found exactly the same thing with Brienne of Tarth, and that was very liberating. It was great as an actor to work on your skills — that it isn't about holding your head so you look beautiful. It's about what you're transmitting, and to be in service of an idea greater than yourself, whether it's the character's overriding objective or, beyond that, hopefully something more sociopolitical. We have seen an image of [Phasma] and again, it's an unconventional kind of woman exhibiting a kind of strength, but in a very different way to my other two characters.
[Variety]
Speaking in a cover interview for Vogue, Lupita Nyong'o discusses a similar freedom she felt playing the motion captured role of Maz Kanata, describing it as "bizarre and fun":
I really enjoyed the fact that you're not governed by your physical presence in that kind of work. You can be a dragon. You can be anything.
---
Resident Evil: The Final Chapter
Screen Gems have announced the full cast for the movie beyond the returning Mila Jovovich and Ali Larter. Iain Glen and Shawn Roberts will reprise their roles as Dr. Alexander Isaacs and Albert Wesker, Ruby Rose (Orange is the New Black) will Abigail, Eoin Macken (The Night Shift) Doc, William Levy plays Christian, Fraser James (Law & Order: UK) plays Michael and Japanese model Rola appears as Cobalt. [/Film]
---
Thor: Ragnarok
Tom Hiddleston ruminates on if his version of Loki will remain sympathetic or become a total supervillain—adding that he doesn't know when, or perhaps if he ever will, play the character again after Ragnarok:
You know, I don't know. I think I won't be able to help it if I ever play him again, and I just don't know when that's gonna happen, if that's gonna happen. I would never lose his dimension, but it's so interesting. I've talked with Chris Hemsworth, how those characters have changed as we've changed. It's five years ago since I played him for the first time. That's a long time ago. So who knows what I'll be cooking up!
---
Star Trek Beyond
The film's release has been pushed back just two weeks, to July 22nd 2016. [Coming Soon]
---
Deadpool
Deadpool creator Rob Liefield took part in a Q and A at Amazing Hawaii Comic-Con, teasing that X-Men member Colossus has a large role in the film than previously thought:

You guys have seen a glimpse of him in the trailer; at San Diego in Hall H, they showed a little bit more of Colossus. You are going to love Colossus in Deadpool. He's in it a good amount; he doesn't just walk through the movie.
---
Doctor Who
Peter Capaldi explains why The Doctor freely handed himself over to archnemesis Davros in "The Magician's Apprentice":
He does it because he has unfinished business, he's let himself down, he did the wrong thing with the child Davros. He abandons the child Davros to his fate which is not the right thing to do, so he's haunted by his moral failure.

The opportunity to square that circle, to resolve that failure, to make up for it, to make peace with it is why he goes to Davros. He owes him, and knows in essence that he's responsible for the creation of Davros.

He's played a part in that so he accepts that he has the responsibility to try and resolve it, and that's why he goes.
Here's a synopsis for the third episode, "Under the Lake":
When an Underwater Base comes under attack, the Doctor and Clara must save the frightened crew and defeat an impossible threat. But what is behind these terrifying events? And can they really be haunted by ghosts?
The two part episode will also feature some obscure Doctor Who aliens: A Tivolian (one of the rodent-like race played by David Walliams in "The God Complex") and an Arcateenian (a celestial race that first appeared in the kids spinoff The Sarah Jane Adventures). [Blogtor Who]
The Radio Times has a bizarre theory about the recently released promo picture of The Doctor, Clara and two Daleks recreating the iconic Beatles cover for Abbey Road—tying in the references in the picture to the infamous conspiracy theory claiming that Paul McCartney died during the mid 60s and was allegedly replaced by a double in secret. They deduce that Clara may not make it out of this season alive.
Here's a trailer for the next episode, "The Witch's Familiar".
---
The Walking Dead
Danai Gurira teases the sixth season, through Michonne's relationship with Rick Grimes:
Michonne and Rick have really great intimate bond as friends and it's been growing really since season three. It just develops more and more and it's been tested in so many different ways. Then the fact that she stood up and said, 'We have got to go to Alexandria,' and then when she felt that he was doing something that could endanger himself and the group and be something that he could possible regret, she took ahold of the situation.

She's always had that power in her but she doesn't exert it unnecessarily and that's what I find kind of astounding about her as a character, which is her ability to really step in in the exact right moments and the exact right ways.
[ET]
---
Game Of Thrones
1,200 extras are being sought for filming taking place in Bardenas Reales Natural Park in Navarre, Spain this week—with the insinuation from the casting call implying that these extras will be playing members of a Dothraki khalasar (presumably the one that finds Daenaerys at the end of season five). [Watchers on the Wall]
Several videos from last week's filming of a major scene involving House Tyrell soldiers, lead by Jamie Lannister, storming King's Landing to rescue Queen Margaery have hit the web—you can see the new armor of House Tyrell (and Mace Tyrell's fabulous plumed helmet) in them below. [Watchers on the Wall]
Icelandic band Of Monsters and Men have been spotted filming a cameo for the show in Girona, Spain (standing in for Kings Landing), continuing the show's run of musical cameos. [Watchers on the Wall]
---
Twin Peaks

Balthazar Getty and Amanda Seyfried have been cast in the revival of the show. Getty and Seyfried will play major characters in multiple episodes of the series, but Showtime did not disclose any further information about their roles. [TV Line and TV Guide]
---
Moreau
Sleepy Hollow creator Phillip Iscove is producing a new adaptation of the classic H.G. Wells novel The Island Of Dr. Moreau for CBS. The show will revolve around "the fiercely intelligent and fearless Dr. Katherine Moreau as she expands the boundaries of medicine through bold and revolutionary scientific experimentation and treatments in her privately funded island hospital". [THR]
---
Taken: The Series
NBC are planning a TV series based on the movie series about a demonstration of a very particular set of skills by Liam Neeson's Bryan Mills. Neeson is not expected to reprise the lead role, and the series will be set in the modern day as we explore the nature of Mills' training. [THR]
---
Westworld
Tessa Thompson has joined the cast as the "mysterious provocateur" Charlotte Hale, a woman with a "unique perspective" on Westworld itself. [Deadline]
---
Legends Of Tomorrow
Marc Guggenheim teases a cameo of the in-universe magazine Newstime, an homage to the magazine of the same name that often appeared in the DC universe (and also was a workplace of Clark Kent during a brief stint away from The Daily Planet):
---
Gotham
Here's a new Jerome-focused trailer for the second season.
---
Agents Of SHIELD
Finally, some cast photos for the third season of the show have been released—go to the link to see more. [Comic Book]
---
Additional reporting by Gordon Jackson and Charlie Jane Anders. Top image: Ghostbusters.