Brian K. Vaughan's Saga is one of the best comics out there right now — but you can't read the latest issue on your Apple device, because it contains "two postage-sized images of gay sex." And Apple's stone-cold vision of the future has no room for gay people, at least not if they're going to express their sexuality.
Here's what Vaughan wrote over on the Image tumblr:
As has hopefully been clear from the first page of our first issue, SAGA is a series for the proverbial "mature reader." Unfortunately, because of two postage stamp-sized images of gay sex, Apple is banning tomorrow's SAGA #12 from being sold through any iOS apps. This is a drag, especially because our book has featured what I would consider much more graphic imagery in the past, but there you go. Fiona and I could always edit the images in question, but everything we put into the book is there to advance our story, not (just) to shock or titillate, so we're not changing shit.

Apologies to everyone who reads our series on iPads or iPhones, but here are your alternatives for Wednesday:

1) Head over to you friendly neighborhood comics shop and pick up a physical copy of our issue that you can have and hold forever.

2) While you're at it, don't forget to support the Comic Book Legal Defense Fund, which helps protect retailers who are brave enough to carry work that some in their communities might consider offensive. You can find signed copies of Saga at the CBLDF site right now.

3) Download the issue directly through sites like https://comics.imagecomics.com or on your non-Apple smartphone or tablet.

4) If all else fails, you might be able to find SAGA #12 in Apple's iBookstore, which apparently sometimes allows more adult material to be sold than through its apps. Crazy, right?
Pretty much every issue of Saga has contained some intense stuff, including straight sex, bloody violence, and childbirth. There are bare breasts, surreal images, and things like child prostitution.
And despite some mental images that might freak you out a bit, that's why Saga is such a great and popular comic — it depicts a future that feels real. It's unlike a lot of other space operas, in that it's also a family story in which the personal and the political collide — and it shows the way real people live. Including the way real people have sex.
G/O Media may get a commission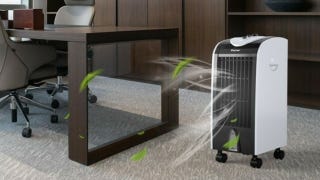 Save $10
Evaporative Portable Air Conditioner Cooler with Filter Knob
If you have to choose between Saga's gritty, insane view of the future and Apple's sterile, mindless version — and Apple is making you choose — pick Saga's, every time. It's the version that feels like one you could actually live in. [via Comics Alliance and Kotaku]