Movie special effects have gotten better and better, but the big screen still can't deliver the kind of mind-blowing visuals and intricate, stare-for-hours detail that comics bring us. This year's greatest comics included some fantastic science fiction, some thrilling space opera — and a handful of superhero titles that made us celebrate the age of spandex.
Here are our picks for the best comics and graphic novels of 2012. Some limited spoilers ahead...
The Unwritten
By Mike Carey and Peter Gross
The Unwritten has been Vertigo's best comic for the past few years, but 2012 is when it truly kicked into high gear. The Unwritten started the year with the incredible War of Words arc, in which Tom Taylor - endowed with the magic bestowed on him by the millions of fans of the Harry Potter-esque Tommy Taylor books - took the fight to the Unwritten cabal, faced the mysterious Pullman, and learned the true power of stories… only for things to immediately go to hell (in more ways than one). Carey and Gross reveal there's much more to The Unwritten story than what we've believed, and Tom's tales - and troubles -aren't even close to over. We couldn't be more excited, because The Unwritten continues to be brilliant, thoughtful, literary, and most of all, massively entertaining.
G/O Media may get a commission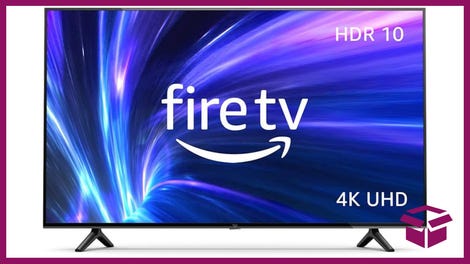 42% Off
Amazon Fire TV 50" 4K Smart TV
Batman
By Scott Snyder and Greg Capullo
It's hard to talk about Scott Snyder's run on Batman without mentioning the Grant Morrison run that preceded it. Both stories feature Batman encountering secret societies bent on his destruction led by unknown people with ties to Bruce Wayne's family, but while Morrison's "Black Glove" stories were weird and, well, Morrison-y, Snyder's arc features Batman at his most accessible best, with a mix of action, mystery, pathos, Batman doing actual detective work, Batman being human again instead of the infallible badass he was during Morrison's tenure, and, most of all, riveting (although its worth noting that Snyder is just as well-versed on Bat-mythos as Morrison was, as he proved many times in 2012). More impressively, once Snyder took over Detective Comics, that Batman title became immediately awesome too, turning the oh-so-XXtreme "faceless" Joker conceit into the mesmerizing and still ongoing "Death of the Family" arc. Basically, if you saw a comic with Batman and Scott Snyder's name on it, you should've picked it up.
Saga
By Brian K. Vaughan and Fiona Staples
Vaughan's long-awaited return to comics did not disappoint — it's a rollicking great space adventure about two grunts who are on opposite sides of a massive space war, who fall in love and make a baby named Hazel. And then go on the run from everybody in the galaxy who wants to ice them. Reminiscent of Heavy Metal at its absolute best, Saga just bursts with cool imagery, courtesy of Staples' artwork. But as you'd expect from Vaughan, Saga has more than just cleverness under its belt — there's also a generous amount of character development, and a lot of heart. Amongst all the bounty hunters and alien monarchs, Saga has at its core a beautiful story about just how far parents will go to protect their child.
iZombie
By Chris Roberson and Mike Allred
It's a shame that Roberson and Allred's sexy monster-pop romp came to an end so early, but while the finale feels a little bit rushed, that doesn't make it any less epic. The zombie invasion of Eugene, Oregon, has ended, but that was a walk in the park compared to what's coming next - Xitalu, the soul-eating tentacle monster from beyond reality. But that's not all that Gwen has to deal with: Amon the sexy mummy has a plan to save the universe that Gwen hates; the immortal Galatea has a plan to enslave the Xitalu and rule the world; her were-terrier friend Scott is dating her brother (that doesn't know she's dead); her ghost friend Ellie's is hanging out with Galatea's Frankenteen; people are turning into Lovecraftian nightmares all over town; oh, and her boyfriend has been possessed by a vengeful spirit. And this is to say nothing of zombie Abraham Lincoln fighting Nazi werewolves. It may be brisk, but iZombie's ending is still a worthy end to this great, great series. Besides, any comic that features the line, "I can just about accept a talking chimp. But a homophobic talking chimp is where I draw the line!" deserves to be on every best-of-the-year list.
Hawkeye #1-6
By Matt Fraction and Javier Pulido
Did you chortle at that SNL skit about Hawkeye being the non superpowered guy alongside Captain America, the Hulk and Thor? Well, this comic might just make you stop laughing. Hawkeye, the guy who just shoots a bow and arrow, becomes a rugged adventurer whose new catchphrase appears to be "Okay... This looks bad." He can't toss planets around or punch through a brick wall, but he can take tons of punishment, and still try to do the right thing. Along with Kate, his friend and sometime replacement, he goes around taking on crooks and gangsters and the Hypno Hustler, plus Madame Masque and much, much more. This is probably the most fun superhero comic being produced right now, and it's a great ground-level look at the Marvel Universe. Plus Fraction occasionally sneaks in serious issues like gentrification and what it means to be honorable. One of the best things to come out of the Marvel Universe in ages.
Multiple Warheads #1-3
By Brandon Graham
This comic sort of reads like Adventure Time for grown-ups — Nikoli and his girlfriend Sexica travel around a vaguely post-apocalyptic world full of strange vistas and weird magical items, in their beat-up old car. The cities are all destroyed or rebuilt as these weird sort of surreal Mobius-esque places full of creatures. There are ancient poisons and weird substances everywhere. Oh, and a blue-haired bounty hunter is separately stalking around the wasteland picking up the realm's most wanted. The writing is intensely goofy, full of puns and ridiculous asides — but the star is really the amazing artwork, combining the cartoony with the fantastical, and jam-packed with lush details and amazing colors. Graham's sense of composition and panel layout is flawless, and the result is something pretty startling.
Wonder Woman
By Brian Azzarello and Tony Akins
Is there a character who has benefitted more from DC's New 52 relaunch than Wonder Woman? We doubt it. Writer Brian Azzarello has given the ultimate superheroine a new direction and new focus by tying her more closely to the Greek gods and their machinations, including a mortal carrying the child of Zeus, insidious plots by Hera and Apollo, and more; the result is a fresh start for WW that really clicks, for the first time in a long time. And while the setting may be full of mythological horror, and while Azzarello may have shaken things up by turning Diana into a demigod and the Amazons into something more like the Amazons of legend, he obviously gets Wonder Woman as a warrior who fights for both love and peace. It's a balancing act that has bested countless WW writers in the past, but Azzarello makes it look easy. Everyone who's ever wondered why Wonder Woman stands alongside Batman and Superman needs to start reading this comic immediately.
The Manhattan Projects
By Jonathan Hickman and Nick Pitarra
One of the year's most demented comics is also one of the most memorable. Hickman creates an alternate history in which the Manhattan Project we know, which developed the atomic bomb, was actually a front for other, much weirder, Manhattan Projects. Including artificial intelligence (using the corpse of Franklin Delano Roosevelt!), contact with aliens, travel between universes and some other hellaciously fucked up shit. That premise, by itself, would be enough to ensure a ludicriously anarchic ride — but then Hickman throws in every other wacky idea he can think of, including Japanese "Death Buddhists" and deadly origami, weird creatures, and much more. Throughout, Hickman explores the theme of evil doppelgangers and alternate selves, as Robert Oppenheimer's secret brain-eating evil twin and Einstein's monstrous other self both get into a position to screw up the entire cosmos. The whole thing seems to be building to a cataclysm of WTF proportions.
Thanks to Rob Clough, Lauren Davis and Matt at Comix Experience for the tips!