Quentin Tarantino still wants to make a science fiction film. American Horror Story: Hotel finally drops some story details. Plus, new information on Agents of SHIELD season 3, Teen Wolf's midseason twists, and why Felicity doesn't have a code name on Arrow. Behold, spoilers!
Man Of Steel 2
The recent rumors that George Miller might direct a Man of Steel sequel have been seemingly squashed by another rumor—Den of Geek is reporting that Miller is considering a comic book film with Warner Bros., but Man of Steel 2 has been put on an indefinite hold. Presumably, this is because Warner Bros. are now centering their DC Cinematic Universe around Batman instead.
---
Skull Island
Jason Mitchell and Corey Hawkins have joined the films, in currently undisclosed roles—although Mitchell's character is allegedly an "easy going pilot". [/Film]
---
Untitled Quentin Tarantino Project
Quentin Tarantino still wants to make that science fiction movie idea he's mentioned before:
I'm not really interested in doing a scifi film, but there's one thing in particular that I would be interested in. I can't tell you what it is, though, because I would literally be telling you exactly what it is. And then I wouldn't be able to do it, because everyone would talk about it, because it is one thing in particular. It might be science-fiction, but it wouldn't involve spaceships.
G/O Media may get a commission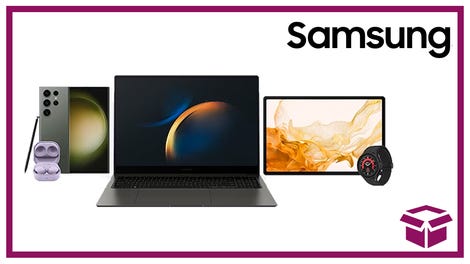 24 hour deals
Discover Samsung - Daily Deal
---
Guardians Of The Galaxy Volume 2
In perhaps the least surprising news there could be about the next Guardians of the Galaxy film, James Gunn has confirmed that Vin Diesel will reprise his role as Groot in the film.
---
When Animals Dream
Shock Till You Drop has an exclusive clip from the Swedish Werewolf movie.
---
American Horror Story: Hotel
Here's the first synopsis for the series, revealing the basic premise of the show:
Built in 1930 by the rich and charming but deeply psychotic James March (Evan Peters), the beautiful art-deco hotel is, in actuality, a labyrinthine structure built to hide March's murderous activities (think dead ends, secret rooms, endless shafts).

In present day, though, the Cortez is acquired by Gaga's Countess, a glamorous socialite who attends art openings and fashion shows and maintains her looks not from a steady diet of kale but from imbibing human blood. The Countess is also insatiable when it comes to love and sex, which sets up a macabre love triangle between her, the similarly blood-hungry Donovan (Matt Bomer) and the newly turned male model Tristan (Finn Wittrock). Also gravitating around the world of the Cortez are Ramona Royale (Angela Bassett), an actress/former lover of The Countess' seeking revenge; Iris (Kathy Bates), Donovan's mother and the front desk clerk; Liz Taylor (Denis O'Hare), a cross-dresser nicknamed by The Countess; Hypodermic Sally (Sarah Paulson), a junkie and friend of The Countess; Detective John Lowe (Wes Bentley), a cop investigating a murderer named the Ten Commandments Killer; and The Addiction Demon, a creature in the vein of Rubberman or Bloodyface, who has no eyes or mouth but does wield a nasty, conical drillbit dildo.
Entertainment Weekly also has a series of first look pictures of the characters—go to the link to see more.
---
Teen Wolf
Executive Producer Jeff Davis discusses Parrish's new role as a Hellhound in the series, and if he's now good or evil:
Yes, you're going to discover that he's not necessarily one or the other, but he definitely has a place in the supernatural system of Beacon Hills. The reason he took the chimera bodies is that they were abominations; he was doing the supernatural clean-up work, essentially. Now that that's out in the open, he'll discover exactly what he's been doing and what his role is.
[TV Line]

---
Agents Of SHIELD
ABC have released a full synopsis for the show's third season:
Many months after their war with a rogue group of Inhumans, the team is still reeling. Coulson is again trying to put the pieces of his once revered organization back together while also dealing with the loss of his hand. His confidante and second in command, Agent Melinda May (Ming-Na Wen), has yet to return from an impromptu vacation with ex-husband Andrew (Blair Underwood); deadly superspy Agent Bobbi Morse (Adrianne Palicki) is recovering from her traumatic torture at the hands of Grant Ward (Brett Dalton); Fitz (Iain De Caestecker) is obsessed with discovering the truth behind the mysterious disappearance of Simmons (Elizabeth Henstridge); and all are on high-alert for the next move from Ward and Hydra.

But bigger threats loom ahead, setting the stakes even higher for the Agents, including the spread of Terrigen, an alien substance that unlocks superhuman abilities in select individuals; the emergence of new Inhumans who cannot yet control nor understand their powers; the rise of a new government organization that will go toe-to-toe with S.H.I.E.L.D.; the unknown properties of the massive alien Kree monolith, which has taken one of their own; and the constant threat of a rebuilt Hydra terrorist organization under S.H.I.E.L.D. traitor Grant Ward, who is making it his personal mission to take down Coulson and S.H.I.E.L.D.

Coulson, with the help of Daisy and Mack (Henry Simmons), will work to slowly assemble a team that is stronger than ever before, combining the highly skilled Agents of S.H.I.E.L.D. with powered individuals in the hopes of protecting the innocent in a world where the balance of power is ever-shifting, and new dangers are constantly emerging.
---
Arrow
Wendy Mericle discusses Felicity's role in the next season, and explaining why she won't get her own codename:
Dig is out in the field, so there's a necessity for [him to have one]. But not quite yet for Felicity, although you never know. We all love the idea of her getting her out there more and being a badass. It's just a question of finding the right way to do it.
[TV Line]
---
Castlevania 3: Dracula's Curse
A "superviolent" animated series based on the classic videogame about adventurer Trevor Belmont fighting Dracula is in production from Dredd producer (and man behind that gritty Power/Rangers short film) Adi Shankar. [Collider]
---
Supergirl
It's a day of synopses! This time, the synopsis for Supergirl's pilot:
AFTER 12 YEARS OF KEEPING HER POWERS A SECRET ON EARTH, KARA ZOR-EL, SUPERMAN'S COUSIN, DECIDES TO FINALLY EMBRACE HER SUPERHUMAN ABILITIES AND BE THE HERO SHE WAS ALWAYS MEANT TO BE, ON THE SERIES PREMIERE OF "SUPERGIRL," MONDAY, OCT. 26

Melissa Benoist, Calista Flockhart, Chyler Leigh, Mehcad Brooks, David Harewood and Jeremy Jordan Star

"Pilot" – After 12 years of keeping her powers a secret on Earth, Kara Zor-El, Superman's cousin, decides to finally embrace her superhuman abilities and be the hero she was always meant to be, on the series premiere of SUPERGIRL, Monday, Oct. 26 (8:30-9:30 PM, ET/PT), on the CBS Television Network. The series moves to its regular time period (8:00-9:00 PM) on Monday, Nov. 2.
[CBR]
---
The Flash
Barry Allen's on the run in a new poster for season 2.
---
Doctor Who
Here are two new pictures from a prequel minisode for the ninth season, which will air ahead cinema showings on the US of the season 8 finale, "Dark Water/Death in Heaven". [Den of Geek]
---
Limitless
A gallery of stills from the pilot have been released—go to the link to see more. [Spoiler TV]
---
iZombie
Finally, here's a new poster of Liv snacking on a brainy treat for Season 2.
---
Additional reporting by Gordon Jackson and Charlie Jane Anders. Top image: Batman v Superman.