The Next Web spent the weekend digging up dirt on suspicious iTunes activity. What they found? A number of iTunes accounts had been hacked, with users reporting between $100 and $1400 being spent without their knowledge or consent. UPDATE:
The first hint that something was amiss over the weekend came when two developers noticed that 40 out of the top 50 slots in the iTunes books section were all released by the same dev—Thuat Nguyen, all of whose apps have since been pulled from the App Store—most without ratings or reviews, most purchased from hacked accounts.
Furthermore, a free app called World War has reportedly been making in-app purchases to send money to the developer without user consent.
Now, it's important to remember—as MacRumors points out—that iTunes hacking has been fairly well-documented since at least 2008, and if anything this is just a more egregious (and poorly executed, having drawn so much attention to itself) instance.
So the moral of the story seems to be yes, check your iTunes account now on the off chance you were caught up in this particular scheme, but more to the point you should check your iTunes account regularly. Even if it's not an easy target, it's a common one.
UPDATE: Giz reader Roberto experienced this very problem recently but with the iMovie app:
G/O Media may get a commission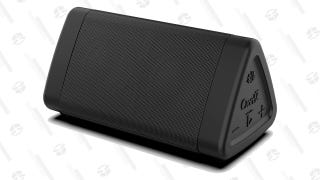 Save 31%
Oontz Angle 3 Portable Bluetooth Speaker
Apple support's response here is a more direct acknowledgment of the hacking than the official Apple statement on the subject, which acknowledges the Thuat Nguyen situation but not the more pervasive attacks facing iTunes customers:
The developer Thuat Nguyen and his apps were removed from the App Store for violating the developer Program License Agreement, including fraudulent purchase patterns.

Developers do not receive any iTunes confidential customer data when an app is downloaded.

If your credit card or iTunes password is stolen and used on iTunes we recommend that you contact your financial institution and inquire about canceling the card and issuing a chargeback for any unauthorized transactions. We also recommend that you change your iTunes account password immediately. For more information on best practices for password security visit http://www.apple.com/support/itunes.