I'm going to tell you a tale, a tale of friendship that, with the help of a Chinese automatic nail printer, blossomed into a full-out, wet and sticky bromance.
There Jason and I were, walking through the International Center at CES, our shoulders brushing casually in the intimate walkways. Then we spotted a machine unlike any we'd seen before. A wizened Chinese man beckoned us into this booth, and before we could raise any objections, he placed his finger our our lips, a tacit acknowledgment that this was our first time. Jason took a seat.

Still confused and a bit disoriented, Jason smiled nervously as a camera photographed nothing less than the full earnestness his soul. Looking at the screen, Jason's stomach dropped at the sheer amount of honesty that could be captured on a webcam and displayed on a touchscreen LCD.

G/O Media may get a commission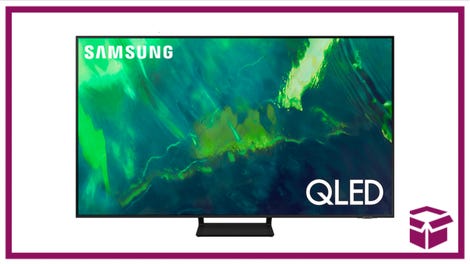 35% off
Samsung Q70A QLED 4K TV
Save big with this Samsung sale
If you're ready to drop some cash on a TV, now's a great time to do it. You can score the 75-inch Samsung Q70A QLED 4K TV for a whopping $800 off. That knocks the price down to $1,500 from $2,300, which is 35% off. This is a lot of TV for the money, and it also happens to be one of the best 4K TVs you can buy right now, according to Gizmodo.
I pretended to ignore Jason's powerful image as I grabbed a seat myself. The Chinese man took my hand—his touch was warm. He lightly stroked my thumb with a base coat while photographing me as well.

How would Jason and I frame our faces? We joked that the heart cutout was the only way. And then our eyes locked and we realized that maybe, just maybe, we weren't joking at all.

The photos processed, I tentatively placed my thumb into the machine. It clamped down on my appendage, strongly, and it wouldn't let go. At this moment, trapped and vulnerable, I could only let the machine finish. To this day, I don't know if it's the event's repression speaking, but the process was quick, professional and I don't recall the slightest bit of pain. In fact, I didn't feel a thing.

Jason, having bravely endured the same process, reveals the worthwhile aftermath in this photo. My face has been semi-permanently painted upon his fingernail. He blows on the finish to make sure it's dry, his lips the closest they'd ever been to my face.

"For better or worse, we're together in this thing now," I thought to myself. But just several days following this entire affair at CES, Jason and I have parted ways. Sometimes we IM one another, and there's the occasional text. But even as the heart has chipped away from my nail, his smile remains.
And if you'd like to duplicate the experience, the ArtPro Nail Printer runs about $1500, takes normal HP ink cartridges and breaks up to 6000 hearts between refills. The company is currently seeking US distribution.