Who's that in bondage in new stills from David Tennant's final Doctor Who story? The answer, and some other major "End Of Time" spoilers, below.
It's the Master! It looks like he's pretty helpless, but wait...
G/O Media may get a commission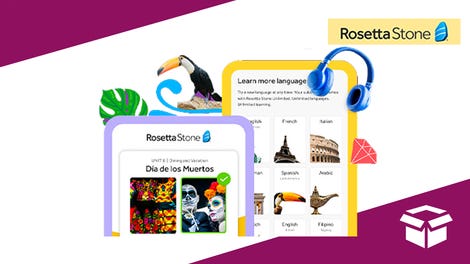 Extra 20% off
Rosetta Stone Lifetime Subscription - All Languages
Appearances can be deceiving. Meanwhile, DigitalSpy saw the first episode of "End Of Time," and has a handful of fairly major spoilers. The first line of the episode is the one you've heard in the trailers: "It is said that in the final days of planet Earth, everyone had bad dreams." There's that scene you've already watched, where the Doctor lands with his Hawaiian lei and meets Ood Sigma. And it continues with him having visions of the Master, Joshua Naismith, and Wilf. The Master's resurrection is "preposterous," and his (ex?) wife Lucy Saxon plays a major role.
That other scene you've seen, where the Doctor and the Master have their "force lightning" battle, happens fairly early on. Besides Star Wars, the episode also references Jaws (with the iconic music) and The Matrix. So why does Joshua Naismith bring the Master back to life? He wants the Master to do something for him — and it turns out just as well as you'd expect using the Master to.
We see a lot of Wilf, but not much of Donna, at first. But we do find out what she's been doing with her life, and she's still very "special." And we meet (or see) the President of the United States. Also, Wilf says the word "cactus," the Master says "so hungry," and the Doctor says the word "shimmer," as well as "...new man goes sauntering away." A reference to regeneration? We can't wait to find out.
[FilmShaft and DigitalSpy]