A YouTube and Twitch personality calling himself "Arab Andy" was arrested yesterday after entering a crowded room on the University of Washington campus and playing a message declaring an explosive device had been planted and would soon detonate.

At around 5pm on Thursday, authorities say a man walked into the room while filming with a phone in his hand and "asked for everyone's attention and a pre-recorded message emitted from a speaker on his jacket." Video from the livestream (which has been taken down by YouTube), shows people running from the room after hearing the recording stating "C4 has been successfully activated, bomb detonation countdown successfully started," followed by beeping and audio of screaming.
In a statement, University of Washington Police said, "The investigation revealed this was a prank and there was no device on him or left in the room." Police confirmed the livestreamer was arrested on "charges of making a bomb threat," but have not released his name.
Previous uploads show Andy regularly used his livestream to profit off such "pranks," soliciting donations as low as $3 via paid commenting systems to play messages of a viewer's choice in public places. For $20, he offered to "Scream Allahu Akbar." Yesterday's fake bomb threat appears to have cost a viewer just $4.20.
A recent compilation from a Seattle mall shows Andy in various stores while audio of gunfire, fake announcements of nuclear attacks from North Korea, and the sound of a man loudly masturbating play, mostly to the annoyance of people just going about their day. Another shows fake bomb pranks have been a feature of his channel previously, though they elicited confusion rather than panic.
G/O Media may get a commission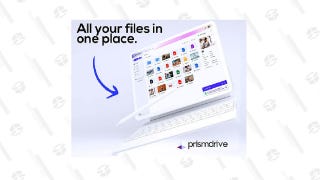 Save 97%
Prism Drive Secure Cloud Storage: Lifetime Subscription
Claiming to be inspired by YouTube fameball Ice Poseidon (real name Paul Denino), Andy titled one his YouTube channels "ISIS Poseidon." Denino, for what its worth, previously discouraged Andy from making these sorts of videos, noting that "he needs to get the fuck away from the terrorist shit [...] the bullshit he's been doing with the TTS." TTS, which means text-to-speech, is used as a catchall term for messages played at the request of viewers by livestreamers (generally for a small fee). In recent months, such streams have become a favorite of both internet trolls and livestreamers trafficking in shock value. Beyond being stupid and dangerous, it does not appear Andy's streams were especially popular either. He only amassed around 10,000 followers between his two YouTube channels.
In footage from his arrest (which, again, he livestreamed) it's unclear Andy understands the gravity of what he's involved in, telling police at the time, "I didn't do nothing. That was TTS. That was a donation," and repeatedly referring to the arresting officer as "bro."
Andy's profiles on YouTube, Twitch, and Twitter remain active at this time. Even in a time of seemingly boundless stupidity online, faking a bomb threat for $4.20 is truly unprecedented.