There's more rumors about a major villain in Venom. The Russo brothers tease a reason to fear Avengers 4. Joaquin Phoenix talks about the prospect of joining the standalone Joker movie. Plus, what's to come on Legion and The Expanse, and new footage from Avengers: Infinity War and the Legends of Tomorrow season finale. Spoilers get!

Star Trek 4
Speaking with Entertainment Tonight Canada, Zachary Quinto revealed there are currently multiple scripts in development for a fourth Star Trek movie, alongside the Tarantino plan.
First of all, I think there's a couple of scripts. Because there was a script being written before Quentin Tarantino came up with his idea for a potential film. And so I think they are kind of developing more than one. So I don't know what is going to happen. Quentin is off doing another movie. So, I feel like we are in a state of anticipation. All of us are really excited about the idea of working with Quentin on a Trek film, but I know Simon Pegg and Doug Jung, who wrote the last film, are writing a script and there are another set of writers writing a script. So I don't know. I don't know what's going to happen.
---
Paradise Hills
Deadline reports Milla Jovovich, Jeremy Irvine, Alfie Allen, and Awkwafina have joined the cast of Nacho Vigalondo's upcoming sci-fi thriller in undisclosed roles.
---
Pale Blue Dot
Zazie Beetz is in talks to play the third point in a love triangle between herself, Natalie Portman and John Hamm in the upcoming astronaut drama. [THR]
G/O Media may get a commission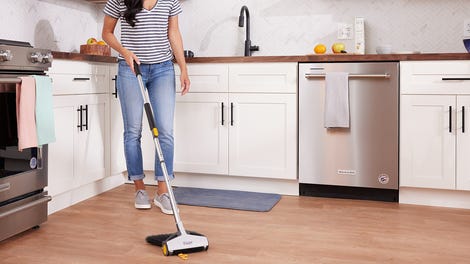 BOGO 50% Off
Flippr - BOGO 50% Off
---
Venom
Symbiote salt shakers at the ready, Bleeding Cool reports they've been told "in a very confirm-y way" that Woody Harrelson is indeed playing Carnage in Sony's Venom.
---
Avengers 4
A recent Tweet from the Russo Brothers warns fans they should be frightened by the film's long-withheld subtitle. Prepare yourself accordingly.
---
Avengers: Infinity War
On that note, there's quite a bit more doomsaying in the latest TV spot for Infinity War.
---
The Joker
In a recent interview with Fandango, Joaquin Phoenix was asked if he was indeed playing the title character but remained, as Fandango says, "cagey."
I see it as any other movie. I wouldn't say…'I won't do Westerns.' It depends on what it is. I don't really care about the genre, I care about the character and the filmmaker. If you have the ability to transcend the genre, then that's what you want to do. So I wouldn't say, hands down, no – I wouldn't do that kind of movie. There are things where I've flirted with the possibility where there was the potential for this to be… something that's actually interesting to me. But then for whatever reason they never got to that place where everyone else feels the same way. And that's key. Everyone has to want to explore the same thing or else it just doesn't fucking work. I'm not opposed to it. I don't make decisions on budget or things like that – it's really the filmmaker and the character.
---
The Predator
Shane Black told a fan on Twitter to expect a trailer "mid-April".


---
The Expanse
Spoiler TV has synopses for "IFF" and Assured Destruction," episodes two and three of the third season of The Expanse.
IFF

The Rocinante answers an unexpected distress signal; Bobbie and Avasarala find themselves being hunted by a mysterious captor; UN Secretary-General Sorrento-Gillis brings in a colleague from his past to lend an ear during this crucial time of war.

Assured Destruction

Earth strategizes a costly ploy to gain advantage in the war against Mars; Anna struggles to convince Sorrento-Gillis to do the right thing; Avasarala and Bobbie seek refuge aboard the Rocinante.
---
Legion
Another terse and infuriatingly cryptic episode synopsis hints a major twist in episode five of the sophomore season:
An uneasy reunion leads to a shocking truth.
Meanwhile, showrunner Noah Hawley stated the new season will have at least two meditative episodes that are "not necessarily part of the overall plot" in a recent interview with TV Line.
There are a couple of hours that are meditations in a way, of using the genre to really solve these characters, in a way that's not necessarily part of the overall plot. But they solve the characters, and that enriches the show.
---
Supernatural
Coming Soon has images from this week's episode, "The Thing." Click through for more. Also, how has Supernatural been on for 13 seasons and not used "The Thing" as a title before?
---
Agents of SHIELD
Coulson gets roughed up by the Absorbing Man in the trailer for next week's episode, "Inside Voices."


---
Legends of Tomorrow
The Legends team up with Jonah Hex to face Mallus and his army of Romans, Vikings, and pirates in the TV spot for next week's season finale, "The Good, The Bad and the Cuddly."
---
Gotham
Finally, a three-minute "white band" trailer hype's April 5th's supervillain extravaganza, "Mandatory Brunch Meeting," in which Jerome assembles his "Legion of Horribles." Same bat-time, same bat-channel.
---
Banner art by Jim Cooke.