This week, meet the next Zombie Christ and check out the latest viral plague (extra gory). Plus, we've got an exclusive look at the Vampire Girl Versus Frankenstein Girl poster, complete with an New York Asian Film Festival update.




Here is an exclusive first look at the slightly-less-bloody-than-we-expected-but-still-pretty-hot poster from Vampire Girl Versus Frankenstein Girl. You may remember the buckets o' blood trailer for this little flick we ran last week, and the film will be screening at this year's delightful New York Asian Film Festival, which just released their full schedule. There's plenty to see, so make sure to check it out. We're particularly excited about The Clone Returns Home and The Forbidden Door (which will have it's American premiere at NYAFF on June 27th. Also on that same night is the infamous Tokyo Gore Event, which wild zombie horses couldn't keep me away from). Tickets are on sale now.
G/O Media may get a commission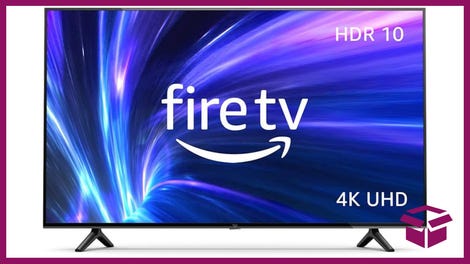 42% Off
Amazon Fire TV 50" 4K Smart TV
Salvage
Thanks to Quiet Earth for pointing out this viral beauty. Sex, blood and infectious zombie-like diseases are rampant in this little trailer for the foreign film Salvage. Here's the official synopsis:
When a shipping container washes ashore, its deadly cargo escapes to wreak havoc on a suburban neighborhood. Is this a terrorist attack or something more sinister? As the military enforce a quarantine, a mother must overcome all the odds to save her estranged daughter.
Zombie Christ
Zombies have overrun the world, and now the Son of God has to save humanity, again. It looks kitchy to say the least.
The Zombie Christ Trailer 1 from Adam Henderson on Vimeo.
The Zombie Christ TV Spot from Adam Henderson on Vimeo.
I dunno... I feel like it's time for an infusion of new zombie movies. I'll support this indie film and the scrappy gang that put it together, but I feel like I'm ready for something even more silly and random to be zombie-ized. I seems like it's all been done before and again. In fact, I was going to make a joke about "what about a zombie Dagwood?" and lo and freakin' behold even that has been done. So I put it to you, dear readers: What would you like to see zombie-ized that's never been done before?