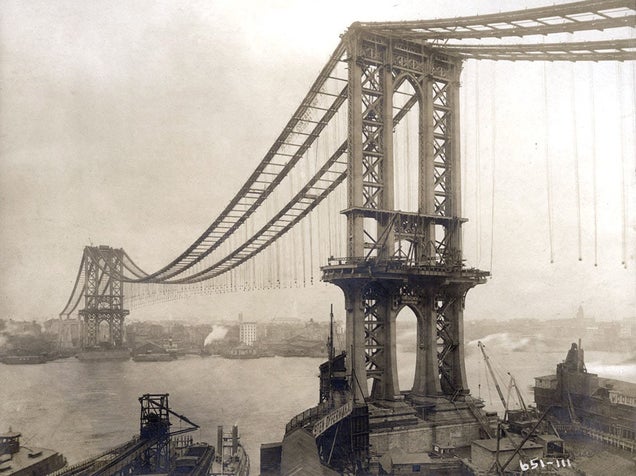 S
These days, we tend to think of New York's bridges as traffic obstacles. But at the turn of the last century, the bridges that sprang up in thickets around Manhattan's shores were objects of wonder and civic pride—near magical pieces of infrastructure that took many years (and lives) to build.
A New York Times article about the New Tappan Zee Bridge this week included a wonderful log of construction photos from the original crossing, which got under way in 1952. That was relatively late, compared to most of the city's great bridges, and it made me wonder what other photos were floating around out there—not only of the Tappan Zee, but of the great boom in bridge building that began in the 1870s and lasted until the 1920s.
These were the years when the Brooklyn Bridge, the Manhattan Bridge, the Williamsburg Bridge, and the Queensboro Bridge were all built. The years when 27 workers (including the lead engineer) died building the Brooklyn Bridge, and when 30 died to build the "New East River Bridge," aka the Williamsburg Bridge. When getting home from work could mean swinging from a single line of rope.
In short, it was a very different—and very dangerous—undertaking, and the picture below prove it.
---
The Brooklyn Bridge, 1870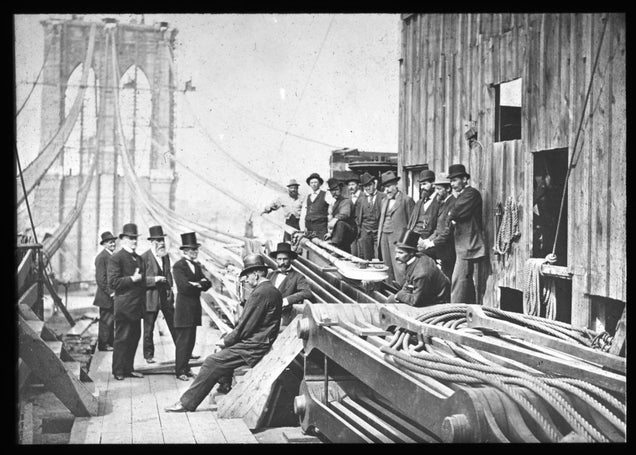 S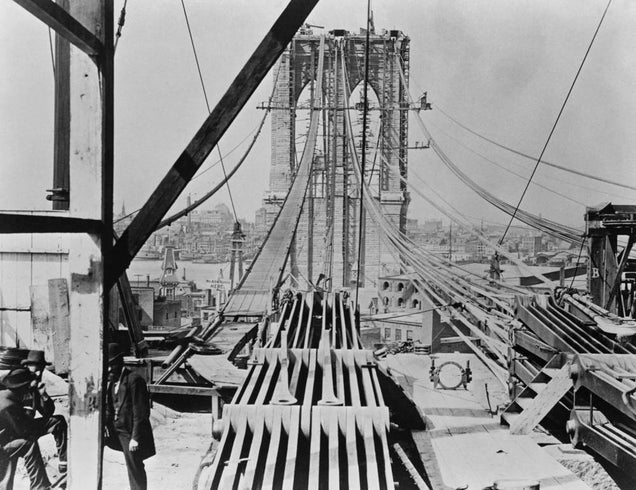 S
Construction shots from around 1877. [Brooklyn Visual Heritage; Ross Wolfe]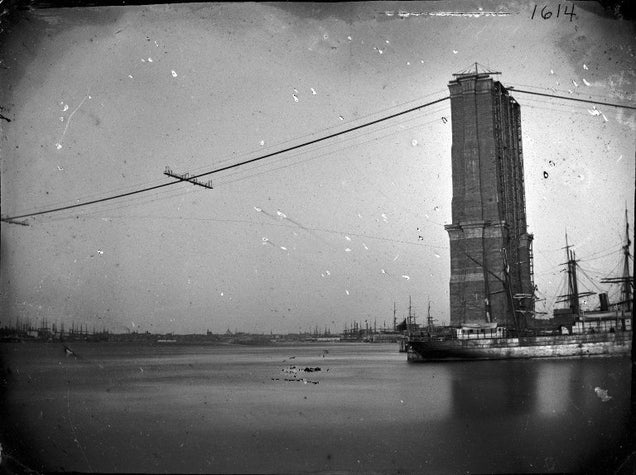 S
The construction of Brooklyn Bridge, shot by George Bradford Brainerd from around 1872-1887. [Brooklyn Museum]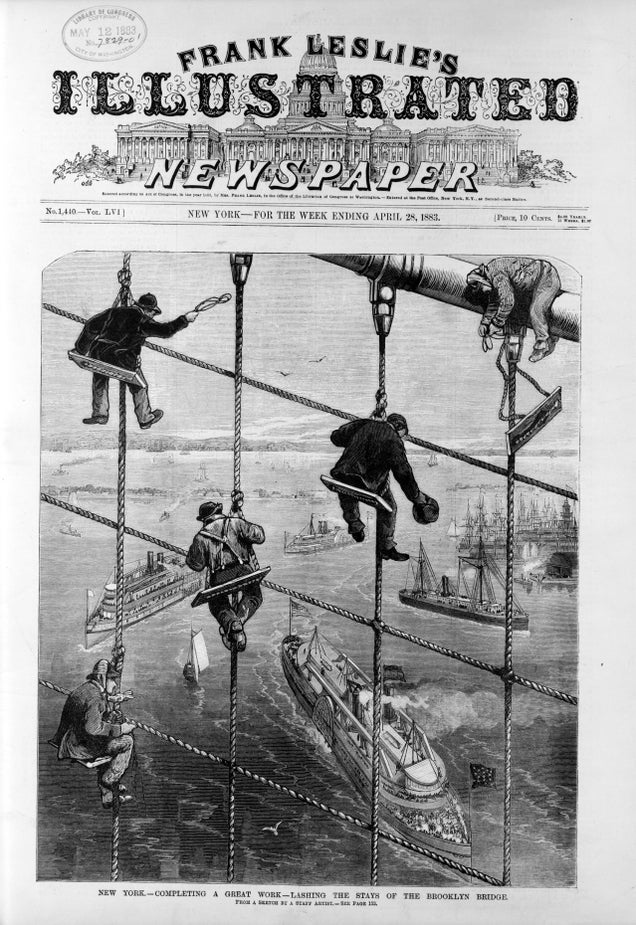 S
An 1883 magazine cover shows workers lashing the stays of the Brooklyn Bridge. [LOC]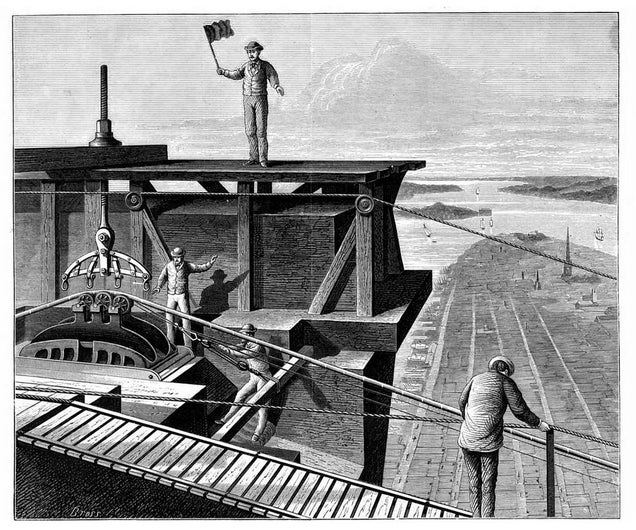 S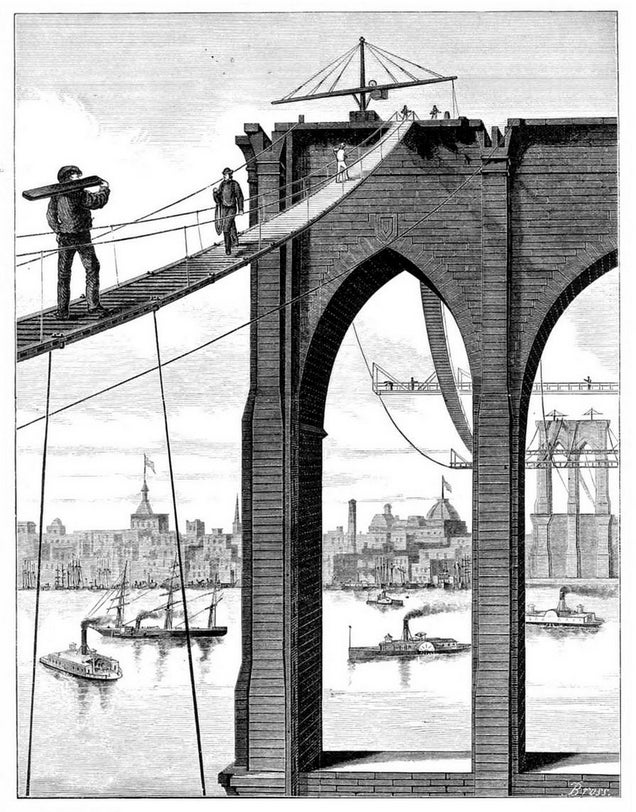 S
Plates from a March 10, 1877 issue of Scientific American show workers making and lashing the wire stays for the Brooklyn Bridge. [Marcel Douwe Dekker]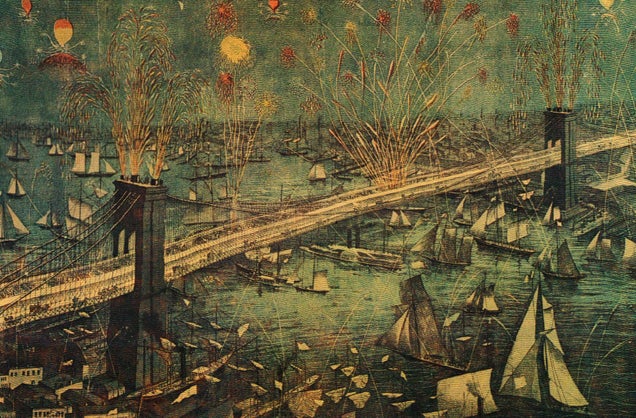 S
On May 24, 1883, the Brooklyn Bridge finally opened, after 14 years of work. [Racontrs]
---
The Williamsburg Bridge, 1896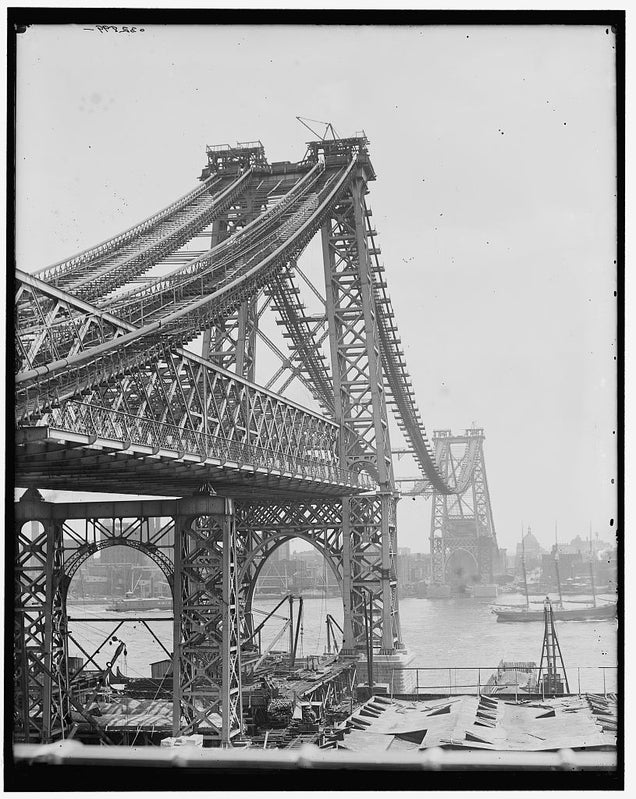 S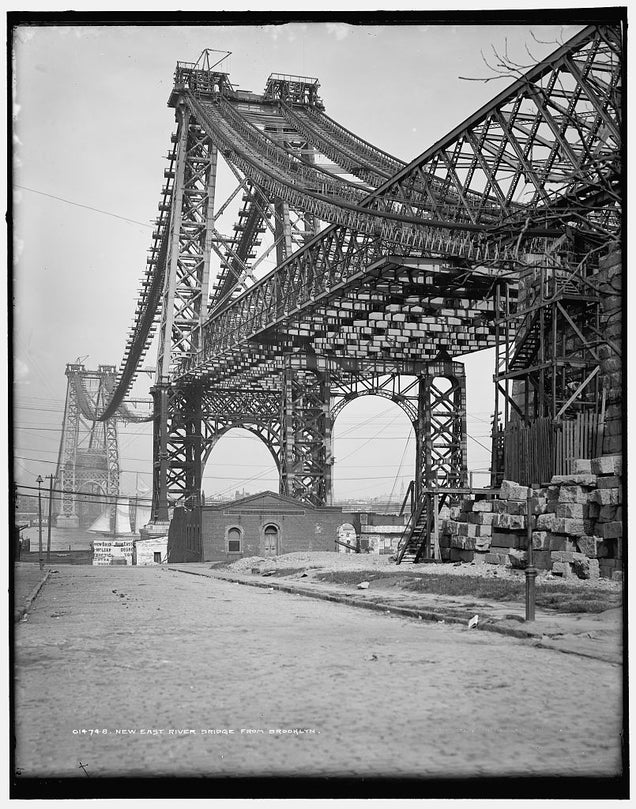 S
The "New East River Bridge," aka the Williamsburg Bridge, is shown partially completed in this 1906 plate from Detroit Publishing Co. [LOC]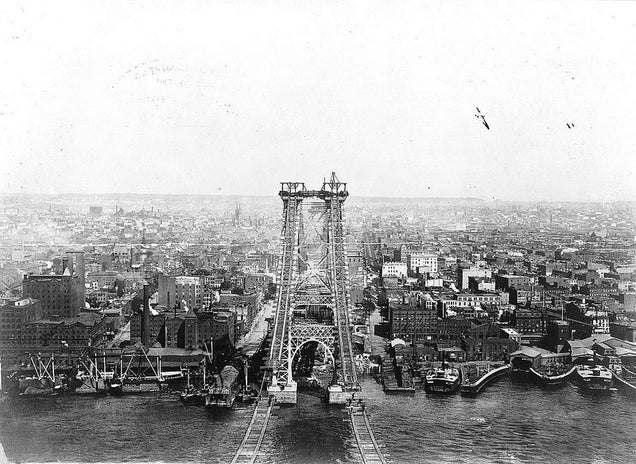 S
A shot of first decks being laid. [pds209]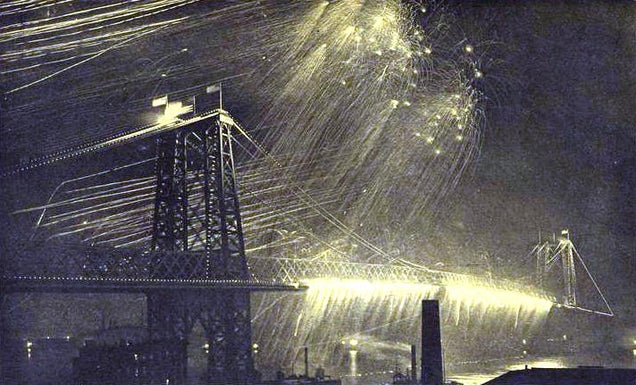 S
Fireworks in February 1907, at the opening of the new bridge, published in Harper's Magazine.
---
The Manhattan Bridge, 1901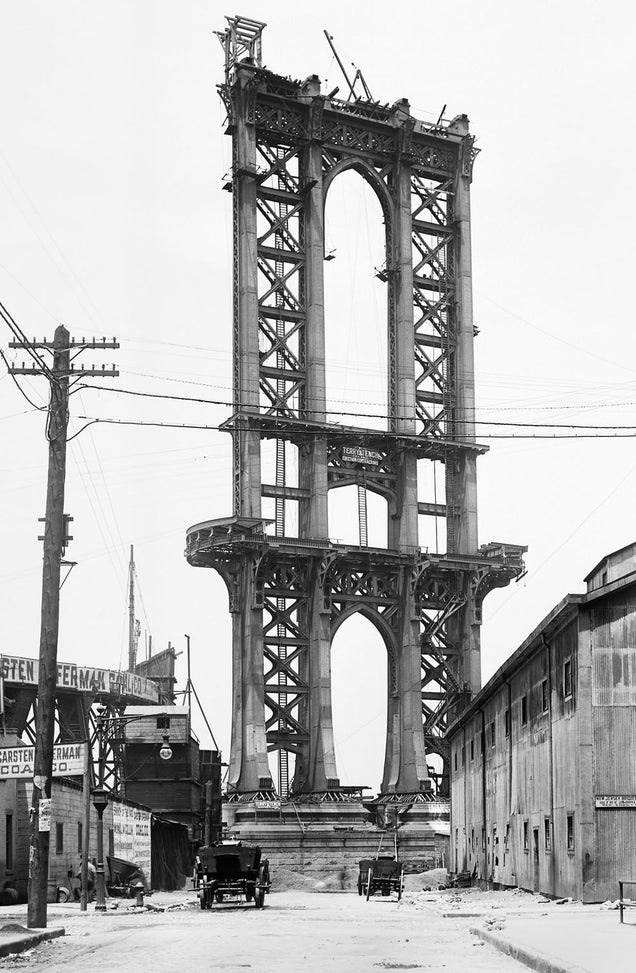 S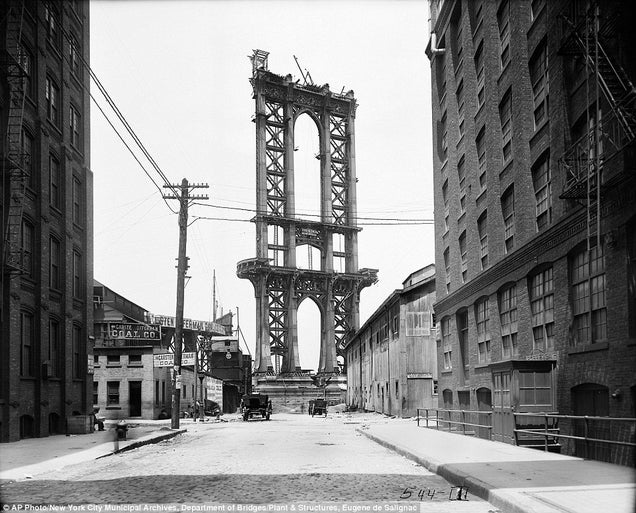 S
Manhattan Bridge, under-construction, seen from Dumbo. [Eugene de Salignac/Courtesy NYC Municipal Archives]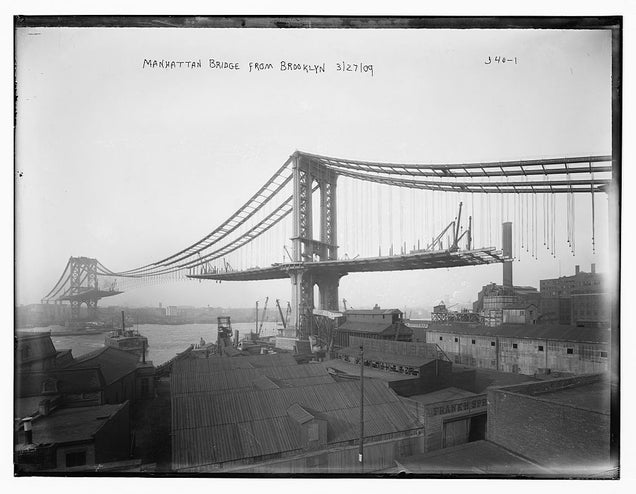 S
The Manhattan Bridge from Brooklyn, 1909. [LOC]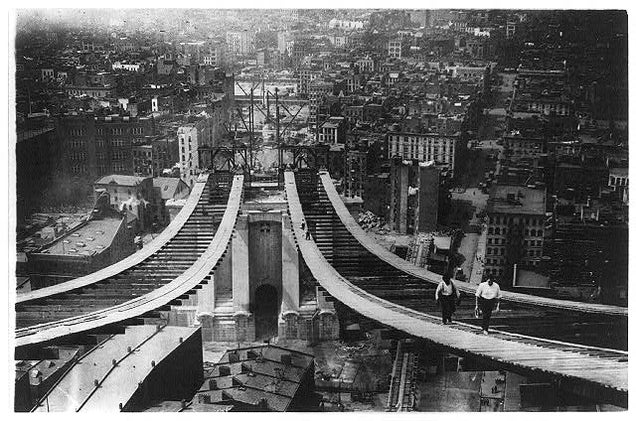 Footpaths on Manhattan Bridge let workers access their jobs from the city, taken between 1907 and 1915. [LOC]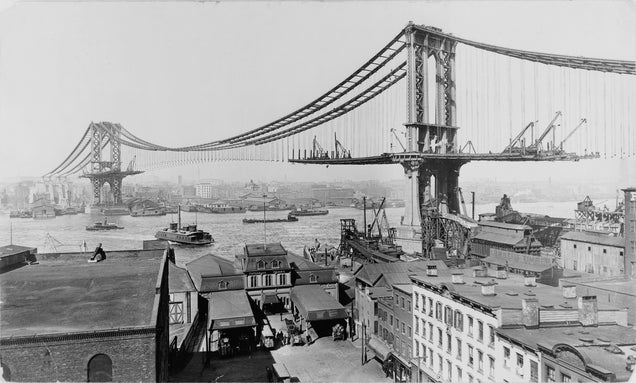 S
An image of the decks being laid on the bridge. [Recuerdos de Pandora]
---
The Queensboro Bridge, 1901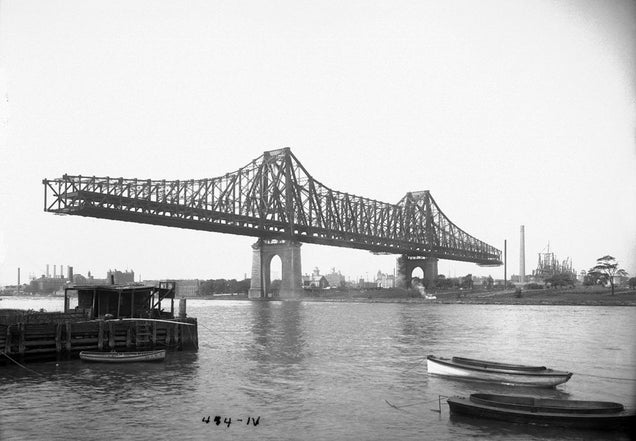 S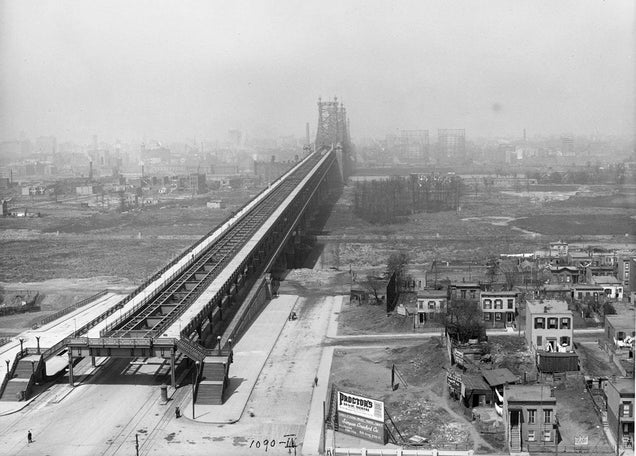 S
Queensboro Bridge under construction, on August 8, 1907. [Eugene de Salignac/Courtesy NYC Municipal Archives]
---
Hell Gate Bridge, 1912
S
S
The final pieces of the Hell Gate Bridge being put into place. [LOC]
---
Have more? Drop them in the comments below.