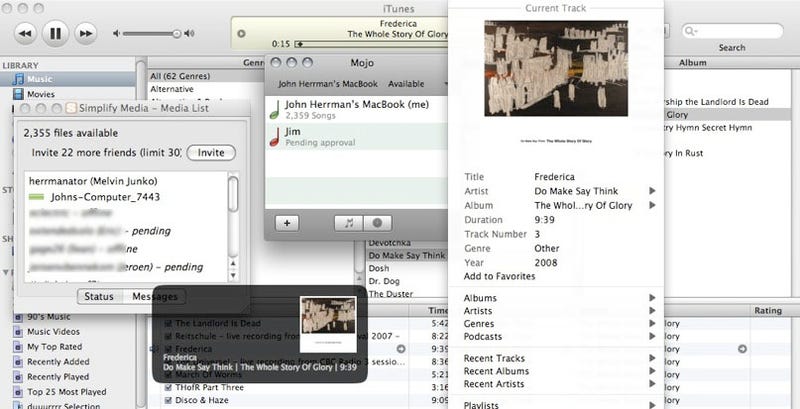 Whether you have an iThing or not, you might use iTunes to manage music, listen to internet radio and podcasts, and buy music and video. If you do, here's how to get it working—your way.
There was a time in the distant past when iTunes was a nice basic music manager for devices made by Creative and others, when DRM-laced music and video was just a dream in some lawyer's eye. Now, after the explosion of iPhones and iPods and the proliferation of legal media downloading, iTunes has become a necessary choice for music and video organizing. But as much as the player has improved since 2001, it's still annoyingly limited, throwing up barriers for enthusiasts and casual users alike. Lucky for us (and despite Apple's lack of cooperation), plenty of hacks, tweaks and add-ons can help fill the gaps—for both Mac OS and Windows. Here are some of the best:
Sync With Whatever the Hell You Want
iTunes nowadays will only directly sync with Apple products, but we're a gadget site, so we sought out a few apps to make syncing your iTunes library with other devices as painless as possible:
• iTunes Sync (Win): This tidy little app will sync your library with just about anything that Windows recognizes as a removable disk. The super-long supported device list only scratches the surface, but includes a lot of BlackBerry and Symbian phones—again, anything that your PC assigns a drive letter should work just fine.
• iTunes Agent: Almost the same as iTunes Sync. If that app fails you, you might have better luck with this.
• BlackBerry Media Sync (Mac/Win): Exactly what it sounds like, though Mac users will have to use a beta build.
• Pocket Tunes Sync (Win): If you can't connect your WinMo or Palm handset to your PC as a mass storage device for some iTunes Sync or iTunes Agent love, this'll do. Counter to the Dealzmodo Hack philosophy, though, it's a paid app, so try the other stuff first.