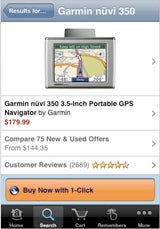 Amazon: Amazon's usually the first place I look during a fit of impulse buying, which their iPhone app now makes stupidly easy.
Product searches, comparisons and account management are a given, but what really pushes this one over the edge is a new feature called "Remembers." Just snap a picture of a mysterious product or thing, and Amazon will get back to you with a surprisingly accurate, impressively quick suggestion as to what it is. Then it will sell said thing to you. Magic.

AOL Radio: More free radio content than any actual radio could ever have. Tailored radio stations are great, sure, but old-fashioned programmed stations-AOL Radio's specialty-have their charms.

Chorus: You know the App Store needs an overhaul when apps like Chorus, which help you find other apps, are necessary. But alas, they are.
Chorus crowdsources the effort to cut through the endless jungle of trash. Chorus is a bit like Apple's native App Store app, except with drastically shifted emphasis: instead of giving category "Top" lists, which rank apps by overall download numbers, Chorus only pitches you apps that've been explicitly recommended by someone. These someones could include other friends who use Chorus, nearby Chorus users, or a stable of "App Mavens"-online reviewers and tech journalists, mostly.

Dragon Dictation: Amazingly accurate dictation software that usually costs (multiple!) dollars elsewhere, Dragon Dictation brings the best speech recognition engine on the market to your iPhone. It's free, but probably not forever, so go go go.

Dropbox: Keeps selected files in sync between your iPhone, computer, and online account with almost no effort. 2GB of online storage comes free.

Dictionary: The best dictionaries on the iPhone are paid, but let's be honest, who pays for a dictionary nowadays?

Epicurious: The only cooking app you really need. With its thousands of recipes, shopping list feature and meal suggestions, Epicurious will make you at least look like a passable cook.

Echofon: What it lacks in bells and whistles, Echofon more than makes up for where it counts, at least for most: It's as quick as Twitter apps get, and caches Tweets, so you can read them later on without a connection. It doesn't support multiple accounts, but most reasonable people don't need that.