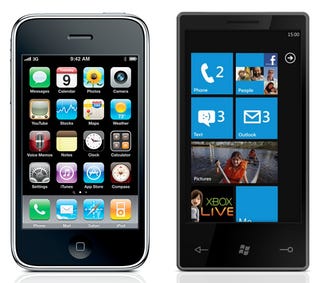 I'm sorry, Cupertino, but Microsoft has nailed it. Windows Phone 7 feels like an iPhone from the future. The UI has the simplicity and elegance of Apple's industrial design, while the iPhone's UI still feels like a colorized Palm Pilot.
That doesn't mean that the Windows Phone 7's user experience would be better than Apple's. The two user interface concepts—data-centric vs function-centric—are very different, and the former is quite a radical departure from what people are used to.
And if you're not familiar with Windows Phone 7, check out our hands on and the post where we explain everything about it.