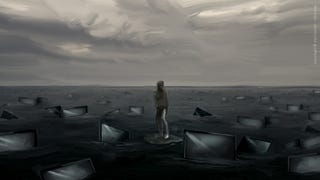 I feel like a castaway in a sea of glossy black plastic, chrome, and glowing blue buttons. Do we really need every piece of electronics to look the same, sandwiched in this shiny ebony that is the 21st Century beige?
I go to buy a TV and my head spins out of boredom, making me sick. What the hell happened to industrial design? Most products have no character or soul. Some people argue that, to recover their character, we need to get electronics back into furniture.

Shows like Mad Men are helping to bring back that styling, and hipster geeks are following suit by making side tables that are actually computers or AV centers.