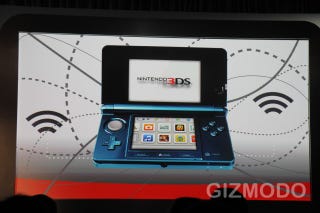 At last, the final key details for the Nintendo 3DS are here. It's gonna be $250 when it comes out on March 27, with 30 games available right around launch.
Get right to it: How much does it cost?
It's $250.
When can I buy it?
March 27 in the US.
What's in 3D exactly?
Well, the games, of course. But it also plays back 3D videos/photos and takes 3D photos with the dual, outward-facing cameras.
It doesn't need glasses, right?
Nope. It's using parallax barrier technology from Sharp. Here's how it works.