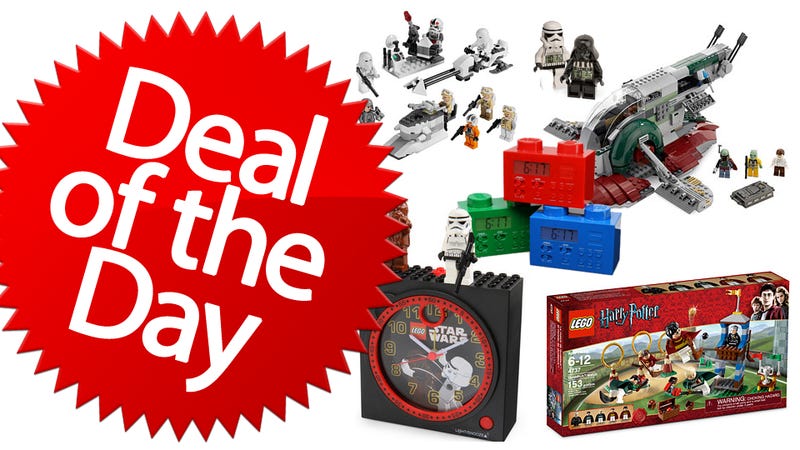 One time I referred to Lego as Legos in front of Jesus, and holy mother god, was that a mistake. Jesus, whose love of Lego is well documented (I think he once found a way to marry the intellectual property), not only threatened to rip out my heart with his bare hands, but also lawyered up and hit me with a slander lawsuit. Suffice it to say, that was the last time I ever mentioned Lego around Jesus.
But this massive Lego sale over at Think Geek is so good, I can't help but discuss Lego again, at risk of my own personal safety. Everything in Think Geek's lego section is Buy One Get One 50% off, which means you can get Lego sets, Lego gadgets, Lego accessories, Lego lamps and Lego games on the cheap. -AC

Top Deals
• Motorola Atrix Tegra 2 dual-core 4G smartphone (with 2 Year AT&T Contract) for $30 with free shipping
• Orange Chicken at Panda Express (Starting 6/24 @ 9PM) for $0
• ThinkGeek Lego Sale: Buy One, Get One 50% Off
NEW: The "Free Only" sorting option now displays by category!
Computing and Peripherals:
Laptops
Monitors
Peripherals
Gaming:
Home Entertainment:
Personal Portables and Peripherals:
Apps:
iOS
iPad Only
Android
Hobomodo:
If a deal looks too good to be true, investigate the store and see if it's a good, reputable place to buy. Safe shopping!
[Thanks TechDealDigger, Dealzon, Logic Buy, GamerHotline, Cheap College Gamers, CheapStingyBargains, TechBargains, Slickdeals, Savings.com, and Dealhack.]
Follow Dealzmodo on Facebook

Dealzmodo is a gift from Gizmodo to you. We search the web for the best savings and deals on computers, TVs, games, etc. and deliver them to you in a daily list. Think of it as a modern day coupon book for technology and gadgets.