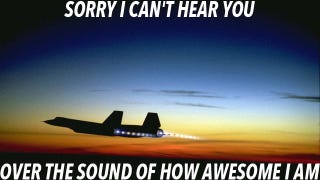 There is little in the world that can match the simultaneous awesomeness and mystery of a spy plane. These are the paragon of modern innovation, yet largely pass invisible above us. They decide battles and wars, yet only a few lucky soldiers get to see them. Blah blah blah words. Let's look at some incredible machinery.
---
Convair B-36 RB-36D Peacemaker
The B-36 strategic bomber was not only the largest primary nuclear weapons delivery aircraft of the USAF in the Fifties, but the reconnaissance version, the RB-36D (below) was smart as well: It could carry 23 cameras AND a small darkroom where a photo technician developed the film.
Photo: U.S. Air Force
North American B-45 RB-45C Tornado
The RB-45C was the spying version of the B-45, the first jet-powered U.S. bomber. This four-jet-engined beast carried 12 cameras and penetrated several enemy territories (North Korea, Eastern Europe) in the mid-1950s.
Photo: U.S. Air Force
Lockheed U-2
The U-2 is a legend: It has delivered high-altitude, all-weather surveillance day and night for more than fifty years as the primary strategic reconnaissance aircraft of the USAF.

Photo: U.S. Air Force