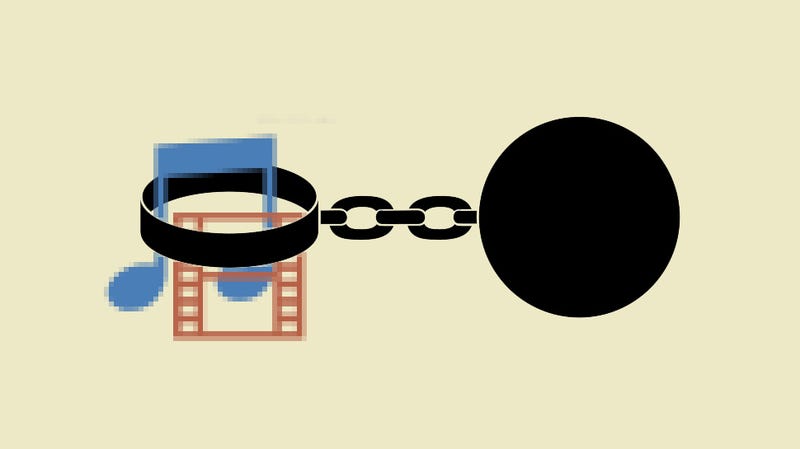 Digital copyright is broken. We know this inherently, and wheeze exasperation whenever the latest nonsensical DRM news crops up. But fixing it's not as simple as tossing the whole system out the window. So here's a breakdown of every way digital copyright has gone wrong, and, with luck and persistence and prevailing sanity, how it can maybe fix itself.
What the DMCA Is, and How It Works
The Digital Millennium Copyright Act, passed in 1998, is the foundation of basically every United States law regarding digital rights. It's also hotly contested, from both consumer rights activists like the Electronic Frontier Foundation, and from the music and movie industries who are pushing for more restrictive legislation. Like umpires in baseball, sometimes if both sides are mad at you, you're doing something right. With the DMCA, that's not entirely untrue, but it's also deeply flawed in certain aspects.
To understand what the DMCA does wrong, though, you need to have a general understanding of how it works in the first place. There are a two main pillars to the law.
The first is the "safe harbor" portion of the act. It's what covers all of the copyright infringement takedown notices. Essentially, it means YouTube and Facebook and other companies that host content aren't responsible for what their users upload. Without it, copyright holders could sue those sites each and every time someone uploaded a Daily Show clip. It would, basically, bankrupt the entire internet, almost immediately. So, sites' only responsibilities are to remove content, without question, as soon as they're asked to, and to have a policy in place to deal with repeat offenders. If they don't, they lose their safe harbor status.
The other is the "anti-circumvention" portion, which forbids you from sneaking around any digital protection (encryption) for any reason. It has grown to encompass everything from DRM to phone unlocking, and almost criminalized jailbreaking. It's what gives the DMCA reign over basically anything digital, even things that would otherwise be clearly legal. Congress originally decided it would inject specifics into this law, but subsequently put a system in place where the Library of Congress accepts applications and grants individual exemptions.
So that's the law we're dealing with. There's plenty problematic about it even just in theory. But where does it go wrong in practice? Lots of places.
Corynne McSherry, Intellectual Property Director at the Electronic Frontier Foundation, helped walk us through some of the problem spots for digital copyright.
Copyright Takedowns Are Shoot First, Ask Questions Last
You've heard plenty about takedown abuse before, but here's a brief rundown of how it actually happens. Basically, in order to retain Safe Harbor status, outlets like YouTube have to remove any content copyright holders claim is infringing, in an "expedient" fashion. And there's no limit to the number of notices you can send, or any oversight to how valid they must be. So companies like Viacom have taken to machine-gunning hundreds of thousands of requests to sites like YouTube, demanding everything come down—from basic definitely-a-violation uploads to things that have only the most tangental (if any) relation to the copyright.
It gets absurd. Parents are smacked with notices for filming their kids dancing to a song on the radio, only faintly audible. NASA's own Mars Curiosity landing footage was taken down because of a bogus claim by a local news network. HBO once requested that Google remove links to HBO content from... HBO's website.
Imperfect as it is, the current system is actually a huge improvement over what used to happen. "The content owners in the olden days had to go to court and get an injunction, and a judge would take a look if there's a violation," McSherry says. "The DMCA makes this [process] a lot easier, but unfortunately content owners and their agents send hundreds of thousands of notices out. And there's abuse in that system."
What isn't as commonly known are the defenses to that abuse. For instance, you can file a counter notice with the site your content was on saying that your content was not in violation, and you want it put back up. In that case, the copyright claimant has about two weeks to file a lawsuit, and if they don't, your video, photo, song, or whatever goes back where it is. But that provision isn't made common enough knowledge, and isn't expedient enough. "That two week window is a long window, and not enough protection," according to McSherry, especially if the content is political or especially topical.
One protection that is built in is the definition of "expedient", and the allowance of time to notify the uploader. For example, if a takedown notice is given to YouTube about one of your videos, YouTube can send you a notice before it takes your video down, saying because of a claim by Sony, your video will be removed at, say, 5PM. This would give you time to lawyer up and possibly get an injunction filed. It wouldn't stop copyright owners from blasting everyone with takedown requests, but it could stop them from having total control over what comes down and when.
The problem is, not all ISPs and sites know they can take the time to notify their users before they take down the content. Or they do know, and simply don't bother giving you advance warning. YouTube and other safe harbor sites mostly just yank your content down, and wait and see if you care enough to fight it. So Big Content gets its way, regardless of what your rights are.
Massive, Idiotic Fines and Intimidation
Everyone knows the stories about massive fines levied against people who were caught file-sharing. Joel Tenenbaum is in appeals over a $675,000 bill for sharing 31 songs.