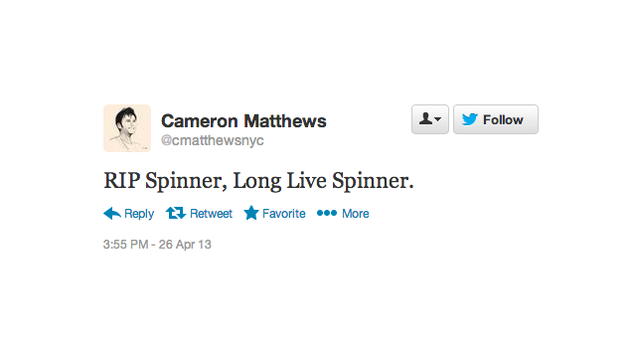 Today, AOL pink-slipped editorial employees at its news sites, and started the embarrassing process of shutting down many—but not all—of the brands associated with the vertical. There has been no official statement from AOL master control (yet), but the dismissed staff from the sites are generating crazy buzz about the meltdown. The hype is so hot that some people saw AOL Music show up as a trending topic on Twitter.
The first to notice the irony of broken music blogs hitting the top of Twitter's charts was one of the condemned, now out-of-work editor Dan Reilly.
Haha. AOL Music is trending on Twitter. Finally figured our social media strategy out!

— Dan Reilly (@danreilly11) April 26, 2013
Until this afternoon Reilly was an editor at Spinner, a once-pioneering old-school music site that got the axe. AOL acquired Spinner back in 1999, making it amongst the first huge mainstream music publications born online. But Spinner wasn't alone, as AOL Radio's Twitter announced when when reports of the bloodbath started making the rounds online. The staffers of Spinner packed their desks alongside comrades at AOL Music, The Boot, and Noisecreep.
It's a sad day here at @aol. We'd like to say goodbye to our colleagues at @aolmusic, @thebootdotcom, @noisecreep, @spinner and @theboombox

— AOL Radio (@AOLRadio) April 26, 2013
But it's impossible to shut up a bunch of writers, especially when they take to Twitter to broadcast their sadness.
Here's Sarah Chazan, Editor-in-Chief of all of AOL Music.
Loved being the Editor in Chief of #aolmusic, #spinner, #theboombox, #noisecreep and #theboot for the past year. Best team in music.

— Sarah Chazan (@BrazenChazan) April 26, 2013
Spinner's editors said their piece, too. In face Spinner's Twitter was amongst the first to say goodbye to fans. The tweet was later deleted.
RIP Spinner, Long Live Spinner.

— Cameron Matthews (@cmatthewsnyc) April 26, 2013
Well, we all just got laid off. AOL Music is finished.

— Dan Reilly (@danreilly11) April 26, 2013
Carlos Ramirez, Editor-in-Chief of Noisecreep.com didn't advertise, but he gratefully accepted the invitation to holler at welcoming editors for freelance work.
@sashahecht Holler! haha

— Carlos Ramirez (@MusicQuizKing) April 26, 2013
Oh and his site, as was later confirmed, is dead.
We're sad to say that our site is shutting down. We'd like to thank EVERYONE for the years of support!

— Noisecreep (@noisecreep) April 26, 2013
Later in the afternoon, the news made it over to the Huffington Post newsroom on the other side of the company that's not being downsized.
Sad to hear about @spinner and @aolmusic. Hugely talented teams there whom we love and wish the best for.

— HuffPostEnt (@HuffPostEnt) April 26, 2013
And as for AOL Radio, which pronounced the first "official" report of the incident, well, it clarified that AOL Radio wouldn't be following the rest out the door. https://twitter.com/AOLRadio/status/327871348183556096
According to a few, Winamp will survive this round of executions as well.
For those who are inquiring, @aolradio will still be around and we will continue to be bringing you the best music experience.

— AOL Radio (@AOLRadio) April 26, 2013
Still, while it seems like most of the top employees at AOL music are gone, the bloodbath leaves a few AOL Music brands unaccounted for. Sad day for music writing online. Power to all the writers who are going home without a job tonight.