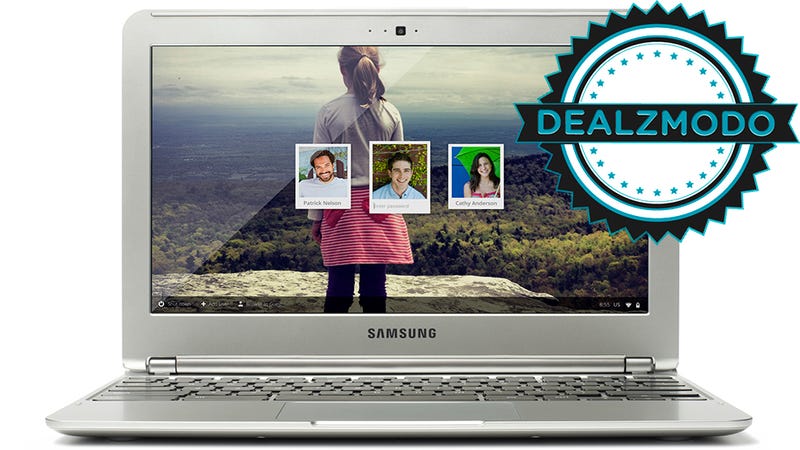 For your ultracheap, ultraportable computing pleasure, Best Buy is offering a certified refurbished 11.6" Samsung Chromebook, and we don't expect it to last at that price. As a Gizmodo reader, you already know whether the Chromebook has a place in your life. At this price, you may even want to grab one just to play around with as a curiosity. I may do just that. [Best Buy]
---
Top Deals
• 1TB USB3 Seagate External Hard Drive ($60) | NewEgg via Deals Kinja | Lowest price ever, use promo code 0709BTS13
• Refurb 11-inch Google Chromebook ($170) | Best Buy via Deals Kinja
• Acer Aspire S7 11.6" HD Touchscreen Windows 8 SSD Ultrabook ($650) | eBay (DealFisher) via Ben's Bargains | Currently $940 at Amazon
---
Storage
• 1TB USB3 Seagate External Hard Drive ($60) | NewEgg via Deals Kinja | Lowest price ever, use promo code 0709BTS13
---
Audio
• Etymotic HF3 In-Ear Headset w/ Controls and Mic ($100) | Amazon via TechDealDigger | $150+ elsewhere
• Tritton TRIAX-180 AX 180 Stereo Gaming Headset ($50) | Amazon | Matches lowest price ever
• Tritton Warhead 7.1 Wireless Xbox 360 Headset ($170) | Best Buy via eDealinfo | Use code LIMITLESS
---
Video
• RCA 55-Inch 1080p 120Hz LED HDTV ($593) | Amazon via Deals Kinja
• Panasonic 50" 120Hz LED Smart HDTV + $100 Credit ($750) | Amazon via Ben's Bargains
• LG Electronics 55LN5400 55-Inch 1080p 120Hz LED-LCD HDTV with Smart Share ($798) | Amazon | Matches lowest price ever
---
Input
• Gigabyte Krypton Wired 8200dpi Laser Gaming Mouse w/ Interchangeable Chassis ($50 after rebate) | Newegg via TechBargains | Use code AFNJ2268
---
Computers
• Refurb 11-inch Google Chromebook ($170) | Best Buy via Deals Kinja
• Acer Aspire S7 11.6" HD Touchscreen Windows 8 SSD Ultrabook ($650) | eBay (DealFisher) via Ben's Bargains | Currently $940 at Amazon
• Shell Shocker Newegg Desktop combo including Haswell i5-4330, Corsair 8GB, MSI 7770, Seagate 1TB ($530 after rebates) | Newegg via TechBargains
---
PC Parts
• PNY XLR8 PC3-12800 CAS 9 16GB Dual Channel Memory Kit ($75) | Amazon | Lowest price ever
• SanDisk Ultra Plus 256GB SSD ($150) | Rakuten via Dealzon | Use code 4D5110C
• EVGA GTX670 2GB + Splinter Cell: Blacklist ($310 after rebate) | Newegg via TechDealDigger | $360+ elsewhere
---
Tablets and Phones
• Samsung Galaxy S4 Rechargeable Battery Case with Kick Stand ($20) | Sears | Today only
---
Gaming
To get all the gaming deals all the time, check out the Kotaku Moneysaver. I would know.
• PC/Mac Civ 5 Brave New + $6 credit OR $4 cash back [Steam] ($30) | Green Man Gaming
• PC 17 Command and Conquer Games [Origin] ($10) | Amazon
• PC/Mac The Walking Dead [Steam] ($10) | Amazon
• PS3 Super Slim 250GB w/ Infamous 1+2 & Uncharted 1+2 ($240) | P.C. Richard via TechBargains | Cheaper than buying the PS3 with no games.
FREE Anomaly: Warzone Earth from @bundlestars https://t.co/WRbT7CkRh4 Steam/PC/Mac/Linux

— Shane Roberts (@ShaneOSX) July 9, 2013
---
Media
---
Photography
• Canon 24-105mm f/4L IS USM Lens ($763) | Amazon | This is my personal de facto lens, and probably the most versatile lens in all of Canon's line-up.
---
iOS
The following games are currently FREE on iTunes:
• Tiny Wings/Tiny Wings [iPad]
• Flight Control/Flight Control [iPad]
• Peggle/Peggle [iPad]
• Dead Space [iPad]
• Badland
• Where's My Water
• Infinity Blade 2
• Swords and Sorcery
• Mini Motor Racing
• FREE How to Cook Everything
• FREE Knots 3D
• FREE Run Tracker
---
Android
• FREE Kings Can Fly | Amazon
• Mini Motor Racing ($1) | Amazon via apps-aholic
---
Clothing
You're naked.
---
Life
• LivingSocial $15 off $30+ | Use code JULYVIP
• Nikon 8244 ACULON A211 7x35 Binoculars ($60) | Amazon | Lowest price ever
• Weider Incline Weight Bench ($50) | Amazon | Near lowest price ever, best price in several months
• 18 Piece Airtight Food Storage Set ($23) | Amazon | Lowest price ever
• Rosewill RPCT-10001 32-Piece Precision Screwdriver ($7) | NewEgg | Matches lowest price ever
• Cobra - Vedetta Ultimate Detection Systems Series Radar/Laser Detector ($120) | BestBuy | Lowest price ever
• Starbucks Buy One Get One Free Bag Of Whole Bean or Ground Coffee, and also code STNPWEKD for 10% off first orders
• Buy One Get One Free Snow Cone Machines ($45) | Amazon via FatWallet | Add both items to cart and enter code DDSUMMER at checkout
---
Hobomodo
Pay up.
---
Gizmodo Wants You!
Gizmodo is looking for someone passionate and knowledgeable about both deals and tech to take over Gizmodo, and who better to do it than a long-time reader?
---
Keep up with Shane Roberts on Kinja and Twitter. Check out Dealzmodo for more great tech deals, and Deals.Kinja.com for even more discounts.
Join us every weekday at 3pm ET for Dealzmodo, brought to you by the Commerce Team. We're here to bring Gizmodo readers the best tech deals available, and to be clear, we also make money if you buy. We want your feedback.