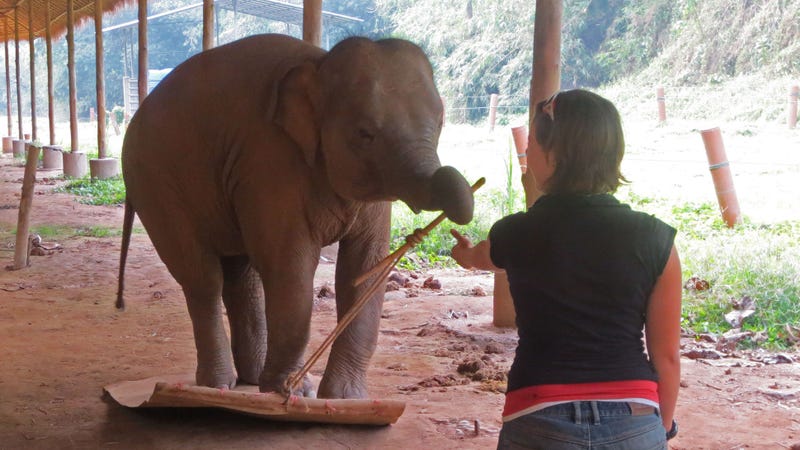 It's hard to know how smart animals are for the simple reason that they're not able to come right out and tell us. Scientists have developed various methods over the years to assess animal intelligence, but a simple new body-awareness test involving elephants may be a promising new tool to add to the arsenal.
A new study published in Scientific Reports shows that elephants know when their lumbering bodies are an obstacle to achieving a goal. In an experiment led by Josh Plotnik from the University of Cambridge, elephants passed a body-awareness test, showing that they are capable of recognizing themselves as being separate from their environment. This new test contributes to our understanding of elephant intelligence, but it also shows that we need to make intelligence tests that aren't biased towards human capacities.
Determining an animal's capacity for self-awareness—that is, the capacity for introspection, and the ability to recognize oneself as being separate from other individuals or objects—is not easy. The classic way to do this is the mirror self-recognition test (MSR), which requires animals to recognize the reflection in a mirror as being their own. Sounds relatively straightforward, but that's because we're humans. This task is absurdly easy for members of our species older than 18 months of age.

Of all the animals that dwell on this planet, only a precious few can pass the mirror test, including great apes, dolphins, magpies, and elephants. Recognizing the capacity for self-awareness in an animal is important because it's indicative of other cognitive and social skills, such as cooperative problem solving, perspective taking, and empathy.