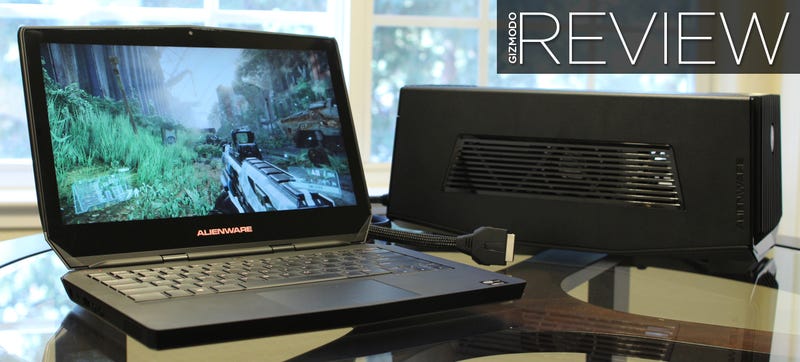 I've owned a grand total of two gaming laptops. It was depressing how quickly they aged. But the new Alienware 13 may not suffer the same fate. It's the first gaming laptop that lets you connect a external desktop graphics card for freaking awesome, truly unheard-of speed.
What Is It?
A 13-inch gaming laptop with a chip on its shoulder and something to prove. The successor to the fantastic Alienware 14, shaved down to a far more reasonable 1-inch thickness and 4.5 pounds of bulk. A laptop that comes with a pretty meh 1366 x 768 screen and 1TB hard drive for its $999 starting price, but can graduate to a gorgeous 2560 x 1440 touchscreen display and multiple SSDs.
And for an additional $300, it's a laptop that can come with Alienware's proprietary Graphics Amplifier—a box that can let you use any recent single full-length, dual-width PCI-Express x16 desktop graphics card, up to 375W, instead of your laptop's GPU. And adds four USB 3.0 ports, too. It's a gaming laptop that becomes a 4K gaming desktop when you plug in a single cable.
Design
The Alienware 14 was an absolute tank. Big, beefy, solid. When the Alienware 13 reduced those first two traits, it also lost a bit of the third.
Don't get me wrong: the new 13-incher looks and feels like a fairly premium package, with those luxurious silky-smooth soft touch surfaces intact. The keyboard hasn't lost a beat, with the same large, perfectly RGB-customizable backlit keys with nice precise action. The trackpad struggles a bit with two-finger scrolling and clicking the pad feels a little weird, but it's still about as accurate with one finger as I've tried on a Windows machine. I'm just saying that there's a little less metal and a little more plastic in the construction this time around. The seams are larger, more visible. I can hear the computer creak a bit when I twist its frame or when I open the lid. There's a little less attention to detail, period.
Of course, there's also no longer an optical drive, and you also lose the crazy running lights that made the Alienware 14 look like a spaceship ready for takeoff, though I can't say I miss either very much. As far as I'm concerned, the bigger omission is an SD card slot. You get three USB 3.0 ports, headset and microphone jacks, Gigabit Ethernet, HDMI, Mini DisplayPort and the proprietary Graphics Amplifier jack too, but for some reason an SD card socket didn't make the cut. But another thing you'll find embedded in the edges are a pair of side-mounted speakers that (at least combined with Sound Blaster Xi3 processing) sound pretty damn good.
Performance
But enough with creature comforts: what about the games? Oh, the Alienware 13's dual-core 1.7GHz Core i5-4210U processor and GeForce GTX 860M graphics are a pretty potent combination... as long as you don't expect them to outperform them to outperform a $2,100 Razer Blade. While the Blade could very nearly manage to play intensive games on its crazy 3200 x 1800 screen with its quad-core processor and faster 870M graphics, my pumped up $1,800 Alienware 13 config struggled to run some of my favs at 2560 x 1440. Tomb Raider and Borderlands 2 were playable at that resolution with a lot of the eye candy turned off, but we're still not talking buttery framerates. More intensive games like Titanfall, Crysis 3 and The Witcher 2 only thrive at 1080p. And because 1080p content blown up to 1440p looks a little jagged, you'll have to spend extra horsepower on anti-aliasing.