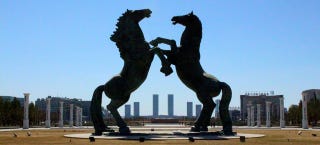 Built for a population in excess of a million—yet largely uninhabited to this day—it's little surprise that Ordos has earned itself the nickname of China's Ghost City.
In this report I'll be looking up-close at the Kangbashi New Area, the most recent addition to the city of Ordos; and by far its least populous district. Rather than photograph these buildings from afar though, when I visited Ordos in 2013 my plan was to get under the skin of this bizarre metropolis, examining it from inside, above and below.
This post originally appeared on Darmon Richter's The Bohemian Blog. It is republished here with Darmon's permission as the second half of a two-part series. Check out the first installment, Welcome to the World's Largest Ghost City: Ordos, China.