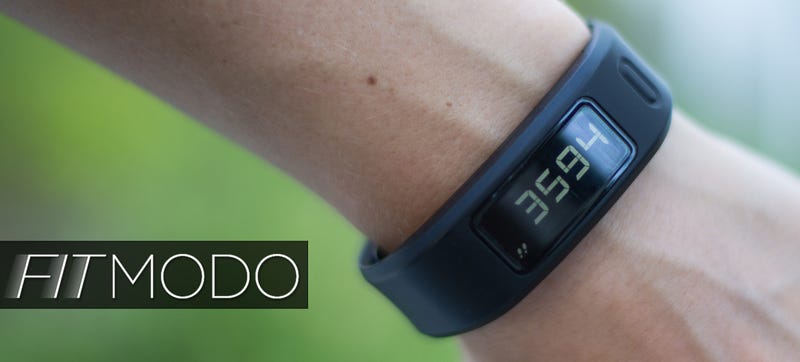 In the ever-expanding pantheon of wearable fitness trackers, Garmin is looking for an open seat, ideally at the Cool Kids' Table (CKT). Garmin makes some of the best GPS sports watches out there, so expectations were high for the company's first tracker. While it adds a nice trick or two, the holes are just too many.
Welcome to Fitmodo, Gizmodo's gym for your brain and backbone. Don't suffer through life as a sniveling, sickly weakling—brace up and get the blood pumping! Check back on Wednesdays for the latest in fitness science, workout gear, exercise techniques, and enough vim and vigor to whip you into shape.
What Is It?
The Vivofit is an activity tracker in the form of a wrist-worn band, like the Nike Fuelband, Jawbone Up, or Fitbit Force. It counts your steps, monitors your active time, and tracks your sleep.
Why Does It Matter?
It matters because there are a lot of Garmin loyalists out there, and the Vivofit integrates into the company's existing online platform, so you can track all of your athletic pursuits from a single page (assuming you also use the company's watches, I guess). It's also one of the first that has the ability to pair with an ANT+ heart rate monitor (sold separately), which should give you a better picture of what's happening during your workouts. And, lastly, it matters because you don't need to worry about charging it.
Design
The Vivofit is a pretty sleek wristband. Up top is an always-on, reflective LCD screen. Just next to it is the one button, which you use for toggling through the different display screens. The band has a pair of posts that pop through a couple holes to keep it in place. It's easy to adjust and low profile enough that it generally stays out of the way.
The device is actually a small pod that can click in and out of the wristband, should you want to change colors (it also comes with a small and a large band for different wrist sizes). It has an ANT+ radio, so you can pair it with a chest-strap HRM while you're working out, and it has a Bluetooth 4.0 radio, for sending data to your mobile device. If you don't have a phone that supports Bluetooth 4.0, it also comes with an ANT+ USB dongle, so you can sync directly through your computer.
It's being billed as the first tracker you basically never have to take off. It's waterproof up to 50 meters, which means swimming with it is no problem (nor is showering, obviously), and it uses a replaceable battery that Garmin claims lasts over one year. Obviously, we'll have to wait another 49 weeks for a verdict on that, but, essentially, you never have to take it off to charge it, you just replace the (cheap coin cell) battery once a year.
Using It
For starters, the Vivofit is actually pretty comfortable. I was a little worried when I saw that the clap goes directly on my inner-wrist, but it's thin enough that it didn't apply too much pressure. It's also pretty good-looking while being fairly discreet. It's just kind of there. That said, in the few weeks that I wore it there were at least three times when the clasp rubbed against something, came undone, and the Vivofit fell to the ground. I was lucky that I noticed immediately every time and didn't lose it.
The always-on screen is nice, especially when you're running and you just want to get a quick look at your heart-rate. "Am I dying? No? Okay then, onward!" Nice for just getting the time of day, too. You'll notice that the screen goes longways across the band, though. At first, I was wearing it so that the screen was oriented like it was facing toward my body, so if I held my arm out straight I could read it normally. This actually resulted in uncomfortable tyrannosaurus arms. So, counter-intuitively, I turned the band around, so that it was oriented toward my hand. When I wanted to read it I'd bend my elbow and shoulder, tilt my head, and basically touch my chest with my knuckles. This was easily more comfortable; however, that said, I much prefer the standard wristwatch orientation, like you see on the (currently unavailable) Fitbit Force.