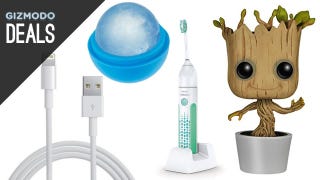 We mentioned this later in the day yesterday, but it's so good that it deserves to lead off today's post. You can get an actual Apple-manufactured Lightning cable for $8 $12 today (assuming it lasts). Not an Apple-certified cable...an actual Apple cable. [Apple Lightning Cable, $8 $12]
Update: They've raised the price since this post came out to $12. Still way better than the $19 Apple usually charges.
---
Get these deals and more, and earlier on Deals.Kinja. Connect with us on Twitter and Facebook to never miss a deal, check out our Gaming and Movie/TV release calendars to plan your upcoming free time, and join us for Kinja Co-Op to vote on the best products. Got a deal we missed? Post it in the comments with a link and we'll share right to our Deals homepage.
---
The Kindle Fire HD 8.9" isn't the newest tablet out there, nor is it the best, but if all you want is a generously-sized HD screen to use as a window to a few apps, websites, and Netflix videos, $129 for a refurb is tough to beat.
To refresh your memory, this Kindle Fire has an 8.9", 1920x1200 display and access to Amazon's rapidly-growing app store. You won't find the rich ecosystem you'd get with an iPad or stock Android device, but again, it's $129. That's a great price point if you want to use this as a kitchen TV, or something to occupy your kids in the back seat.
It is a refurb, but you still get the same 1-year warranty that you would have gotten with a new one. Amazon normally sells these for $199, and the $70 discount is only good today, or until sold out. [Amazon]
---
Here are a couple of solid personal hygiene deals, including a Panasonic Arc5 razor that's a step up from two of your favorites.