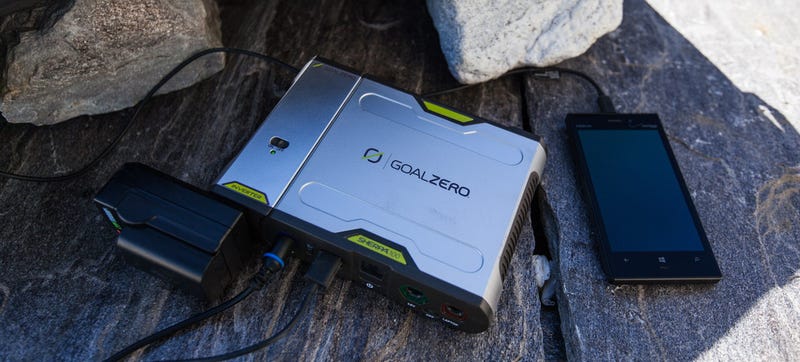 The Goal Zero Sherpa 100 Solar Kit is a portable solar charging kit capable of recharging tablets, SLR camera batteries, or even your laptop using only power from the sun. We've put it to the test everywhere from Iceland to Nepal.
What It's Supposed to Do? The Goal Zero Sherpa 100 Solar Kit ($599) is designed to provide renewable, portable power, wherever you go, in a kit that's (relatively) lightweight (5 lbs), compact, and easy to use.
The kit includes the Sherpa 100 Power Pack, the Nomad 20 solar panel, and an AC inverter. The Nomad 20 solar panel is designed to recharge the Sherpa 100 power pack in 10-20 hours, depending on sunlight. Alternately, the Sherpa 100 power pack will recharge in three hours when plugged into an AC outlet. You can also recharge it from your car.
The Sherpa 100 can recharge devices through two high-speed USB ports, a dedicated laptop port, or the AC adapter. Devices recharge in the same time as if they were plugged into a wall outlet.
The Sherpa 100 is twice as powerful as the Sherpa 50, yet it is nearly identical in size and weight. Check the chart below to see the number of times the Sherpa 100 will recharge a particular device.
How It's Supposed To Do It? According to Goal Zero, the Sherpa 100 can deliver 120 watts of output, which is more than any other comparable pack. It was engineered using high-quality, brand name LG Chem Li-NMC cells — the same brand used in some electric cars — to provide long-lasting life.