The Goal Zero Sherpa 100 Solar Kit is a portable solar charging kit capable of recharging tablets, SLR camera batteries, or even your laptop using only power from the sun. We've put it to the test everywhere from Iceland to Nepal.
What It's Supposed to Do? The Goal Zero Sherpa 100 Solar Kit ($599) is designed to provide renewable, portable power, wherever you go, in a kit that's (relatively) lightweight (5 lbs), compact, and easy to use.
The kit includes the Sherpa 100 Power Pack, the Nomad 20 solar panel, and an AC inverter. The Nomad 20 solar panel is designed to recharge the Sherpa 100 power pack in 10-20 hours, depending on sunlight. Alternately, the Sherpa 100 power pack will recharge in three hours when plugged into an AC outlet. You can also recharge it from your car.
The Sherpa 100 can recharge devices through two high-speed USB ports, a dedicated laptop port, or the AC adapter. Devices recharge in the same time as if they were plugged into a wall outlet.
G/O Media may get a commission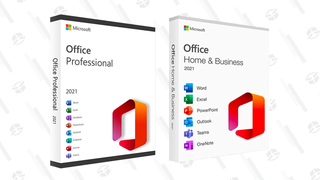 89% off
Microsoft Office Professional 2021 Lifetime License
The Sherpa 100 is twice as powerful as the Sherpa 50, yet it is nearly identical in size and weight. Check the chart below to see the number of times the Sherpa 100 will recharge a particular device.
How It's Supposed To Do It? According to Goal Zero, the Sherpa 100 can deliver 120 watts of output, which is more than any other comparable pack. It was engineered using high-quality, brand name LG Chem Li-NMC cells — the same brand used in some electric cars — to provide long-lasting life.
The AC inverter allows users to charge high capacity SLR camera batteries or laptops, which also distinguishes it from other competitive power packs and makes the Sherpa 100 an ideal off-the-grid power solution for on-the-go content creators.
Knowing that customers would often be using the Sherpa 100 in the context of adventure, they reinforced the plastic casing in certain areas to ensure durability if dropped, while simultaneously maintaining the device's slim profile.
While the Sherpa 100 can be recharged in 10-20 hours with the included Nomad 20 solar panel, Goal Zero recommends daisy chaining two Nomad 20s together for maximum charging performance.
Photo by Daniel Bruce Lee.
How Does It Perform? We used the Sherpa 100 Solar Kit throughout our travels in Norway, Iceland, and Nepal. It was always cloudy and rainy in Iceland, and we usually weren't too far from electricty, so the Sherpa 100 wasn't that useful there. It did however provide power for my laptop on long bus rides between cities.
The real test came while trekking and climbing in Nepal, where access to electricity was either very expensive, or not available at all.
Charging: We charged the Sherpa 100 power pack using the Nomad 20 solar panel during both trekking, and while stationary at our climbing lodge. The latter of the two was far more effective.
After more than a week of trekking from sunrise to sunset with the Sherpa 100 strapped to the outside of my expedition pack, it did not charge to 100%. That was most likely due to the lack of exposure to direct sunlight while below the treeline. Even once we got above the treeline, we were still unable to get much of a charge during trekking. Because we were constantly moving during daylight hours, there were not good opportunities to maintain the panels in a position of direct sunlight for maximum effectiveness.
While stationary at the climbing lodge, however, we had much better luck. Mostly. With direct exposure to sunlight, the Sherpa 100 reached full charge from 40% in the better part of a day. Once at 100%, we simultaneously charged a couple of 2600 mAh, 18.7 Wh Wasabi Power Canon 5D Mk II batteries using the inverter while the Sherpa 100 was still recharging from the sun without it dipping below 100%. Conditions at the lodge were perfectly ideal for solar charging: high altitude, clear skies, and entire days of direct sunlight.
From 100%, we were able to charge two 5D Mk II batteries, three Olympus OM-D E-M1 batteries (slightly less Wh), the InReach Explorer, and my Nokia Lumia 928 before totally draining the Sherpa 100.
We set up the kit the next morning to recharge, but after an entire day of direct sunlight, it never reached 20%. One more day, same thing. Never reached 20%, according to the LCD indicator. Fortunately, all of our batteries were charged up by that point; we were ready to photograph our climb of Imja Tse.
After returning from the climb, we once again set the kit up; it fully charged in direct sunlight. I have no idea why it was not charging during those two perfectly ideal days - but before and after it has worked as specified.
One notable feature of the Goal Zero product family is the ability to daisy chain panels and rechargers together. We carried the Guide 10 kit (a much smaller kit designed for recharging mobile phones and GoPro cameras) and when not in use, we were able to daisy chain that panel to the Sherpa 100 to provide a little bump in charging power.
Features: The Sherpa 100 features a variety of color and shape-coded charging ports: (2) USB, 12V, Universal Laptop, and 120V AC using the included inverter. While the inclusion of the laptop charging port is a great thought, neither Microsoft nor Apple license out their charging cables to third parties — so if you want to charge your Surface or MacBook, you'll still have to carry around it's dedicated cable and charge the device using the Sherpa 100's inverter. Not a dealbreaker, because I already carry that cable, but it negates the ability to charge your computer and SLR batteries simultaneously.
Design: The Sherpa 100 utilizes a playfully futuristic industrial design. It doesn't take itself as seriously as the PS4 or Xbox One, instead it can be most likened to a custom designed PC case. It has rounded edges, a two-tone color scheme, and colorful, geometrically shaped light-up ports. (Pro tip: For those who are bothered by the colored lights at night, you can actually disable them through a series of button presses. Press the power button three times, then hold it down on the fourth time until the lights go off.) A small LCD screen with a battery-shaped indicator broken into fifths indicates the Sherpa 100's charge state.
The Nomad 20 solar panel utilizes a trifold design, allowing it to stand on its own. It can be propped up against the Sherpa, rocks, trees, etc to achieve the most direct angle to the sun. It features loops around the entire perimeter, allowing users to hang it from trees, on tents, or from daisy chains on a pack. They are pretty versatile. Additionally, there is a mesh zipper pouch on the back for storing cables, as well as the Sherpa itself (Goal Zero doesn't recommend charging the Sherpa 100 from inside the storage pouch however).
Adventure Ready? With the exception of those two fluke recharging days, the Sherpa 100 solar kit performed exactly as promised. I was able to recharge my SLR camera batteries and the Surface using only power from the sun.
The more important question is, do you really need the Sherpa 100? Honestly, I did not. I spent 23 days off-the-grid while trekking and climbing in Nepal. I carried nine batteries for my 5D. I used a total of 13 batteries on the trip — shooting both photos and videos everyday; often in cold weather. Due to the nature of my adventure (a "teahouse climb" of one of Nepal's more accessible peaks) I could have accessed electricity, though at a steep price of up to $5 per battery charge. While in the Himalayas, I mainly used my computer for memory card dumps. I did edit photos on site, but my connectivity was limited, so it wasn't totally necessary because I wasn't able to share content until I got back on the grid. Carrying five extra camera batteries and a couple of extra memory cards instead of the Sherpa 100 would have been cheaper from both a cost and weight perspective.
However, had I ventured off to one of Nepal's more remote peaks, and was going to be spending weeks or months at base camp, the Sherpa 100 would have been invaluable to my ability to create content from the field.
About the Author: Chris Brinlee Jr. is an adventure photographer and filmmaker who is currently traveling around the world. Follow his adventure on Instagram: @chrisbrinleejr. This article was filed from a coffee shop in Pokhara, Nepal - in the shadow of Annapurna.
Photos: Chris Brinlee, Jr.
IndefinitelyWild is a new publication about adventure travel in the outdoors, the vehicles and gear that get us there and the people we meet along the way. Follow us on Facebook, Twitter, and Instagram.