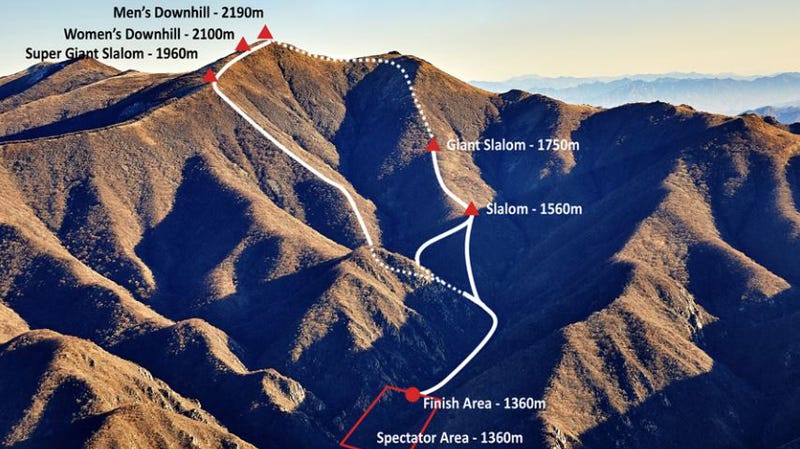 Yesterday, Beijing was awarded the 2022 Winter Olympics. Here is a photo of the mountain that will host the skiing courses, taken in the middle of January this year. You may notice a slight lack of white stuff.
Beijing narrowly beat out Almaty, Kazakhstan, for the right to host the 2022 Games, becoming the first ever city to host both editions of the Olympics. In Beijing's favor: a lot of the infrastructure from the 2008 Summer Games can be reused, saving the need to build another future ghost stadium.
Against Beijing, however, is a lack of snow. The skiing events will be taking place around the Yanquing Zones, which has "minimal annual snowfall" — basically, it doesn't really snow:
The Zhangjiakou and Yanqing Zones have minimal annual snowfall and for the Games would rely completely on artificial snow. There would be no opportunity to haul snow from higher elevations for contingency maintenance to the racecourses so a contingency plan would rely on stockpiled man-made snow. Beijing 2022 presented weather data from 2014-2015 indicating a particular risk for Yanqing in terms of the quality and quantity of snow.
So, the Games will be relying entirely on manufactured snow, most likely made in advance and stored in warehouses, in case the temperatures aren't quite right in the runup to the games. To make things worse, that artificial snow is going to be generated in an area already suffering "severe water stress", and becoming "increasingly arid". Because of the lack of rainfall, snow-making water will be drawn from established reservoirs, depleting drinking water supplies. Oh, and the skiing venues, and the Olympic Village, will be built right next to an existing nature reserve!