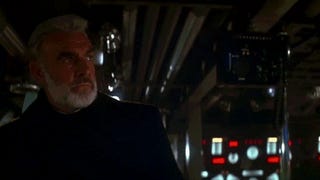 In the days after 9/11, as the media tried to assume some kind of normalcy, I remember watching talk shows attempt to dissect the week's unbelievable events. And I remember one guest who kept popping up night after night: Novelist Tom Clancy, who died Tuesday at 66.
Clancy was a darling of CNN and Charlie Rose because the author had an uncanny ability to predict real-life events in his books. The attacks on 9/11 bore an eerie similarity to a plotline in his 1994 book Debt of Honor, for example, when a Japanese character flies a 747 into the Capitol during a Presidential address. In fact, Clancy said he had conversations prior to 9/11 with military officials about how they had not planned sufficiently to handle a hijacked plane flown as part of a suicide mission.
How exactly a former insurance agent fascinated with military tech became one of the most successful writers of our time is a compelling story that could well have been written by Clancy himself. His books spawned four blockbuster films and influenced the genre so thoroughly you can see hints of Clancy in thrillers from the Bourne Identity to Homeland. Clancy also founded a gaming company to bring some of his titles to life, creating the ultimate universe for his characters to live on in forever. His books and the films they inspired acted as a kind of social studies primer—at a time when we were trying to make sense of the quickly changing world around us.