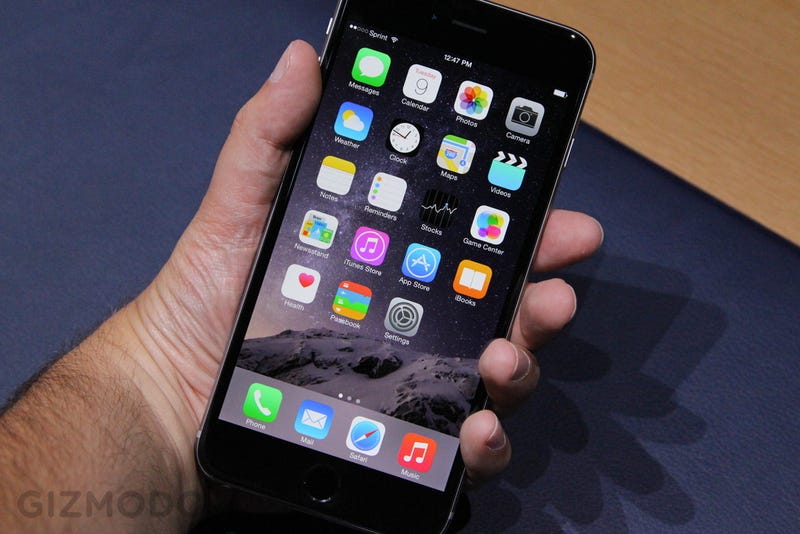 Say hello to Apple's 5.5-inch powerhouse smartphone, the iPhone 6 Plus. It's the largest phone that our favorite Cupertino fruit company has ever produced, and we just got our hot little hands on its big, honking chassis. Seriously, compared to any iPhone you've ever held, this handset is HUGE! It's amazingly thin, and incredibly solid compared to the competing plastic builds from Samsung and LG, but it still barely fits into my hand at all. Just see how those fingers struggle to grasp the new iPhone in the picture above.
Combined with those slick, beautifully machined metal edges, now rounded like an iPod touch or iPad mini instead of chamfered, I was honestly scared I would drop and break the giant handset right there in the Apple tent. (Not the right time to test that "ion-strengthened glass," I decided.) Still, the iPhone 6 Plus is surprisingly light at 6 ounces for something that's clearly so well-built. I wonder if it might survive such falls.
Thankfully, the iPhone 6 Plus is also the first iPhone to wholeheartedly embrace a landscape mode, so you don't need to hold it single-handed. When I set down my camera for a second and wrapped my second set of digits around the phone, it felt far more comfortable: just like a miniature tablet. Better still, this phablet finally brings Apple's software keyboard along for the landscape ride, and it turns out that that the 5.5 inches wide and 7.1mm thick chassis is just about perfect for your thumbs to reach those keys with two hands. If on-contract price wasn't a factor, I think I'd rather have one of these than an iPad mini.
But if you do want to use it one-handed, then boy does Apple have a smart solution for that. Double-tap the Touch ID sensor (don't press it, I learned the hard way) from LITERALLY ANYWHERE in the entire iPhone interface, including the homescreen, and everything on the top half of the phone's screen, every icon, will shrink down to put itself within your thumb's easy reach. We don't have a video for you (yet) but here's what it looks like before:
And after:
You can even keep scrolling horizontally through those homescreens in the one-handed mode. Still, I have to say I prefer the feel of the vanilla iPhone 6. After holding the 6 Plus, the regular 4.7-inch iPhone 6 just feels so much more... normal in my hands. That said, my daily driver is a 4.7-inch Moto X, so take that familiarity into consideration.