The 5.5-inch iPhone 6 Plus is Apple's biggest iPhone to date. It's one of two new iPhones the company is introducing today, and the Plus means, obviously, that this is the biggest iPhone 6. Here's what you need to know about Apple's massive smartphone future.
iPhone Finally Goes Big
Apple's original iPhone was a groundbreaking product that virtually didn't have competitors, but today, eight iterations later, it's hardly alone in a sea of quality handsets running Android. Apple's still number one, but it's conservative design evolution has allowed manufacturers like Samsung, LG, and HTC to gain some ground by experimenting with larger phones. Heck some, are basically tablets that make calls.
In the face of this competition, Apple's iPhones have remained small, almost stubbornly so. The iPhone 5/5s design was barely a blink in the face of competition—its 4-inch screen was bigger than the old iPhones, but still tiny considering even the smallest flagships today are 4.7 inches, and most are up over 5.
The new 5.5-inch iPhone 6 Plus is an admission that some people might benefit from a little more real estate. But it's not growth for the sake of growth. Apple's taken care to ensure that the bigger iPhone is just as cozy as those that came before.
G/O Media may get a commission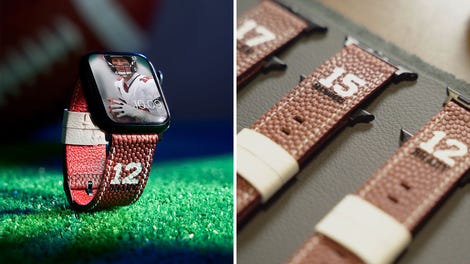 Official NFL PRODUCTS
Official NFL Apple Watch Bands
Indeed, what we've got here is a hot Apple phone, the most innovative in years, that breaks many of the company's most entrenched conventions. And it's probably for the best.
Design
While the iPhone 6 Plus is substantially larger than its predecessors, and even its 4.7 inch iPhone 6 counterpart, the design has been conceived as subtle evolution of the sleek, minimalist hardware concept Apple's been tweaking for years: Aluminum melded with glass into a shockingly thin profile.
Whereas the iPhone 5/5S opted for a a flat sides, the iPhone 6 Plus has a more rounded design, with the pill-shaped volume buttons introduced on the iPad Air last year. Both versions of the iPhone 6 carry over the 5S' most important new design feature in the Touch ID finger print scanner on the home button.
The phone has a 1920 x 1080 display (401 pixels per inch), which has way more pixels than the 1136 x 640 iPhone 5S. With the new large phone Apple is taking advantage of the the space in apps, with new split-screen modes in both apps and on the home screen. The home screen view in particular is striking because we're so used to the intractable vertical line up of app icons.
Despite rumors Apple would be making good on its huge investments in sapphire glass that would be potentially less susceptible to cracks, all we're hearing is "ion-strengthened" right now on the iPhone 6 displays. The glass curves around the edge to the back handsomely, but we'll have to wait to if it's still fragile hunk of beautiful design or truly more resilient.
The 7.1mm thick iPhone 6 Plus is super slender—even skinnier than the 7.6 mm iPhone 5/5S, despite its much larger screen. This could go a long way to ameliorating some of the pains that come with bigger phones by making it easier to hold and easier to stuff in your pocket.
One thing you'll notice is a little extra heft: The iPhone 6 Plus weighs a bit over 6 ounces whereas the iPhone 5/5S weighed just under 4 ounces. Not bad, though, considering all the extra screen you get.
Guts
The iPhone 6 Plus sports Apple's new 64-bit A8 chip, an evolution of last year's pack-leading A7. It's 13 percent smaller than the A7, while being up to 25 percent faster CPU and with 50 percent faster graphics, according to Apple. The phone also caries the newest version of Apple's Motion Processor, the M8, which adds a barometer.
The phone has new capabilities enabled by the new processor and upgraded radio hardware, including support for Voice-Over LTE. Maybe more importantly, the phone has smart Wi-FI calling handoff that jumps to an established wireless network automatically to save a potentially dropped call when carrier signal cuts out.
Camera
The iPhone 6 Plus is getting a brand new 8 megapixel camera which now has phase-detect autofocus, a feature that's only recently come to digital cameras without mirrors. We should note, though, that the Samsung Galaxy S5 has this feature as well, and some manufacturers have been able to get blazing fast focus using only older contrast detection. So don't let that jargon fool you. The new AF mode should help focus considerably faster, especially in low-light situations.
Speaking of low-light, The iPhone 6 Plus will be steadier when your shutter speed is slow thanks its built-in optical image stabilization—versus the digital stabilization in the smaller iPhone 6 as well as all the iPhones that came before.
The phone also now shoots video at up to 240 frames per second for creating super slow-mo shots. Impressive, though, we'll be interested to see how good the quality can be at such a high capture rate.
Apple Pay
Both the iPhone 6 and iPhone 6 Plus both come with an NFC radios, which in conjunction with a secure element chip that stores personal information, enables Apple Pay, letting you make tap-and-go payments everywhere from McDonalds to Subway to Bloomingdales to Macy's to Whole Foods. It'll support credit cards from American Express, Visa, and MasterCard.
Apple Pay will also work with apps so you can buy a Groupon or pay for an Uber with just a touch.
Price
The iPhone 6 will come in 16GB, 64GB, and 128GB versions available for $300, $400, and $500. Pre-orders begin September 12th. The phone ships September 19th.
A 5.5 inch iPhone is a big step for Apple that's as ambitious as anything the company has undertaken with its smartphone harware. We'll let you know if it turns out to be a leap forward or a blunder. [Apple]