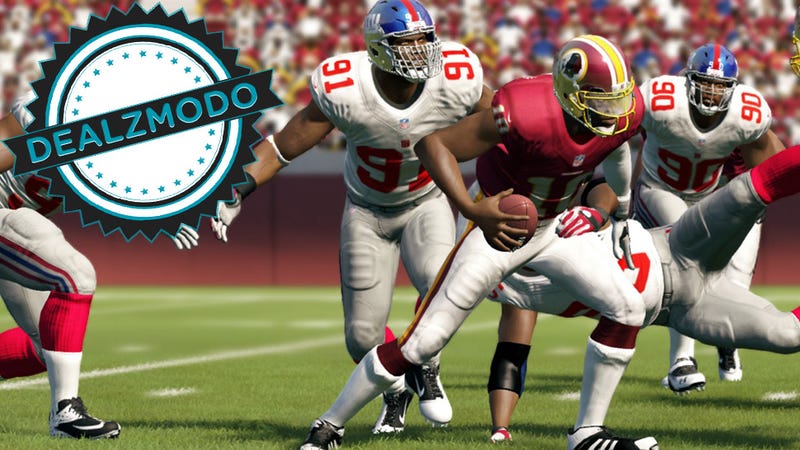 If you've cut the cable cord, you've probably found that live sports are the hardest type of content to replace. Normally you have to be a DirectTV subscriber to stream NFL games on your laptop or phone, but there's a very interesting Madden 25 bundle currently on Amazon that'll get you access.
Amazon is selling preorders for the special edition of Madden 25—think Madden 2014—for $100, which is $40 more than the standard game. But supposedly the first 50,000 copies of both the Xbox and PS3 game have a unique code that'll get you access to NFL Sunday Ticket streaming—which brings you all 17 weeks of NFL games barring blackouts—on your laptop or mobile device. From EA's FAQ:
Is a DIRECTV subscription necessary in order to view NFL Sunday Ticket via computer, mobile or tablet?

No, it is not necessary to have a DIRECTV subscription. Each Anniversary Edition aspecial code for eligible gamers giving them the opportunity to unlock a special, 2013 regular season (17 weeks) trial of NFL Sunday Ticket on computer, tablet and mobile devices.
There's a ton of fine print, mostly because this promotion is meant to garner more subscribers for DirectTV, which may not be a subscription you want. One detail that should be noted is that this Sunday Ticket "trial" won't work on the PS3. But after parsing through the FAQs, fine print, and tweets, Kotaku's always excellent Owen Good concluded that yes, Virginia, this deal does net you NFL Sunday Ticket streaming for $100. I don't think that's available anywhere else a la carte, for any price. Plus, you'll get the newest Madden on the first day it's available.