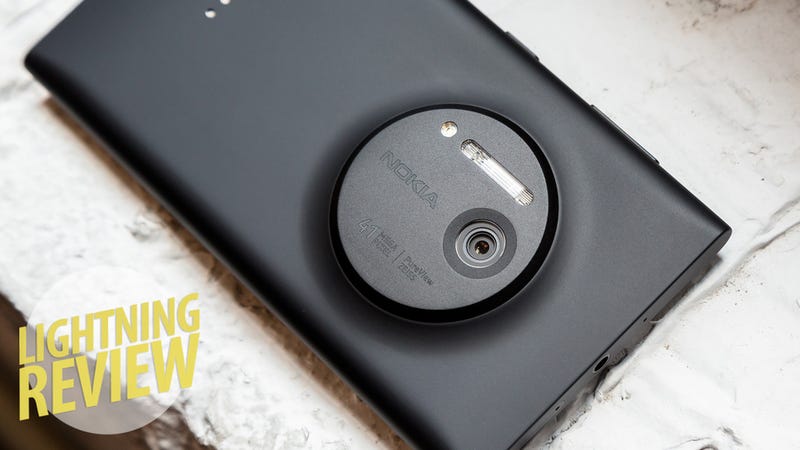 The Nokia 1020 represents something fairly remarkable: the nearly flawless melding of a smartphone and a camera. The assumption up until now was that while such a mash-up wasn't strictly impossible, it would surely require a laundry list of unpleasant compromises. Instead, what we've got is an entirely new kind of gadget. One that, most remarkably of all, works as advertised.
What Is It?
Basically, the guts of other top Nokia Lumia phones (925, 928) paired with an absurd-sounding 41-megapixel PureView camera, and slightly more RAM. It costs $300 with a two-year contract on AT&T.
Why Does It Matter?
For years, we've been hearing about how no one would ever need a point-and-shoot ever again because smartphone cameras were rapidly displacing them as our memory keepers of choice. Your smartphone offers two advantages over point-and-shoots: They're always on you, and they're connected to the internet. And starting around this time last year, the cameras in many flagship phones started getting so good that you could start to convincingly argue that we'd reached this moment at long last. Almost.
With the Lumia 1020, that day might've finally arrived.
Design
The Nokia 1020 is an amalgam of disparate pieces coming together. The body is made of a matte polycarbonate that feels sturdy and has enough grip to it that it doesn't feel like it's going to slide out of you hand. The back doesn't have quite the pronounced curve of last year's Lumia 920, but it's also doesn't have the boxy edges from the Lumia 928. It's a fine compromise.
The phone would actually be very thin if it weren't for the the circular camera bulge on the back. It's a striking design element that disrupts the other wise elegant shape, although not necessarily in a bad way. The camera's a lone, powerful eye that glares out from the back, calling attention to itself like a cyclops. It's such a distinctive feature that it might seem more pronounced than it actually is. But it's a bump that's easy enough to forget once the 1020 is safely back in your pocket.
In fact, in some ways it's an advantage; I particularly liked that when the 1020's sitting on a table or desk, the camera props the phone up so that it's easier to see what's on the screen compared to a phone that's lying flat on its back.
The Lumia 1020 is equal parts camera and phone and, as such, it either feels too big or too little, depending on how you're using it at any given time. But while it's thicker and heavier than its mobile competitors, it's not outrageously so; the 1020 weighs in at 158g; that's lighter than the Lumia 920, and just a smidge heavier than the 143g HTC One. It's no featherweight iPhone 5, but then again, not everybody's into that anyway. And compared to most point and shoots, well, when's the last time you comfortably walked around with one of those in your jeans pocket? If we're being honest and unequivocal, the answer is never.