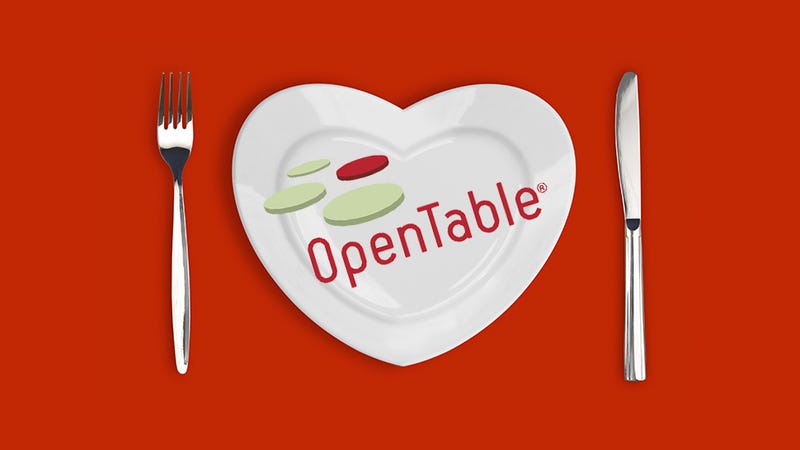 No one hates OpenTable. No one finds it small or inconsequential or twee, as so many modern startups or services can be. No one thinks it does a bad job, or that it treats its users as property or hostages. On an internet that takes no greater joy than in being the first (or millionth) person to say something sucks, there's maybe no better compliment.
This all makes sense if you've used OpenTable—and obviously you've used OpenTable—because OpenTable is great. You call up the site or app, plug in your party size, when you want to eat, and either enter the restaurant name or search for one, and that's it. Your reservation's made. It's one of the first online services that got that the convenience of "online shopping" wasn't even so much not having to leave your home (although in some cases, like Netflix, it certainly helped). We kind of like driving places and pretending to know what a ripe melon sounds like. Instead, OpenTable's gift was the sheer joy of not dealing with other human beings. Because we really hate other human beings.
And it's not just any people you're avoiding talking to. It's miserable people. Miserable because they don't want to talk to you just as much as you don't want to talk to them. Hosts and Maitre D's who are taking reservations are the worst. I've been one, so trust me here: They hate you. So much. They despise you for calling, like some stray asshole TPS report landing on their desk at 4:45 in the afternoon, and making them pore over their date books, making sure that no, they can't squeeze your idiotic party of six in for 8PM. But are you sure? YES. Can you double check? NO. CHOKE. Every one of them is thinking this, and you can feel them thinking it, and you're both just miserable. And don't even get started on the tragedy for all involved that is calling and leaving a message while the restaurant is closed. Take all that away and let the internet magic sort it all out, and everyone wins. But for years, there we were, tyrannical hosts and clueless guests pissing into our phones at each other.

It helps that OpenTable is on absolutely everything. Web client, check. iOS and Android, check and check. But then look: it's also got native apps on Windows Phone, Kindle Fire, BlackBerry, webOS... even Symbian. Yes, you can use OpenTable on a damn Nokia N-Gage.

It doesn't brandish your information, though, in the ways we've come to expect from internet entities. It's more like how your grandmother might crack open her calendar and ring you up to say, Now, Valentine's Day is coming up; you haven't forgotten to make dinner plans with Alice again, have you? Instead of blasting you with idiotic perma-sales—no "10 percent off purchases of $100 or more! NOW SPEND $100, ASSHOLE." spam—OpenTable sends reminders a few weeks out for events like Valentine's Day or Mother's Day, which could be annoying from just about anyone but the service keeping you from being the imbecile making "reservations" at the Sizzler on February 12th. It helps that OpenTable is such a surprisingly good resource for actual, thoughtful reviews, since these are mostly users who thought ahead to make reservations at a place, instead of Yelpers dropping in on a place and popping out their phones to bitch about the bread.

OpenTable has a rewards system in place—you get 100 points per table, 1000 for special, usually less popular tablets, and 2000 points gets you a $20 gift card—but its perks don't really match up with what some other loyalty cards offer. (The $1 to $10 point value per table is, on net, probably a lot less than the 10 percent a Starbucks or Chipotle card offers you.) But that doesn't even matter. It's found money here, as opposed to the retention plan for weakbrains it can be elsewhere. OpenTable treats you, more or less, like a human, not like a customer. Because you're not a customer. You're leverage.