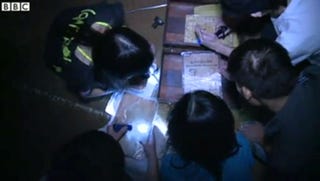 You're alone in a room, or perhaps with a small group of friends, looking for a way out, searching all the walls and surfaces around you—even the furniture and objects—for clues. There is no apparent way out. There are no immediately visible doors.
But you haven't been kidnapped, and this isn't Saw; it is one of many "real-life room escape games" becoming more popular in China. Each room—if you manage to escape—leads to another room, with its own set of puzzles and clues, until finally, eventually, exhaustingly, you solve your way to freedom.
In Beijing, as Kotaku explored last month, the cost of a game is only $10 a person—cheaper than a movie ticket—and this has helped them to find a growing base of willing participants. "We have a lot of college students and a lot of white collar folk come in," one escape-game entrepreneur explained to Kotaku. "It's a great way to exercise the brain and decompress after a long week of work or study."